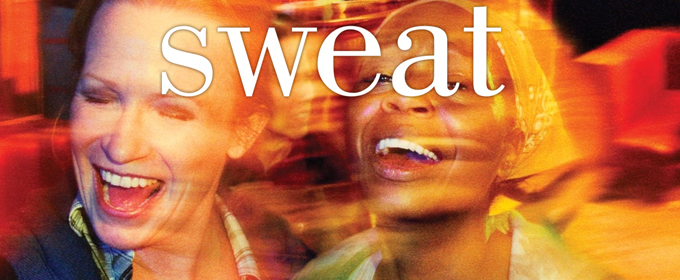 Click Here for More Articles on SWEAT
Broadway's SWEAT Stars to Stop by THEATER TALK This Week
This week the 2017 New York Emmy Award-winning interview/discussion series THEATER TALK focuses on Broadway's Pulitzer Prize-winning drama, Sweat. THEATER TALK co-hosts Susan Haskins and Michael Riedel of the New York Post welcome guests including Sweat's Tony Award-nominated playwright Lynn Nottage and director Kate Whoriskey, along with two of the play's supporting actors, Johanna Day ("Tracey") and Michelle Wilson ("Cynthia"), who are also both nominated for Tony Awards.
Now playing at Studio 54, Sweat is set in Reading, Pennsylvania and involves co-workers at a steel tubing factory who are confronted with the loss of their jobs and livelihoods during the economic collapse of 2000. In preparation for writing the play, Nottage interviewed people in Reading, who actually went through this crisis - "People who believed in the American Dream, solidly middle class, who woke up to no pensions, no savings" - and sought to put their stories on stage. The play, written long before the 2016 election, provides a prescient back-story to the rage now also stoking American politics. "These people have been waving their hands in the air, for a long time, for help," says Day. "We're not taking care of each other," adds Nottage.
Despite the stark subject matter, the interview is filled with laughter, and the joy of collaboration experienced by the guests. In addition to discussing their work on this show, they all share their first experiences with theater, when they knew it was what they wanted to do with their lives.
The Sweat edition of THEATER TALK premieres in the New York City metropolitan area Friday, June 2 (2017) on PBS station Thirteen/WNET at 1:30 AM (early Saturday morning); it re-airs on CUNY TV* Saturday 6/3 at 8:30 PM, Sunday 6/4 at 12:30 PM, and Monday 6/5 at 7:30 AM, 1:30 PM, and 7:30 PM; and also airs on WLIW/21 on Monday 6/12 at 5:30 PM and on NYCLife on Thursday 6/15 at 11 PM.
THEATER TALK is jointly produced by the not-for-profits Theater Talk Productions and CUNY TV. The program is taped in the Himan Brown TV and Radio Studios at The City University of New York (CUNY) TV in Manhattan, and is distributed to 100+ participating public television stations nationwide. THEATER TALK is made possible in part by The New York City Department of Cultural Affairs, The CUNY TV Foundation, and The Friends of Theater Talk.
*CUNY TV, the City University of New York television station, is broadcast in the NYC metropolitan area on digital Ch. 25.3 and cablecast in the city's five boroughs on Ch. 75 (Spectrum & Optimum/Brooklyn), Ch. 77 (RCN), and Ch. 30 (Verizon FiOS). THEATER TALK episodes are available online anytime at www.cuny.tv and www.theatertalk.org and via podcast on iTunes.
Pictured: Michelle Wilson and Johanna Day (center) in Lynn Nottage's Sweat. Photo by Joan Marcus.
Related Articles
More Hot Stories For You
Betty Buckley Demands Trump Stops Using 'Memory' at Rallies- 'Your Presidency is the Very Antithesis of Art'
As BroadwayWorld reported earlier this month, at a campaign rally in Sanford, Florida, the Trump campaign continued its use of the song 'Memory' from ...

Photos/Video: First Look at the Russian Premiere of CHESS The Musical
On October 17, Chess the Musical made its Russian premiere at the MDM Theatre, Moscow....

Actors' Equity Comments On SAG-AFTRA Members Condemning the Union's Raiding of Equity Employers
Actors Equity has released the following roundup of quotes addressing SAG-AFTRA members who are speaking out against the union's battle with Equity. ...

Exclusive: Keala Settle Sings 'Being Alive' from COMPANY as Part of The Seth Concert Series; Re-Airs Today at 3pm and Available On Demand!
Her concert re-airs today at 3pm and is now available On Demand, get your tickets here!...

BEETLEJUICE Will Premiere in South Korea in 2021
It has been confirmed that the first Korean production of Beetlejuice, performed in the Korean language, will come to Seoul, South Korea next year....

Bernadette Peters, Kristin Chenoweth, and More Share Their Thoughts on STICKS & STONES
There are just two more days to watch Sticks & Stones right here on BroadwayWorld before it disappears forever. The concert benefits Broadway Cares &...