Breaking: SMOKEY JOE'S CAFE Will Play Final Off-Broadway Performance Next Month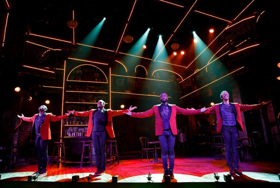 Producers Steven Baruch, Marc Routh, Richard Frankel and Tom Viertel announced today that Smokey Joe's Cafe: The Songs of Leiber & Stoller, the all-new incarnation of the record breaking Broadway hit, will close on Sunday, November 4, 2018. The show will have played 20 previews and 121 performances at Stage 42 (422 West 42nd Street). Previews began on Friday, July 6 and the production officially opened on Sunday, July 22.
The producers have also announced that an Original Cast Album will be recorded shortly by Time Life Records. A National Tour is also planned for 2020.
The vibrant nine-member ensemble led by director choreographer Joshua Bergasse brings new life to more than 30 classic songs including "Stand by Me," "I'm a Woman," "Hound Dog," "Fools Fall In Love," "On Broadway," "Yakety Yak," "Pearl's a Singer," "Treat Me Nice," "There Goes My Baby," "Love Potion #9," "Jailhouse Rock," and "Spanish Harlem."
---
Smokey Joe's Cafe features Dwayne Cooper (Motown, Hairspray), Emma Degerstedt (Desperate Measures Off-Broadway), John Edwards (Jersey Boys), Dionne D. Figgins (Hot Feet, Memphis), Nicole Vanessa Ortiz (Spamilton Off-Broadway), Kyle Taylor Parker (Kinky Boots, Charlie and the Chocolate Factory), Jelani Remy (Disney's The Lion King), Max Sangerman (Blue Man Group Off-Broadway), and Alysha Umphress (On The Town, American Idiot). Standbys for the production are Shavey Brown (Dreamgirls Off-Broadway), Antoinette Comer (Mammia Mia!), Dan Domenech (Rock of Ages) and Bronwyn Tarboton (A Chorus Line international tour).
The GRAMMY Award winning and Tony Award® nominated smash broke records, becoming the longest running revue to play on Broadway and was followed by nationwide and international tours.The musical celebrates the songs of the legendary song writing duo, Jerry Leiber and Mike Stoller, which provided hit after hit for icons like Elvis Presley, Ben E. King, The Coasters, and The Drifters.
Featuring a wide-ranging catalog, from joyous anthems ("Saved") to comedic romps ("Charlie Brown") to songs of yearning ("I Who Have Nothing"), the storytelling aspect of Leiber and Stoller's songwriting paired perfectly with the theatrical medium. With soulful ballads rooted in blues, their songs celebrate the humor, passion, and heartbreak that infuse everyday lives. Classics such as "Neighborhood" and "Stand by Me" celebrated the power of community and friendship and deeply resonated with the African American community just as much as they did with rebellious suburban teenagers. This classic show is currently thrilling a new generation of theatergoers with its enduring themes and searing emotions.
Smokey Joe's Cafe is directed and choreographed by Joshua Bergasse and features scenic design by Beowulf Boritt, costume design by Alejo Vietti, lighting design by Jeff Croiter, sound design by Peter Fitzgerald, wig design by Charles G. LaPointe, original vocal arrangements by Chapman Roberts, additional original vocal arrangements by Louis St. Louis, music direction by Matt Oestreicher and orchestrations by Sonny Paladino and Steve Margoshes. Music Supervision and new arrangements are also by Mr. Paladino. Casting is by Tara Rubin Casting. The show was co-conceived by Stephen Helper and Jack Viertel. It is produced by Steven Baruch, Marc Routh, Richard Frankel and Tom Viertel, who also produced the show's record-breaking Broadway engagement.