Blackfriars Theatre Presents THE LAST NIGHT OF BALLYHOO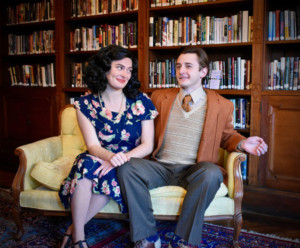 The Last Night of Ballyhoo places audiences in the home of the Freitag family. The year is 1939, and the Freitags reside amongst the upper-echelon of the German-Jewish community in Atlanta, GA. As the beginnings of World War II percolate from a distance, the Freitags are more concerned with finding Lala a date to Ballyhoo, the lavish social event of the year. This comedy light heartedly explores the struggle with religious identity in times of great change and prejudice.
The Last Night of Ballyhoo will run at Blackfriars Theatre from December 14th - 31st. Featuring a cast of seasoned Blackfriars artists, this production is sure to delight any theatre-goer interested in a new and unique holiday theatrical experience. Regardless of religious identity, socio-economic status, or familial relationships - audiences will undoubtedly see their own family (for better or for worse) in the Freitags, and in the conflicts they face throughout the show. The Last Night of Ballyhoo premiered on Broadway in February 1997 and was the recipient of the 1997 Tony Award for Best Play.
This production is directed by Fred Nuernberg, who reflects on the way this play mirrors the social stratification society continues to grapple with today, 79 years after this story takes place. "Initially, Ballyhoo appears to be a comedy about a family living in Atlanta in 1939. It is set on the night of the opening of Gone with the Wind - which did, in fact, enjoy its premiere in Atlanta. What I found, however, is the long-standing undercurrent of social discrimination between elements of the Jewish population in the Southern United States. The playwright skillfully gives us a lesson in tolerance and acceptance - while entertaining us. Something we could use in our society today."
The Last Night of Ballyhoo cast includes: Vicki Casarett (Reba Freitag); Peter Doyle (Adolph Freitag); Pam Feicht (Boo Levy); Natalie LeClair (Lala Levy); Emily Mahoney (Sunny Freitag); Eric Schutt (Joe Farkas); Edward Rubenacker (Peachy Weil).
Tickets are available in person at Blackfriars Theatre, online at www.blackfriars.org, or by calling (585) 454-1260. Senior and student discounts are available online or through the Box Office. If available, tickets can be purchased at the door beginning one hour prior to performance. Box Office hours are Monday through Friday, 12:00 p.m. to 4:00 p.m. MasterCard, Visa, American Express and Discover are accepted at no additional charge.