Bedford, Ivey et al. Lead Roundabout's IMPORTANCE OF BEING EARNEST on Broadway
Roundabout Theatre Company (Todd Haimes, Artistic Director) is pleased to announce the full company of the new Broadway production of Oscar Wilde's comedy The Importance of Being Earnest, directed by and starring Brian Bedford as "Lady Bracknell," at the American Airlines Theatre on Broadway (227 West 42nd St.). The cast will also feature Dana Ivey as "Miss Prism," Paxton Whitehead as "Reverend Chausible," Santino Fontana as "Algernon Moncrieff," David Furr as "Jack Worthing," Tim MacDonald as "Merriman," Paul O'Brien as "Lane," Charlotte Parry as "Cecily Cardew," and Sara Topham as "Gwendolyn."
The Importance of Being Earnest will begin previews on Friday, December 17th, 2010 and open officially on Thursday, January 13th, 2011. This is a limited engagement through Sunday, March 6th, 2011.
The design team includes Desmond Heeley (Sets & Costumes), Duane Schuler (Lights) and Drew Levy (Sound).
The Stratford Shakespeare Festival presented an acclaimed production of The Importance of Being Earnest, directed by and starring Brian Bedford, in 2009.
The Importance of Being Earnest is a glorious comedy of mistaken identity, which ridicules codes of propriety and etiquette. Dashing men-about-town John Worthing and Algernon Moncrieff pursue fair ladies Gwendolen Fairfax and Cecily Cardew. Matters are complicated by the imaginary characters invented by both men to cover their on-the-sly activities - not to mention the disapproval of Gwendolen's mother, the formidable Lady Bracknell.
Wilde's classic production premiered in 1895 at the St. James Theatre in London offering a stinging critique of love, sex and social hypocrisy that remains relevant today.
Brian Bedford returns to Roundabout Theatre Company after memorable performances as "Orgon" in Tartuffe, "Sir Harcourt Courtly" in London Assurance and "Sganarelle" in The Molière Comedies. Dana Ivey returns to Roundabout after playing "Grace" in the 2003 production of A Day in the Death of Joe Egg and the 2001 production of Major Barbara where she played "Lady Britomart Undershaft."
Theatrical design legend Desmond Heeley made his Broadway debut with the original production of Tom Stoppard's Rosencrantz & Guildestern Are Dead. His designs won two Tony Awards, one of the few times in the history of the Tony's that a designer has received these coveted awards for the scenic and costume design of the same production. This production marks his first Broadway show in over 20 years.
Tickets are available by calling Roundabout Ticket Services at (212)719-1300, online at www.roundabouttheatre.org or at the American Airlines Box Office (227 West 42nd Street).
To become a Roundabout subscriber visit www.roundabouttheatre.org or call Roundabout Ticket Services (212)719-1300. Ticket prices range from $67.00-117.00.
The Importance of Being Earnest will play Tuesday through Saturday evening at 8:00PM with Wednesday, Saturday and Sunday matinees at 2:00PM.
----
BRIAN BEDFORD (Director, Lady Bracknell). One of the most acclaimed actors of our time, Brian Bedford studied at the Royal Academy of Dramatic Art, where his classmates included Peter O'Toole, Albert Finney and Alan Bates. At age 21, he played Hamlet with the Liverpool Repertory Company, which led to highly successful performances in London's West End and at Stratford-upon-Avon, working with, among others, Sir John Gielgud and Peter Brook. Gielgud's productions of Peter Shaffer's first play, Five Finger Exercise, brought him to Broadway, where he has subsequently starred in over 20 productions, receiving six Tony nominations for Best Actor and winning the award for Moliére's The School for Wives. Other honours include the Obie, Outer Critics Circle Award, N.Y. Drama Desk Award and the L.A. Drama Critics Award. Mr. Bedford has directed and acted at the Mark Taper Forum in Los Angeles, the Old Globe Theatre in San Diego, the John F. Kennedy Centre for the Performing Arts in Washington, D.C., the Chicago Shakespeare Theater and, for over 25 seasons, at the Stratford Festival of Canada. His one-man Shakespeare show, The Lunatic, the Lover and the Poet, has taken him around the world. Film and television credits include Oliver Stone's Nixon, Grand Prix, the voice of the title character in Walt Disney's Robin Hood, Mr. Saint Nick, Frasier, More Tales of the City, Scarlett and Cheers. A resident of North America for the past 40 years, Brian Bedford was inducted into the American Theatre Hall of Fame.
DANA IVEY (Miss Prism). Broadway: Butley (Tony Award nomination), The Rivals (Tony Award nomination), Henry IV, A Day in the Death of Joe Egg, Major Barbara, Heartbreak House (Tony nomination), Last Night of Ballyhoo (Drama Desk Award and Tony Nomination), Sunday in the Park (Tony Nomination), Present Laughter, Pack of Lies, Waiting in the Wings, Marriage of Figaro, Sex and Longing, Indiscretions. Off-Broadway: Driving Miss Daisy (Obie and Outer Critics Circle Awards), Quartermaine's Terms (Obie and Derwant Awards), Mrs. Warren's Profession (Obie Award), The Savannah Disputation, Beggars in the House of Plenty, The Uneasy Chair, Kindertransport, Tartuffe, Hamlet (Bayfield Award). Regional: The Death of Papa, Antigone, Hedda Gabler, The Miracle Worker, Misalliance, Cat on a Hot Tin Roof (Kennedy Center/Helen Hayes nomination), Patio/Porch, Romeo and Juliet, The Taming of the Shrew, Midsummer-night's Dream. Canada: The Philanderer, Great Catherine, Flea In Her Ear (Shaw Festival), Touch of the Poet, Electra, The Maids, The Homecoming, Total Eclipse, The Innocents, Blithe Spirit, A Doll House, Galileo, Charley's Aunt, Private Lives, Importance of Being Earnest. London: In the Summerhouse (Lyric Hammersmith). Next (BBC). Television: "Dolley Madison," "The Return Of Jezebel James," "A Lesson Before Dying" (HBO), "Easy Street," "Oz," "Homicide," "Frasier." Films: Ghost Town, Rush Hour 3, A Very Serious Person, Legally Blonde 2, Two Weeks Notice, Disney's The Kid, Addams Family, Addams Family Values, Home Alone 2, Dirty Rotten Scoundrels, Sabrina, Simon Birch, Imposters, Mumford, The Color Purple.
PAXTON WHITEHEAD (Reverend Chausible). Paxton Whitehead's numerous Broadway credits include: Absurd Person Singular, My Fair Lady (Helen Hayes Award), Run for Your Wife, Noises Off (Drama Desk Award), Camelot (Tony Award nomination), The Crucifer of Blood, Candida, Beyond the Fringe, and others. London: Heartbreak House. Canada: artistic director, Shaw Festival, 1967-77; artistic director, Vancouver Playhouse, 1971-73. Regularly works in regional theatre- Shakespeare Theatre (DC), McCarter, Westport, Pittsburgh Public, Huntington, amongst others. Television credits include "Desperate Housewives," "The West Wing," "Mad About You" and "Friends." Films include "Kate and Leopold" and "Back to School."
SANTINO FONTANA (Algernon Moncrieff). Broadway: Brighton Beach Memoirs, Billy Elliot, Sunday in the Park With George. Off-Broadway: The Fantasticks (original revival cast), Perfect Harmony. Regional: the title role in Hamlet (Guthrie); Hay Fever (Old Globe); Love's Labor's Lost, On the Verge, 9/11 Project, Once in a Lifetime (Chautauqua Theater Co.); As You Like It, Death of a Salesman, Six Degrees of Separation, A Christmas Carol (Guthrie). International: Death of a Salesman (Gaiety Theatre, Dublin). Film: Fade to White. Television: The Good Wife. Sundance Theatre Lab, 2005; Presidential Scholar in the Arts. BFA, Guthrie/UMN Actor Training Program.
DAVID FURR (Jack Worthing). Broadway: Accent on Youth, Who's Afraid of Virginia Woolf?, Cymbeline, King Lear (w/ Christopher Plummer), The Rivals; Natn'l Tour: Who's Afraid of Virginia Woolf?; Off Broadway: Equivocation (MTC), Golden Prospects, Tim and Scrooge. David has also appeared extensively at leading regional theatres around the country including Lincoln Center, The McCarter, The Old Globe, The Long Wharf, Denver Theatre Center, Alabama Shakespeare Festival and many others. He received Ovation and Henry award nominations for his performance in Arthur Miller's All My Sons. Film & TV: "Law & Order SVU," "The Washingtonienne" (HBO Pilot), "Nurses" (FOX Pilot), "CSI: Miami," the New York soaps, "45 Words," and the role of Ralph Haverford in Focus Features' Evening.
TIM MACDONALD (Merriman). Broadway credits include: Timon of Athens, The Government Inspector and Two Shakespearean Actors (Lincoln Center Theater). At the Stratford Festival: 'King of France' in King Lear, 'Prince of Arragon 'in Merchant of Venice, 'Mark Meddle' in London Assurance, 'Earl of Westmorland/Poet' in Henry IV Part 1, 'Roland Maule' in Present Laughter, 'Constable Dull' in Love's Labour's Lost, 'Parolles' in All's Well That Ends Well, 'Bertram Cates' in Inherit the Wind, 'Damis' in Tartuffe, 'Sir Benjamin Backbite' in The School for Scandal, 'Trinculo' in The Tempest, 'Claudio' in Much Ado About Nothing, 'The Young Shepherd' in The Winter's Tale, 'Leo Hubbard' in The Little Foxes, and 'Lucky' in Waiting for Godot. Other credits include The School for Scandal (Chicago Shakespeare Theater), Much Ado About Nothing (City Center, New York City), The Merchant of Venice (Shakespeare Theater, Washington D.C.) and Richard II (Old Globe Theatre, San Diego).
PAUL O'BRIEN (Lane). New York Theater; Is Life Worth Living (Mint Theater), Equus (Broadhurst Theater), Cymbeline, King Lear, Twelfth Night, (Lincoln Center), Democracy (Brooks Atkinson Theater), The Crucible ( Virginia Theater), Death Defying Acts ( Variety Arts), 3 Birds Alighting on a Field (MTC), The Seagull ( Second Stage), Widow's Blind Date (Circle in the Square), Unexpected Tenderness (WPA Theater), A Moon for the Misbegotten (Pearl Theater): Los Angeles Theater; Cripple of Inishman (Geffen Theater), The Lonesome West (South Coast Rep), Art ( Ahmanson/Dolittle): Regional; Playmakers Rep, Guthrie Theater, Williamstown Theater Festival, Actor's Theater of Louisville, Long Wharf, Trinity Reb, Huntington Theater, Charles Playhouse, Vineyard Playhouse, Gloucester Stage: Film; Henry's Crime, Redacted, What's the Worst That Could Happen?, The Devil's Own, Hip! Edgy! Quirky!, Soul Man, Second Sight: Television; "Law & Order: Criminal Intent", " The Sopranos", " The Practice", "Providence", "ER", "Star Trek Voyager", "Case of Deadly Force", "Angel", "Law and Order", "Late Night with Conan O'Brian", "One Life to Live".
CHARLOTTE PARRY (Cecily Cardew) was a member of the inaugural year of Sam Mendes' Bridge Project, performing The Cherry Orchard and The Winters Tale at BAM, in the West End and Internationally. Broadway: Coram Boy, The Real Thing. Off Broadway: Equivocation (MTC), Howard Katz (Roundabout), The Master Builder (Irish Rep), Rainbow Kiss (The Play Company), The Lover (Directorfest). For Sir Peter Hall Company at BAM, Centre Theater Group and London: As You Like It. Regional: World Premiere of John Patrick Shanley's Pirate at New York Stage and Film, World Premiere of Albee's Me Myself and I, and The Birthday Party (McCarter Theatre), The Turn of the Screw (Westport Country Playhouse), Cymbeline and Private Lives (NJ Shakespeare). In the UK - West End: The Real Thing, The Cherry Orchard, The Winters Tale, Regional and National tours: Charley's Aunt, Amadeus, The Blue Room, A Midsummer Night's Dream, Titus Andronicus, As You Like It, Northanger Abbey, Les Liasisons Dangereuses, The Seagull, Three Sisters, Godspell, Follies, Whislte Down the Wind. TV: "The Safe House" (ITV), "Extreme Ghost Stories" (ITV). Film: "The Park Bench." Charlotte has narrated over 30 audiobooks in America and the UK.
SARA TOPHAM (Gwendolyn). Theater; Peter Pan , Dangerous Liaisons, A Funny Thing Happened On the Way to the Forum, The Importance of Being Ernest, Fuente Ovejuna, The Music Man, King Lear, The Ideal Husband, The Merchant of Venice, London Assurance (Stratford), The Turn of The Screw (The Belfry Theater), Don Juan, Glass Menagerie, As You Like It, The Tempest, Noises Off, Henry VIII, Agamemnon, Electra, The Flies, The Swanne, All's Well That Ends Well, The Scarlet Pimpernel, King Lear, The Three Musketeers, Henry V, Henry IV Parts 1 & 2, The Diary of Anne Frank, Fiddler on the Roof (Stratford Festival), Cat on a Hot Tin Roof (Neptune Theatre),Annie, It's A Wonderful Life (The Grand Theater), Robin Hood, Cinderella (Elgin Theater), Tony and Tina's Wedding (The Second City), Cinderella (The Theater Aquarius), L'Italiana In Algieri (Pacific Opera Victoria), The Tempest, Orpheus in the Underworld, The Taming of The Shrew, Maupassant!, Fallen Angels, Merrily We Roll Along, Eleemosynary, Nunsense (Phoenix Theater), Romeo and Juliet (Victoria Shakespeare Festival), Pygmalion (Langham Court): Television; "Eloise At Christmastime" and "Dying To Dance."
Roundabout Theatre Company is a not-for-profit theatre dedicated to providing a nurturing artistic home for theatre artists at all stages of their careers where the widest possible audience can experience their work at affordable prices. Roundabout fulfills its mission each season through the revival of classic plays and musicals; development and production of new works by established playwrights and emerging writers; educational initiatives that enrich the lives of children and adults; and a subscription model and audience outreach programs that cultivate loyal audiences.
Roundabout Theatre Company currently produces at three permanent homes each of which is designed specifically to enhance the needs of the Roundabout's mission. Off-Broadway, the Harold and Miriam Steinberg Center for Theatre, which houses the Laura Pels Theatre and Black Box Theatre, with its simple sophisticated design is perfectly suited to showcasing new plays. The grandeur of its Broadway home on 42nd Street, American Airlines Theatre, sets the ideal stage for the classics. Roundabout's Studio 54 provides an exciting and intimate Broadway venue for its musical and special event productions. Together these three distinctive venues serve to enhance the work on each of its stages.
American Airlines is the official airline of Roundabout Theatre Company. Roundabout productions are made possible, in part, with public funds from the New York City Department of Cultural Affairs; the New York State Council on the Arts, celebrating 50 years of building strong, creative communities in New York State's 62 counties; and the City of New York Theater Subdistrict Council, LDC and the City of New York.
Roundabout Theatre Company's 2010-2011 season features George Bernard Shaw's Mrs. Warren's Profession starring Cherry Jones & Sally Hawkins, directed by Doug Hughes; Noël Coward's Brief Encounter, adapted and directed by Emma Rice; Kim Rosenstock's Tigers Be Still, directed by Sam Gold; Julia Cho's The Language Archive, directed by Mark Brokaw; Oscar Wilde's The Importance of Being Earnest, starring and directed by Brian Bedford; Tennessee Williams' The Milk Train Doesn't Stop Here Anymore starring Olympia Dukakis, directed by Michael Wilson; Anything Goes starring Sutton Foster & Joel Grey, directed & choreographed by Kathleen Marshall; David West Read's The Dream of the Burning Boy, directed by Evan Cabnet. Roundabout's sold out production of The 39 Steps made its third transfer to the New World Stages after a successful Broadway run at three Broadway theatres.
Related Stories
More Hot Stories For You
Bradley Dean, Sean Allen Krill, Bryce Pinkham, and More Join CHESS Benefit Concert; Full Cast Announced!

November 29, 2022

The complete cast and creative team have been announced for the one-night-only benefit concert of the legendary musical Chess on Monday, December 12 at 7:30 pm ET at the Broadhurst Theatre. Joining the cast are Bradley Dean as "Ivan Molokov," Tony Award nominee Sean Allan Krill as "Walter de Courcey," and Tony Award nominee Bryce Pinkham as "The Arbiter.'
---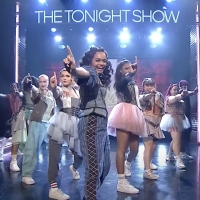 VIDEO: & JULIET Performs 'Problem/Can't Feel My Face' on THE TONIGHT SHOW

November 29, 2022

The Broadway cast of & Juliet performed on The Tonight Show with Jimmy Fallon last night, Monday, November 28. The cast took the stage to perform 'Problem/Can't Feel My Face' from the show. Check out the video here!
---
Wake Up With BWW 11/29: Mariah Carey Joins SOME LIKE IT HOT Producing Team, and More!

November 29, 2022

Top stories include: Mariah Carey joins the producing team of Some Like It Hot, which also canceled last night's performance. Plus, the upcoming film of Long Day's Journey Into Night, starring Jessica Lange, Ed Harris, Ben Foster and Colin Morgan, has wrapped production.
---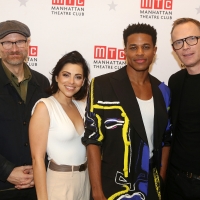 Meet the Cast of THE COLLABORATION, Beginning Previews Tonight!

November 29, 2022

The Collaboration will begin previews tonight, Tuesday, November 29 ahead of a Tuesday, December 20 opening at the Samuel J. Friedman Theatre. Meet the cast bringing this show to life here!
---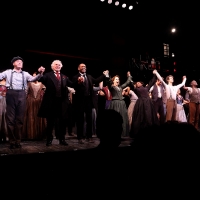 Judge Rules in Favor of SDC; PARADISE SQUARE Owes Over $140K for Unpaid Fees

November 28, 2022

A District Court judge ruled in favor of Stage Directors and Choreographers Society and that Paradise Square Broadway owes the petitioner over $140K, in addition to over $9K in attorneys fees and other costs. 
---