BWW Review: Michaels Urie and McGrath are Comic Dynamos in THE GOVERNMENT INSPECTOR
Though Anton Chekhov popularized the notion that there's nothing sadder than a Russian comedy, playgoers seeking a few more yuks than can be found in a night at THE CHERRY ORCHARD can look to one of The Good Doctor's countrymen, Nikolai Gogol, whose rip-roaring classic The Government Inspector is granted a gloriously silly mounting by Red Bull Theater.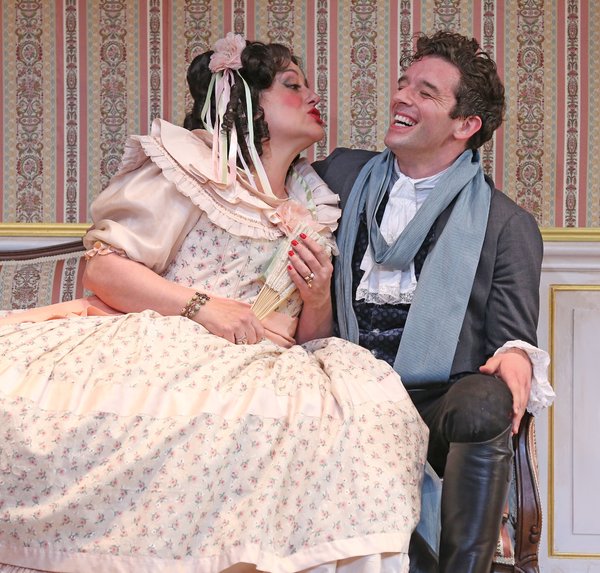 The plot of his 1836 farce has been copied and variated upon so frequently that the familiar premise has become an old comical chestnut. The corrupt mayor of a small town has learned from his bumbling officials that an agent of the Tsar will be arriving incognito to perform a full inspection. Through misunderstandings, a broke civil servant is assumed to be him and while he doesn't quite understand the reason for the royal treatment and monetary gifts he's suddenly receiving, he's happy to take advantage of them.
Working with a punchline-laden adaptation by Jeffrey Hatcher, Red Bull's artistic director Jesse Berger loads up the evening with terrific sight gags and wacky antics performed by a top shelf cast.
As the exasperated mayor, Tony-winner Michael McGrath lays out a full arsenal of double-takes, verbal timing and physical bits to give a master class on the playing bellowing authority figures, reminiscent of old school greats like Sid Caesar and Gale Gordon.
Stoking his ire are the bumbling antics of his judge (Tom Alan Robbins), hospital director (Stephen DeRosa), school principal (David Manis), police chief (Luis Moreno) and a doctor (James Rana); all ordered to quickly make their departments seem functional and on the up-and-up.
Ryan Garbayo and Ben Mehl play goofy landowning gossips Bobchinsky and Dobchinsky, and Arnie Burton is quite adorable as the postmaster who isn't above using his position to keep his nose in everyone's business.
Burton also scores as the droll servant to Hlestakov, the foppish narcissist who will be mistaken for the title character. Played with delicious self-indulgence by Michael Urie, Hlestakov is first seen attempting to commit suicide, if only he could get his hair to look just right first.
Though he's run up an impossibly high bill at the local inn, the misguided mayor welcomes him to his own home, where unlimited bribes and alcohol await. Urie's physical shtick as the character gets more and more inebriated is matched in hilarity by the way the desperate town officials continue to treat him with reverence.
More laughs are supplied by Mary Testa as the mayor's bombastically elegant wife, Mary Lou Rosato as a contrasting pair of servants, and Talene Monahon as the town's deadpan first daughter.
Designer Alexis Distler's two-tiered set resembles comic strip panels, although after the initial scenes the top half hosts most of the action, so those seated up front may need to crane their necks a bit. It's matched by Tilly Grimes' splendid cartoon costumes.
Related Articles
After 20-odd years singing, dancing and acting in dinner theatres, summer stocks and the ever-popular audience participation murder mysteries (try improvising with audiences after they?ve (read more about this author...)