BWW Interview: Paris Remillard Is Getting Into THIS (and That) This Summer at Barrington Stage Company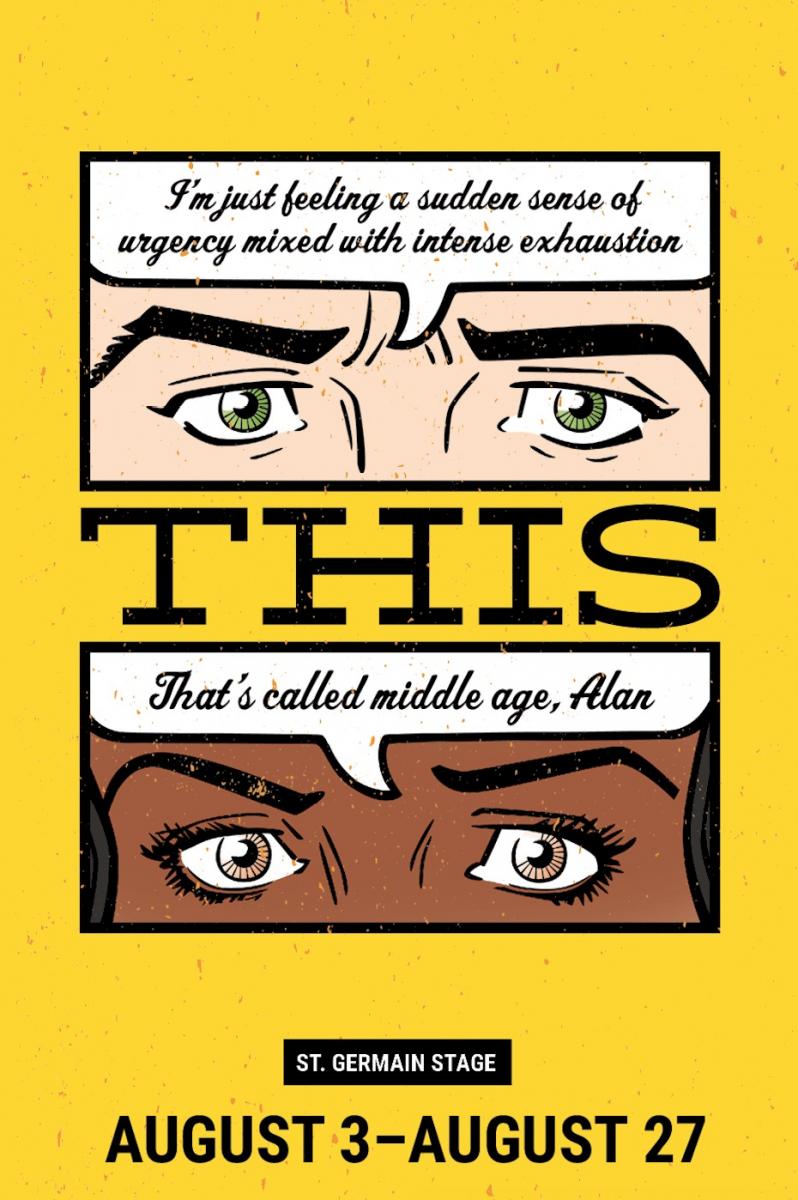 Barrington Stage Company (BSC), the award-winning theatre in Downtown Pittsfield, MA, is wrapping up its summer season with This, written by Obie Award-winner Melissa James Gibson and directed by Louisa Proske. After receiving rave reviews during its off Broadway run in 2009, the play arrived on the St. Germain Satge, where it will run through August 27.
This captures the hilarious yet touching relationships of a circle of friends as they back their way into middle age. The cast of This includes Julia Coffey (BSC's Absurd Person Singular) as "Jane," Erica Dorfler (Broadway's Natasha, Pierre & The Great Comet of 1812) as "Marrell," Eddie Boroevich (Buzzer) as "Tom," Mark H. Dold (BSC's Love Letters) as "Alan," and Paris Remillard (Broadway's HAIR) as "Jean-Pierre."
Just after opening night, Remillard chatted with BroadwayWorld about his latest role and everything This!
---
How has the show been going so far?
It's been going great! The opening was amazing. From the first runs that we had in the rehearsal room, through previews, and then invited dress, and opening, every audience has responded totally differently to different moments. So it's been cool to see how different people take different things from it. When people ask me to explain it... it's so hard to explain because there's so much packed into it. It's a 90-minute comedy, but it deals with grief, it deals with adultery, it deals with sort of the existential crisis of 'What's my purpose on the Earth?'
All typically funny things!
Yes, all hilarious topics. [Laughs] It somehow packs all of that into 90 minutes and is funny at the same time. So it's interesting to see which parts resonate with different audiences. I'm sure something has to do with the age and life experience of the audience members... but it's interesting.
Did you see it when it was at Playwrights Horizons?
I didn't, no. I had no awareness of it until I read it when it was sent for the audition. And I almost didn't go into the audition. I have to credit my girlfriend who was forcing me to go in, because I don't speak French and I have a monologue in French in the show. She was like "Just go. If it's terrible, you'll humiliate yourself for five minutes, and then you'll come home and it will be fine." So, I have to credit her with forcing me to pretend that I was French for five minutes!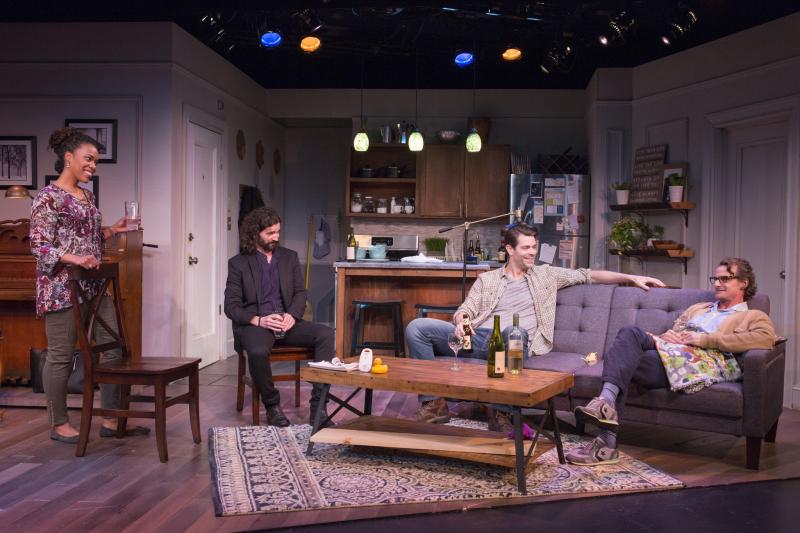 Well, let's talk more about this French person who you're playing, Jean-Pierre. What's he all about?
He's sort of the perspective in the show in some ways. All of these hilarious topics I mentioned before are all really going on with the four other characters, with Jane- who is the main story we track through the show- Tom and Marrel, who are her best friends that are married, and then their friend Alan, are sort of all having these... hmm... mid life crises? So, Jean-Pierre is this French Doctor, who gets invited to a dinner party with all of them, and there are subsequent situations with him.
I understand that this is your Barrington debut, right?
It is, yeah!
Are you enjoying your time up there so far?
I love it up here. I did a show with Mark Dold many years ago at the Shakespeare Theatre, who plays Alan in the show, and this is, I think, his 14th season here?
Wow!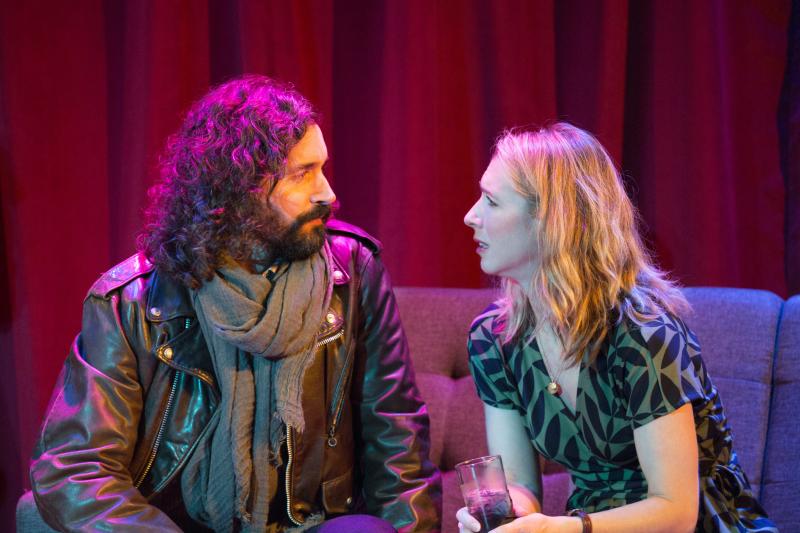 So I was talking to him before I came up here, and he said it's become like his second home. And I can totally see how one would continue to come back. I really enjoy every minute of it.
One of the things that so cool to me is that when we first got here, there's an MTC [Musical Theatre Conservatory] program that's a bunch of college students basically interning here this summer. So they're in shows, they do cabarets, they do workshops and classes. I went to one of their cabarets the first week we were here. It was so cool just seeing that kind of enthusiasm and excitement for theatre and then to see that extend into all of us old professionals who are doing shows here.
There are so many shows going at the same time. Like, when we got here, we got to see a performance of RAGTIME, we got to see the SPEECH AND DEBATE cast, which then we moved into their theater. And then RAGTIME left and TAKING STEPS went onto that stage, and then COMPANY is about to open, so we get to see that, and we get to hang out with all these people in the green room during rehearsals, and then go watch them perform. Normally you're with your cast all the time and then you're on stage with them, which is amazing, but to get to watch your peers and friends and former co-workers doing their shows in addition to working on your own show, is, to me, so much fun! I've seen six shows since I've gotten here, and it's just so cool to watch all of this, to be excited about what we're doing and then get to watch each other perform these things that we've been working on. And then just to hang out with all of your friends, it's pretty much an adult summer camp.
I know that you also got to be a part of The Public Theater Gala this year. Was it cool to be back on that stage again?
That is honestly my favorite place to perform ever, anywhere. It's this totally magical thing that I'll never have a theatre experience like, like the HAIR experience. We all thought it was a 3-day concert. We rehearsed for about six days, did the three performances, and we thought that was going to be it. And then, it became a full run at the park, and that became a Broadway run, won a Tony, and it went to London, and on tour, and then back to Broadway, then back to tour.
It was a very special show...
During the original run, Frank Langella came to see the show. He came a few times because he was friends with one of our producers. I remember Steel [Burkhardt] and I were onstage, and Frank went backstage it ended up being just the three of us talking for about half an hour after the show one night. And he walked into the theater like, "Here, this is where I would come up backstage," sort of walking us youngsters into the theater, but he stopped and said, "I hope you guys realize what this is. I hope you realize that this doesn't happen that often. I've been doing this for 50 or whatever years, and I've had maybe two or three experiences that would be something like what you guys are experiencing now. So, I hope you guys just are able to understand that as you're in it."
Wow, that's something you'd never forget.
There's really nothing like doing shows outside in that space. And a space, for a hippie like me, that was created for the public- not just The Public Theatre, but for the actual people of NYC to be shared to free, and to have theatre be accessible too, to anyone, just sort of adds to magic of it for me. It's such a cool and special stage.
And then, of course, you're in GYPSY on Netflix too, which was released not too long ago!
Yeah, that was fun. That was sort of another totally unexpected thing that popped up. And every scene I had was sitting next to Naomi Watts, which I was terrified the first day that I was there. I've done a lot of TV commercials, and I did that web series with Wes Taylor years back, but this was one of the first things with an actress of that caliber, and it was incredible. Just sitting next to her, watching the way that she worked... she was working 100x harder than the rest of us because she was also one of the producers, and she was in the whole show while I just sort of pop up here and there. Just watching her work as such an education on that side of things.
What are you most looking forward to with the rest of the run of This?
Well right now, we're just looking forward to playing every night and finding new stuff and figuring out better ways to tell a story that we've been telling. And what I said before about the audiences being so different every night, that's something that's going to keep us active and engage in the show every night. The audience in any comedy plays such an important part in the rhythm of the show and of the performances of the show, so it's just sort of figuring out what they're locked into and what they're engaged with in the show, and playing along.
---
Performance schedules for all productions are available by visiting www.barringtonstageco.org.
Photo Credit: Scott Barrow
Related Articles