Latest News on Julia Coffey
Stage Credits
  [Off-Broadway]
Original Off-Broadway Production, 2015
Norma Baxter
  [Off-Broadway]
Mint Theater Company Production, 2014
Performer
  [Off-Broadway]
2009
Mrs. Holroyd
  [Los Angeles]
La Mirada Theatre Production, 2005
Performer
Stage
Performances
  [Off-Broadway]
Original Off-Broadway Production, 2015
Norma Baxter
  [Off-Broadway]
Mint Theater Company Production, 2014
Performer
  [Off-Broadway]
2009
Mrs. Holroyd
  [Los Angeles]
La Mirada Theatre Production, 2005
Performer
Julia Coffey Awards and Nominations
Drama Desk Awards - 2014 - Outstanding Featured Actress in a Play
Julia Coffey, London Wall
Julia Coffey News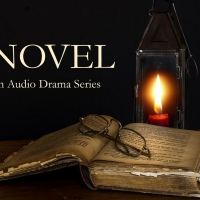 Sebastian Arcelus, Jenny Bacon, Julia Coffey And Lynette Freeman Headline Preview Reading Of NOVEL: An Audio Drama Series
by Stephi Wild - Nov 12, 2019
Midtown Direct and Triple Birch Media present an exclusive preview reading of NOVEL: An Audio Drama Series, created by Aimee Parrott and William Bienes.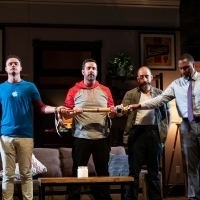 BWW Review: The Guys Are Alright: SUPPORT GROUP FOR MEN at Contemporary American Theater Festival
by Jack L. B. Gohn - Jul 12, 2019
Support Group for Men will send you away happy. There is nothing profound or challenging in this show: just a well-crafted and very funny comedy of manners, specifically the manners of the male of Species Homo Americanus, youthful to mid-life, as observed in a middle-class Chicago habitat.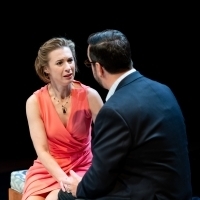 BWW Review: You'll Laugh, You'll Shiver: WRECKED at Contemporary American Theater Festival
by Jack L. B. Gohn - Jul 10, 2019
It's an old trick, but a good one: Set two contrasting dramatic tones (usually domestic comedy and dread) against each other and let them fight it out throughout a play. It's the trick playwright Greg Kalleres employs to advantage in Wrecked,
Photo Flash: Shakespeare Theatre Company Celebrates Artistic Director, Michael Kahn
by A.A. Cristi - Jun 19, 2019
On Sunday, June 16, Washington, D.C.'s theatre community gathered to celebrate the end of MICHAEL KAHN's 33-year tenure as Artistic Director of Shakespeare Theatre Company with musical and dramatic performances, special guests from the worlds of entertainment, politics, and media, and a mayoral proclamation.

CATF Welcomes The 2019 Company
by Stephi Wild - Jun 4, 2019
With a picnic hosted by the Board of Trustees, the Contemporary American Theater Festival at Shepherd University welcomes 2019 company members. Attended by CATF partners, donors, and community members, this annual event is the first time CATF's 2019 company comes to celebrate the six new plays they are about to create. These artists, from around the country, including cities such as New York, Chicago, and Los Angeles, gather in historic Shepherdstown to create the future of American theater.

Red Bull Theater Continues Its 2018-'19 Revelation Readings With A MOST DANGEROUS WOMAN
by A.A. Cristi - Apr 8, 2019
Red Bull Theater today announced the cast for the next REVELATION READING, Cathy Tempelsman's A Most Dangerous Woman, directed by Pamela Berlin: Julia Coffey, Carson Elrod, Stephen DeRosa, Andrew Garman, Ben Mehl, Rachel Pickup, Griffin Sharps, Derek Smith, David Ryan Smith, and Sara Topham.  This will take place on Monday April 15th at 7:30pm at the Lucille Lortel Theatre (121 Christopher Street, between Bleecker and Hudson Streets).

BWW Review: THE PANTIES, THE PARTNER AND THE PROFIT at Shakespeare Theatre Company
by Roger Catlin - Dec 13, 2018
For his fifth and final work with Shakespeare Theatre Company director Michael Khan, the playwright David Ives has not returned to rhyming couplet adaptations of French classics, as he did in 'The Liar,' 'The Heir Apparent,' 'The Metromaniacs' and 'the School for Lies.'
Hudson Valley Shakespeare Festival Announces Complete Casting For Summer Season
by A.A. Cristi - Mar 7, 2018
The Hudson Valley Shakespeare Festival (Davis McCallum, Artistic Director; Kate Liberman, Managing Director) is proud to announce complete casting for the 2018 summer season. The previously announced season will include two Shakespeare classics, RICHARD II and THE TAMING OF THE SHREW, alongside David Farr's adaptation of THE HEART OF ROBIN HOOD, and the world premiere of Seth Bockley's RIP VAN WINKLE; or, CUT THE OLD MOON INTO STARS, the first-ever mainstage commission by HVSF, featuring 40-plus members of the Hudson Valley community alongside a cast of 4 professional actors. The season will also feature the HVSF Conservatory Company in an original clown piece, THE SEA-MAID'S MUSIC, devised and directed by Zachary Fine.
Aaron Tveit-Led COMPANY Extends at Barrington Stage
by BWW News Desk - Aug 21, 2017
Barrington Stage Company (BSC), the award-winning theatre in Downtown Pittsfield, MA, under the leadership of Artistic Director Julianne Boyd, has announced a one-week extension of Company.
BWW Interview: Paris Remillard Is Getting Into THIS (and That) This Summer at Barrington Stage Company
by Nicole Rosky - Aug 15, 2017
Barrington Stage Company (BSC), the award-winning theatre in Downtown Pittsfield, MA, is wrapping up its summer season with This, written by Obie Award-winner Melissa James Gibson and directed by Louisa Proske. After receiving rave reviews during its off Broadway run in 2009, the play arrived on the St. Germain Satge, where it will run through August 27.
Julia Coffey Videos
STAGE TUBE: Preview A.C.T.'s MAPLE AND VINE
by Stage Tube - Apr 6, 2012
American Conservatory Theater (A.C.T.) continues its 2011-12 season with the West Coast premiere of Maple and Vine, written by Jordan Harrison and directed by A.C.T. Associate Artistic Director Mark Rucker. Fresh from a run at Playwrights Horizons in New York City, Maple and Vine tells the story of married couple Katha and Ryu, a pair of stressed-out urban professionals who feel unfulfilled by the impersonal gadgets and fast-paced lifestyle of the modern world. After meeting a charismatic man from a community of 1950s reenactors, they decide to swap cell phones and sushi for phone trees and fish sticks by joining a community where life is slower, passion is risqué, and a cocktail is a daily accessory. In this recreated world, where retro attitudes about gender, race, and sexuality stir up powerful questions, Katha and Ryu must decide how much they are willing to sacrifice for happiness and whether the 'good old days' were really that good. Maple and Vine performs a limited run March 29-April 22, 2012, at the American Conservatory Theater (415 Geary Street, San Francisco). Tickets (starting at $10) are on sale now and may be purchased online at act-sf.org or by calling 415.749.2228. Check out the video preview with clips from the show and audience interviews below!
Julia Coffey Frequently Asked Questions
What awards has Julia Coffey been nominated for?
Outstanding Featured Actress in a Play (Drama Desk Awards) for London Wall .