Click Here for More Articles on HOLIDAY INN
BWW Interview: Get to Know Gordon Greenberg- the Man You Don't Know Yet, but Ought To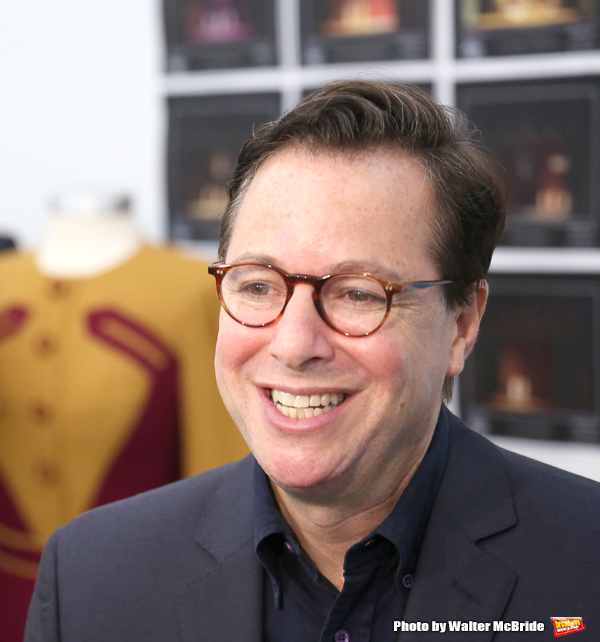 You might not know of Gordon Greenberg yet, but that's all about to change. The writer, director and renaissance man has spent years making his mark in off Broadway, West End and regional theatre, working with top-notch performers and creators all around the world.
This season he makes his Broadway debut as a director and book writer (he performed in the 1995 revival of HOW TO SUCCEED IN BUSINESS WITHOUT REALLY TRYING) of HOLIDAY INN, which opens tomorrow night at Studio 54.
Below, he's opening up about just a handful of his past shows and current projects!
---
HOLIDAY INN
It's interesting because we only started working on the show three years ago, so it's been an incredibly fast trajectory. Our first, developmental production of it was at Goodspeed, which is right in the heart of Connecticut- the exact location where the story takes place. So it was in many ways, the best place to develop it because we were right there, living the real thing. We had instant access to anything design-wise or temperament-wise. The feel of living amongst true New Englanders was valuable. For a moment, I wasn't sure if the show would play outside of New England. So, we then brought it to St. Louis where it was a very quick process and pretty much the largest stage in the country. Bringing to it to its best possible home at Studio 54 on Broadway has felt so right. My overall question was, would audiences embrace it and find the same joy that they did in Connecticut? That was answered in our very first preview with a "yes!" So that was pretty exciting for me. Once we got over that hump, it became how to make it the best possible version of itself, which we are still in the midst of nipping and tucking and being perfectionists.
GUYS AND DOLLS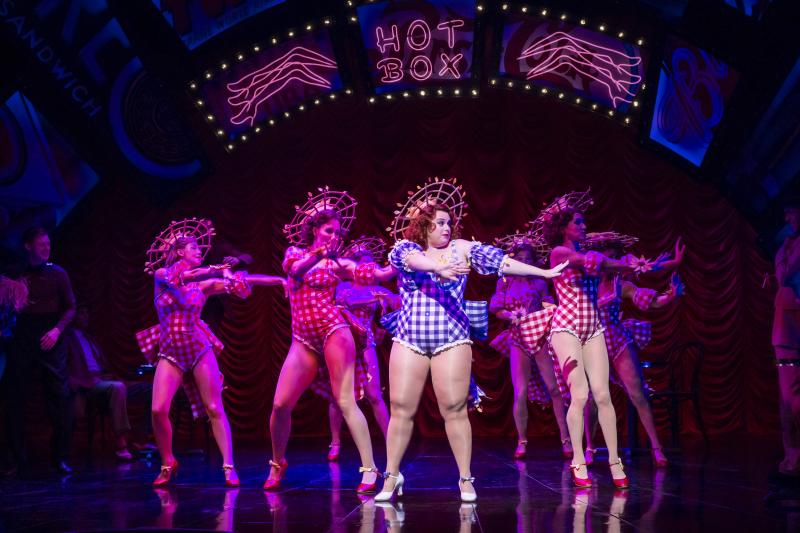 Everything about Guys and Dolls was a pleasure and an honor. I've always been an anglophile. It was the first show I saw when I was a kid and went to London with my parents. This production really grew out of a tour I did in the United States with Megan Sikora and Steve Rosen. I got to know Jo Loesser, and when it came up in England, I was lucky enough to get that job. The production, bizarrely, just kept going and kept being embraced by the English public. We got to go through four different Nathans and Adelaides and everyone of them taught me something and brought something fresh to the show. The bedrock of the whole production had been Jamie Parker, who not only became a good friend, but is one of my favorite actors. I call him the "self cleaning oven," because you could give him one adjustment and it just ripples from there. He's very smart and very generous and he played Sky Masterson for us, of course. He's now playing Harry Potter [in Harry Potter and the Cursed Child]. Yes, I will say overall the whole thing was quite the giant bowl of very expensive candy.
WORKING
Working was a show that I had been passionate about since I was about 13 years old. I did it at Stage Door Manor in my first summer there as a camper and I fell in love with the piece. I just finished spending five years with Stephen Schwartz working on THE BAKER'S WIFE, which was enormously gratifying. Just the phenomenal landscape of that show and helping him and Joe Stein finally realize the show they always wanted... that felt great. He said, "What's our next project?" And I said, "I've always loved Working. Would you consider it?" And we were developing it initially with Jenny Steinberg at ArtsNova and it was going to be a tiny piece because it's a tiny stage and I was like, "Well, we'll do it with like four people that will be fine." At first we were there at of necessity, but when we realized the idea was bigger than that, we did it with a whopping six people and it quickly underscored the central idea of the show, which is that you are watching people working. I thought without being overly pedantic or preachy, we could just illustrate to us what is second nature. Watching an actor transform right before our eyes from a housewife to a hooker or watching somebody go from being a senior citizen to a robust factory worker was sort of magical. We just decided to do the set like a giant exposed, bones, almost like a cut out cross section of the theater so you could see what was actually going on behind the scenes. It was a joyous experience and bringing Lin-Manuel Miranda into it was also a fairly magical and very fortuitous step. I had known Lin, we have the same agents. We had been friendly. As the world now knows, he's an incredibly productive, good-hearted, generous person and he loved Working as well. I brought it up with him and he jumped at the chance even though he was literally in previews for IN THE HEIGHTS, starring in it and writing it. He still managed to write us two amazing songs, which greatly elevated this new version of the show.
JAQUES BREL ALIVE & WELL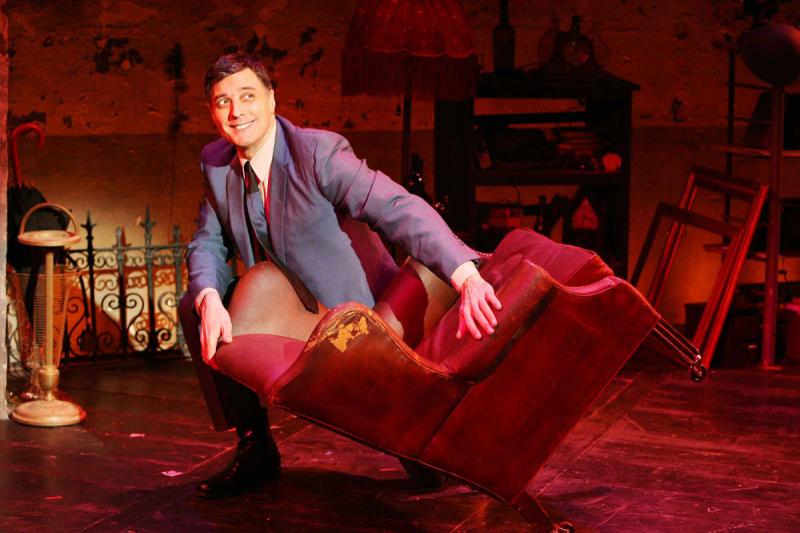 Jaques Brel was another one where, because I had grown up with it, and my Mother went to school in France, and was always playing French music in the house, Jaques Brel and all of those familiar voices from film soundtracks were very much part of my childhood. When the opportunity came up I jumped at it and got to, again, stretch some muscles. Adapting the original, re-translating some of the songs, especially with "Marathon"... A lot of people love that number and I thought, "Let's give this a fresh way in." And "Marathon" always felt to me like it belongs in a musical revue in the 70's, which is what the show was in the 70's and I thought, "Well now, that it's 2006, why don't we look at a new way to start it?" So I went back to one of his first songs called, "Le Diablo," which means "The Devil" and it was all about how The Devil came up to Earth one day, took a little look around and then went back down and back to all his followers and said, "Guys, we're really doing well on Earth. Things are going to shit." That was what the song was about- how proud he is about the horrific state of things on Earth and that it was all his doing. I just thought the irony of it, the sense of the world being more and more like fiction and unfathomable. We could sing that song right at this moment and I don't think anyone would question it. So, that became the way in and so I put the things that were on my mind and it was so gratifying to be able to create a translation and create a new version of the show and give the show a kind of new lease on life. It was a wonderful experience.
Disney's BELIEVE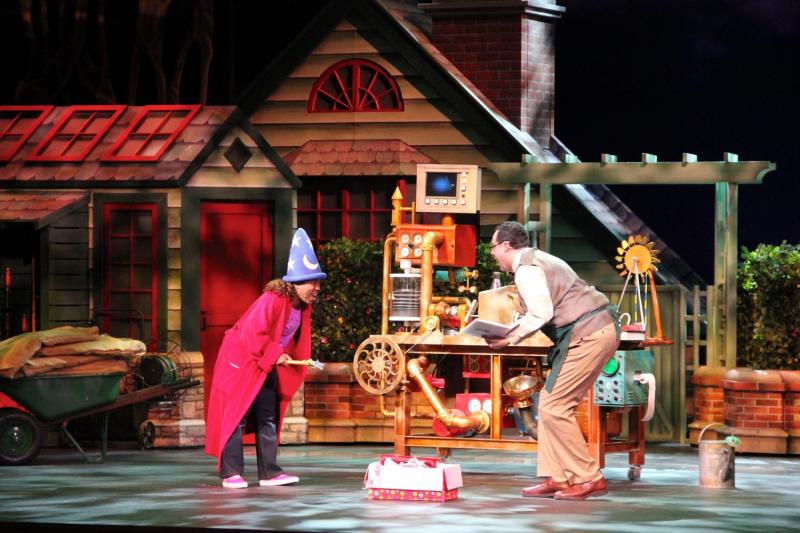 I've been a Disney fan forever. Who isn't? I've always loved the parks and getting to revisit your inner child or that moment in time when everything was simple and beautiful. Through Jaques Brel, I met some producers from Disney from the West Coast and I was talking to them about a version of Ratatouille because of the French aspect. They decided against doing that and ultimately said, "We want you to create a whole new show with Kirsten Childs," who is an old and dear friend of mine, and with whom I'm writing the new musical for The New Group. She and I love each other and we said "Absolutely!" We spent the better part of the year creating what is essentially a juke-box musical for them about a father and daughter. It's playing on I don't know how many ships and how many thousand and thousands of people have seen it. It's gratifying. I love that it goes out and so many people for whom that is their first theater experience. I will say the theater's on the ships are huge and incredibly well outfitted. It was a lovely experience and getting to directly work with Bob Iger, who's the head of the company, and sort of all the great minds at Disney from imagineering to creative as well.
TANGLED
TANGLED is now up and running. It's on the ships and I'd love for it to go further because I do believe it's a brilliant piece. Working with Alan Menken and Glenn Slater on that last year was pretty wonderful. It's like an hour and 10 minutes, one act, and it wouldn't take a lot more to turn it into a full-length, because it's bursting with more possibilities. I think Alan kept wanting to add stuff and Glenn had ideas and I had ideas. The whole experience was terrific. It's actually how Alex Brightman met [School of Rock lyricist] Glenn Slater. Alex is an old friend of mine who has done a bunch of shows for me. He's done workshops of BAND GEEKS and STARS OF DAVID. I called him in and I said, "This is crazy, but would you come to our workshop and play a role with no lines and no song." And he was like, "Sure! I can handle that." And he played the horse, Maximus. I would love for it to play on dry land. So I can visit it. They recast it a lot so I keep meeting people here in the city that have played Rapunzel of Flynn or Mother Gothel. It's really fun to see who goes through that, kind of, training program of the show.
Gordon Greenberg has directed plays and musicals at major theatres across America and the U.K. including Williamstown, Old Globe, Paper Mill, Signature, Goodspeed, Huntington, Dallas Theatre Center, Asolo, New York Stage & Film, and Chichester, written for television and stage, and runs the musical theatre program at The New Group. His acclaimed revival of Guys & Dolls opened on the West End at the Savoy Theatre in December, 2015. He directed and adapted (with Stephen Schwartz and Lin-Manuel Miranda) the revised production ofWorking at The Old Globe and 59 E 59 in New York. Other work includes Johnny Baseball for Williamstown Theatre Festival, Scramble Band (writer), a Disney Channel original movie musical,Rags for Roundabout (workshop), Pirates! Or Gilbert and Sullivan Plunder'd (created with Nell Benjamin) for Paper Mill and Goodspeed, The Baker's Wife (revised with Stephen Schwartz) for Goodspeed and Paper Mill, Disney's Believe (created with Kirsten Childs) for Disney Creative, Disney Fantasy Christening(with Neil Patrick Harris & Jerry Seinfeld). Current projects include The Secret of My Success for Universal (Director/co-writer), Tangled for Disney (Director), The Single Girls Guide for the Fifth Avenue in Seattle (Writer), Port-Au-Prince (writing with Kirsten Childs for The New Group), and co-writing a new movie musical for Nickelodeon Television. Born in Texas and raised in New York, Greenberg performed in his first Broadway show at age 12. He attended Stanford University, R.A.D.A., and NYU Film School.

Related Articles
Originally from Pittsburgh, Pennsylvania, Nicole began writing for BroadwayWorld in 2010. She currently resides in New York City, where she gets to enjoy far more (read more...)