Andrew Polec, Christina Bennington, and More Set For BAT OUT OF HELL at City Center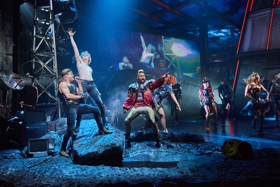 The New York City run for Jim Steinman's Bat Out Of Hell - The Musical will begin performances at New York City Center on August 1, 2019 with an Opening Night set for August 8, 2019. Bat Out Of Hell - The Musical will play a six-week engagement through September 8, 2019.
Tickets are on sale today and can be purchased online at www.nycitycenter.org, by calling 212 581 1212 or by visiting the New York City Center box office (131 West 55th Street).
Under the direction of Jay Scheib, the New York engagement for Bat Out Of Hell - The Musical will star Andrew Polec who thrilled London and Toronto critics with his powerhouse performance as Strat. Joining him will be Christina Bennington who originated the role of Raven in London, Bradley Dean as Falco,Avionce Hoyles as Tink, Danielle Steers as Zahara, and Tyrick Wiltez Jones as Jagwire. The ensemble for Bat Out Of Hell - The Musical includes Will Branner, Lincoln Clauss, Kayla Cyphers, Jessica Jaunich, Paulina Jurzec, Adam Kemmerer, Nick Martinez, Harper Miles, Erin Mosher, Aramie Payton, Andres Quintero, Tiernan Tunnicliffe, and Kaleb Wells. Casting for the role of Sloane will be announced shortly.
The three Bat Out Of Hell albums have sold a staggering 100 million copies globally. The first album, released in 1977, is one of the best-selling albums of all time and in 2003 was named one of "Greatest Albums of All Time" by Rolling Stone. Sixteen years later, Mr. Steinman scored again with Bat Out Of Hell II: Back Into Hell, which contained the massively successful single "I Would Do Anything For Love (But I Won't Do That)" which reached number one in 28 countries and earned a Grammy® Award. The final album in the trilogy, Bat Out Of Hell III: The Monster Is Loose, debuted on Billboard's Top 10 list, was a top-selling album in 14 other countries, and includes Meat Loaf's hit version of the Steinman classic "It's All Coming Back To Me Now."
For the stage musical, the legendary and award-winning Mr. Steinman has incorporated iconic songs from the Bat Out Of Hell albums, including "You Took The Words Right Out of My Mouth," "Bat Out Of Hell," "I Would Do Anything For Love (But I Won't Do That)," and "Two Out Of Three Ain't Bad," as well as two previously unreleased songs "What Part of My Body Hurts the Most" and "Not Allowed to Love."
In Bat Out Of Hell - The Musical, the electrifying rock songs of Mr. Steinman propel an epic story of rebellious youth and passion as Strat, the immortal leader of The Lost, has fallen in love with Raven, the beautiful daughter of the tyrannical ruler Falco.
Bat Out Of Hell - The Musical is produced by Michael Cohl, Tony Smith, Bob Broderick, Lorne Gertner, David Sonenberg, features book, music, and lyrics by Mr. Steinman, direction by Mr. Scheib, choreography by Emma Portner and Xena Gusthart, with musical supervision and additional arrangements by Michael Reed, set design by Jon Bausor, costume design by Mr. Bausor & Meentje Nielson, lighting design by Patrick Woodroffe, video design by Finn Ross, sound design by Gareth Owen, orchestration by Steve Sidwell, and musical direction by Ryan Cantwell.
The original cast recording of Bat Out Of Hell - The Musical is now available both digitally and on CD from Ghostlight Records. The album is produced by Mr. Steinman, Steven Rinkoff, and Michael Reed.
In April 2018, Bat Out Of Hell - The Musical launched a wide-ranging global partnership to support the Invictus Games Foundation, the governing body of the Invictus Games, a global sporting event for wounded, injured, and sick servicemen and women, both serving and veterans.
For additional information, please visit www.batoutofhellmusical.com