Announcing Casting & Creative Teams Of SOUND BITES 5.0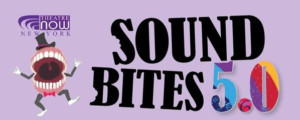 Theatre Now New York is pleased to announce the complete casting and creative teams of the ten musicals featured in SOUND BITES 5.0, the Fifth Annual 10-Minute Musical Festival. This one-night only event showcases ten new musicals of up-and-coming musical theatre writing teams.
SOUND BITES 5.0 will feature numerous Broadway names in the casting and creative teams. Rachel M. Stevens (Natasha, Pierre & the Great Comet of 1812) will direct Bystander. Aaron Simon Gross (13, Outer Critics Circle Nomination for Featured Actor in a Musical) will direct Dead Flowers. Jonathan Stuart Cerullo (Say Goodnight, Gracie, Band In Berlin, Anna Karenina, The Three Musketeers) will direct and choreograph JABEZ and The P.P. Gang. Angelique Ilo (original Broadway production of A Chorus Line, Crazy for You, Contact, Steel Pier, The Wedding Singer) will direct Run This Town. Laura Shoop (She Loves Me, Fiddler on the Roof '04 revival, Oklahoma! '02 revival) will join the cast of Welcome to Ridgington. Additionally, Off-Broadway's Jim Brochu (Zero Hour, 2010 Drama Desk Award for Outstanding Solo Performance) will join the cast of Dead Flowers.
The festival will take place on May 28, 2018 (Memorial Day) at 7:00pm on The Irene Diamond Stage at The Pershing Square Signature Center, 480 West 42nd Street, New York, NY, 10036. Tickets are $25, $35, and $45. Tickets can be purchased on www.tnny.org or by phone, 855-254-SHOW [7469]. The proceeds of SOUND BITES 5.0 will go to the creation and development of new musicals.
After a record-breaking amount of submissions this year, the SOUND BITES 5.0 Adjudication Committee chose the top ten musicals. The finalists will compete for top festival honors, including Best Musical, Best Direction, Best Book, Best Choreography, Best Actor, Best Actress, Best Music, and Best Lyrics. The audience will also vote for their favorite musical, which will earn the coveted Audience Choice Award.
SOUND BITES 5.0:
Bystander 
Book & Lyrics by Ed Levy
Music by Eric Grunin
Directed by Rachel M. Stevens+
Music Direction by Adam Wiggins
Cast: Danny Kornfeld, Neda Lahidji, Kristen Kress Parness, Mikki Sodergren
On a late-night subway, a passenger accuses a young woman wearing a hijab of terrorism, which puts the only other rider in a precarious situation.
Cooking For Two 
Book & Lyrics by Charlie O'Leary
Music by Karl Hinze
Directed by Tasha Gordon-Solomon
Music Direction by Karl Hinze
Cast: 
Stephan Amenta
, 
Robert Berliner
*, Bettina Bresnan
It's the first season finale of Food Network's latest, Tasty Time with Jenny and Brett - but as the cameras roll, the eponymous couple's cheery facade starts to crack. When Jenny tries to end the show in a desperate bid to save their marriage, Brett must confront a terrifying choice: relationship or career?
Dead Flowers
Book, Music, & Lyrics by Michael Finke
Directed by 
Aaron Simon Gross
Music Direction by 
David Aaron
Brown
Choreographed by 
Rosie Jo Neddy
Stage Managed by Krissy Delahanty
Cast: 
Jim Brochu
*, 
Corey Desjardins
*, 
Andrew Lee
, 
Daniel Bender Stern
, Robbie Torres*,
Jo Walker
,
Sheilagh Weymouth
*, Ben Yahr*
At age 82, Polly Patolsky believes she is meant to spend the rest of her days with her unfaithful and manipulative husband, Charlie. But on the worst day of her life (and her marriage), Polly reaches a breaking point and finds strength and courage in a strange place with an unlikely new friend.
Dinosaur
Book, Music, & Lyrics by 
Zach Spound
*
Directed by Rebecca Kenigsberg
Music Direction by Jane Cardona
Stage Managed by Erin Page
Additional Music by VENMC
Cast: 
Emily Gardner Xu Hall
*, 
Tristan J. Shuler
*, 
Zach Spound
*, 
Brooke Wetterhahn
How do you spark up a conversation with a stranger? Meet Ben. He has no idea.
End of the Line
Book by Howard Ho
Lyrics by Chris Edgar
Music by 
Kristen Rea
Directed by 
Kristen Rea
Music Direction by Meggan Herod
Cast: 
Elyse Beyer
*, David Curtis Scott, 
Kalia Lay
, Patrick MacLennan
Four worker ants set out on a routine mission to retrieve tasty morsels for their colony and end up on the quest of a lifetime. When faced with a fork in the road, will they return home empty handed or receive a hero's welcome for discovering the "legendary stuff" long prophesied by their ancestors?
Hospital Kids
Music by Jake Chapman
Book & Lyrics by 
Lisa Mongillo
Directed by Alex Shaw
Music Direction by Jake Chapman
Choreographed by 
Whitney Brandt
Cast: 
Jahbril Cook
, Liz Damuth*, 
Katie Emerson
*, 
John Fisher
*, 
Luke Holloway
*, Hannah Solow*
A hilarious, madcap, heartwarming romp of a musical that follows three young cancer patients as they embark on a quest to meet their idol, the flawless Hollywood hottie Ryan Reynolds. These kids won't let anything - not illness, not nurses chasing them through halls, not doctors trying to send them home, not constant nagging from their least favorite celebrity Ryan Gosling - stand in the way of their dream.
JABEZ and The P.P. Gang
Book, Music, & Lyrics by Tom Hyndman
Directed & Choreographed by 
Jonathan Stuart
Cerullo+
Music Direction by 
Lulu Picart
Executive Producer & Assistant to Director, Peter Petkovsek
Assistant to Choreographer, 
Sam Given
*
Cast: 
Sam Given
*, 
Justy Kosek
*, Daren Liff, 
Brian Losoya
, Danielle Louise Mendoza, 
Danelle Rivera
, 
Eddie Rodriguez
Jr., Charles Sanchez,
Kegan Witzki
While on the lam, a teenage Mexican boy and his outspoken "Pet" cockatoo encounter a former Mariachi cover band turned Banditos, a posse of hostile Texas Rangers, a beautiful señorita and trouble in Old Mexico.
Run This Town
Music by 
Assaf Gleizner
Book & Lyrics by Cindy Sideris
Directed by 
Angelique Ilo
Music Direction by 
Assaf Gleizner
Cast: Taylor Coriell, 
Matt Giroveanu
, Tegan Miller, 
Patricia Sabulis
, 
Alan Trinca
, 
Jordan Wolfe
A jazzy comedy about a gangster who is frustrated with his friends and accomplices, and wants to work with and learn from a pro. However, he soon realizes people aren't always who they seem to be, and sometimes your friends are your best partners.
The Almost In-Laws
Book & Lyrics by 
Greg Edwards
Music by 
Andy Roninson
Directed by 
Erin Thompson
Music Direction by 
Andy Roninson
Cast: Nicholas Alexiy Moran*, 
Rebecca Odorisio
*, 
Kyle Olsen
*, 
Adrien Swenson
Des has to introduce his fiancée to his parents, and they're, well... elves.
Welcome to Ridgington
Music by 
Luke Steinhauer
Book & Lyrics by 
Jordan Silver
Directed by 
Andrew Rasmussen
+
Music Direction by 
Luke Steinhauer
Cast: 
Greg Carter
*, 
Barrett Riggins
*, 
Kristin Serafini
*, 
Laura Shoop
*
The perfect town of Ridgington, everyone follows a strict regimen of routines, rituals, and traditions. Today is Cleansing Day, the only time when each family has the right to tell each other the truth that's been pent up all year. Every other day, they must smile and nod, just as they do in public to hold their lives and families together.

*indicates member of Actors' Equity Association
+indicates member of Stage Directors and Choreographers Society