Adaptation of Nikki Sixx Memoir THE HEROIN DIARIES Heading to Broadway in 2018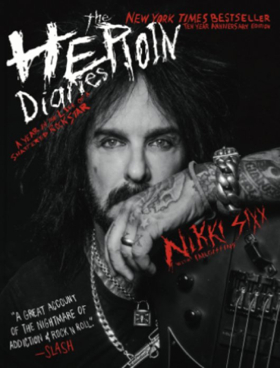 Today global rock icon Nikki Sixx announces plans to step down as host of and end his nationally-syndicated Premiere Networks / iHeartRadio rock Radio programs, Sixx Sense with Nikki Sixx, The Side Show Countdown with Nikki Sixx and The Side Show Classic with Nikki Sixx at the end of this year. His final broadcast will be December 31, 2017.
Sixx is stepping down from his hosting duties to focus on myriad new endeavors in 2018 including his blossoming photography career, television endeavors and the Broadway adaptation of his New York Times Bestselling Memoir THE HEROIN DIARIES: A YEAR IN THE LIFE OF A SHATTERED ROCKSTAR.
Featuring music from SIXX:A.M.'s The Heroin Diaries Soundtrack, the first-ever soundtrack tied to a book release, Sixx has teamed up with former Live Nation Chairman and Spiderman: Turn Off The Dark Broadway producer Michael Cohl to bring this compelling story of addiction and redemption to life on stage.
Originally released in 2007, both the book and soundtrack will see Tenth
Anniversary
Editions released later this month: The Heroin Diaries: A Year In The Life of a
Shattered
Rockstar
ft. new chapters and never-before-seen photographs is out October 24th via Gallery Books / Simon and Schuster. The Heroin Diaries Soundtrack: 10th
Anniversary
Edition by SIXX:A.M. ft. three newly reimagined 2017 tracks including #1 hit "Life Is Beautiful 2017" is out October 27th via Eleven Seven Music. 2018 will also see Sixx take his first-ever photo exhibition Conversations with Angels around the world in partnership with Leica Camera. On display through November 5th 2017 at the Leica Gallery Los Angeles, the collection showcases the artist's talent for storytelling across platforms with intimate images by Sixx depicting homelessness and drug addiction amongst other subjects; topics that he was all too familiar with before photography helped change his life. Sixx has also partnered with Leica Camera on the debut of a limited edition Nikki Sixx Leica Q camera. More info
here
.
In addition to his own creative endeavors, the visionary artist remains committed to broadening horizons for all. Sixx recently penned a powerful op-ed for the Los Angeles Times arguing for better policies to end the scourge of opioid addiction in America.
He has also joined Canadian talent show The Launch where he will mentor unsigned talent alongside Boy George, Shania Twain, Fergie, Alessia Cara, Julia Michaels, and Jennifer Nettles as an experts in crafting a hit song on the new six-part series. Additional endeavors are in the works.
Launched at the beginning of 2010, his flagship radio program Sixx Sense quickly became the biggest syndicated rock show in America, distributed to more than 130 stations nationwide and boasting nearly 3 Million global weekly listeners. Sixx has welcomed an influential array of prominent musicians, celebrities, and noteworthy personalities as guests on the show. During his tenure as host he interviewed royalty such as Sir Paul McCartney, Slash, Steven Tyler, Metallica, Stevie Nicks, and Dolly Parton, boxing champion Mike Tyson, director Cameron Crowe, celebrity health expert Dr. Oz, and many more.
In addition, the program provided a unique platform for new music discovery with Sixx hand-selecting up-and-coming talent and introducing his audience to future superstars. Sixx launched trailblazing artists such as Awolnation, Greta Van Fleet, and
Nothing More
among many more by debuting their music on Sixx Sense. Julie Talbott, President of Premiere Networks, stated: "When we first partnered with Nikki in 2010, we set out to create a unique program from the perspective of true rock star, and that's exactly what we did. We're proud of the work we did together to make Sixx Sense one of the most-widely-syndicated Rock radio programs in the country, while establishing the ultimate platforms for rock music fans, as well as new and established artists. It's been a pleasure working with Nikki, and we wish him all the best." "I grew up discovering music on the radio," explains Nikki Sixx."So to host my own show over the nearly eight years of Sixx Sense was beyond my wildest dreams. I could not have done it without my amazing team in the studio, or the guests, musicians, and listeners that brought the show to life. It's been an inspirational journey and I'll always be a fan of the medium, but it's time to shift gears outside the realm of solely radio. I'm in the process of developing new and unique programming and ventures across multiple platforms. But I'm really gonna miss Sixx Sense."
About Nikki Sixx: Nikki Sixx is the International rock icon, founding member of Mötley Crüe and Sixx:A.M. three-time New York Times best-selling author with The Heroin Diaries, This Is Gonna Hurt and Mötley Crüe's The Dirt, philanthropist, photographer and syndicated radio show host of Sixx Sense and The Side Show Countdown.
As the creative force behind a multitude of projects, Sixx never stops inventing new ways to express himself and continues to unveil his unusual points of view with new projects. Mediums such as his photography, books, radio shows, music and others have given Sixx the ability to fully develop as an artist. In an age of overnight stars, one hit wonders and YouTube sensations, Sixx has created and maintained a career based on the uniqueness of his content and the creativity he exhibits.
Some of Sixx's accomplishments include over 100 million in album sales with Mötley Crüe and Sixx:A.M., countless sold out global tours, Mötley Crüe pioneering and selling out the first hard rock residency at the Hard Rock Hotel & Casino in Las Vegas, the award-winning 2012 Kia Motors Superbowl commercial and photographing high fashion for The New York Post's prestigious supplement, Alexa. Songs written by Sixx have been used in commercials for renowned brands, such as Dodge and Coldwell Banker amongst many others. Nikki Sixx has raised several hundred thousand dollars for Covenant House California which helped fund their highly successful music program.
Monday through Friday until December 31st 2017, on his nationally syndicated radio show, Sixx Sense with Nikki Sixx, which airs on over 130 stations. Sixx discusses music and lifestyle topics as he gives listeners a backstage look at the world and mind of a rock star. Sixx provides his unique perspective and attitude as he welcomes celebrity guests, recording artists and fascinating characters from all walks of life.
Through the show, Sixx also introduces the audience to discover the next generation of new music talent and has helped break many bands. Syndicated by Premiere Networks (iHeart Media), the show is complemented by The Side
Show Countdown with Nikki Sixx, which airs on weekends. The programs can also be heard internationally by approximately 2.8 million weekly listeners and is available on iHeart Media's digital platform, iHeartradio. Sixx Sense celebrated its seven-year anniversary in February 2017. The final show will be December 31st 2017.