14th Annual Festival Of The Aegean Opens On Greece's Island Of Syros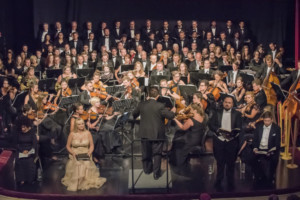 The Festival of the Aegean, founded in 2005 by Greek-American Conductor/Producer/Artistic Director Peter Tiboris and popularly dubbed "The Salzburg of the Aegean," is held annually on Greece's Island of Syros, which boasts some of the best beaches in the Cyclades, waterside eateries serving freshly-caught fish and a 100% chance of sunny weather in the month of July.
MidAmerica Productions and MidAm International are the main producers of the Festival of the Aegean - http://festivaloftheaegean.com/home.html - in cooperation with the Syros Municipality, Mayor George Marangos and the Vice President of Cultural Affairs Thomai Mendrinou. MidAmerica Productions was founded by Maestro Tiboris in 1983. MidAm International was established in 2012 to create and present concerts in Vienna, Salzburg, Florence, Verona, Venice, Paris, Prague, Berlin, Lisbon, Porto, Warsaw, Kraków and Syros.
This year's 14th Annual Festival of the Aegean, July 15-29 at the Apollo Theater (also known as "La Piccola Scala"), will showcase 350 artists from 28 countries and a dedicated orchestra, the Pan-European Philharmonia of Warsaw, whose appearance is made possible by the generous support of the Schwarz Foundation of Munich, Germany.
Highlights include tributes to Italian Composer Gioachino Rossini on the 150th anniversary of his death with opening night and July 17 performances of his Stabat Mater conducted by Maestro Tiboris plus four performances of La Cenerentola (Cinderella) on July 16, 18, 20 and 22 by Principal Guest Conductor Giovanni Pacor.
On July 21, there will be a Grand Opera Gala conducted by both Maestro Tiboris and Maestro Pacor featuring Soprano Eilana Lappalainen, Tenor Gian Luca Pasolini and Bass-Baritone Carry Persson. Participating choirs and their directors under Chorus Master David R. Thye, are:
Chœur d'Enfants d'Île-de-France, Paris, France (Francis Bardot, Director)

Rincon/University High School Concert Choir, Tucson, AZ (Mareena Boosamra Ball, Director)

Northeast Louisiana Chorus, Monroe, LA (Deborah Chandler, Director)

Bethel College Voices of Triumph, Mishawaka, IN (Jeshua Franklin, Director)

Second Presbyterian Church Sanctuary Choir, Indianapolis, IN (Michelle L. Louer, Director)

Winston-Salem Youth Chorus / Salem College Choirs and Palmetto Voices, Winston-Salem, NC (Sonja Sepúlveda, Director)
Greek Composer Mikis Theodorakis' ELECTRA ballet, stunningly choreographed by Renato Zanello (July 27, 28 and 29), will conclude the summer festival with additional diverse musical entertainment offered in-between for the enjoyment of adults and children alike.
Discovering new artistic talent is also a priority for Maestro Tiboris whose 1,369 concerts worldwide over the past 35 years have debuted 92 World Premieres, 21 United States Premieres and 99 New York City Premieres.
In 2010, his wife, Finnish-Canadian Soprano Eilana Lappalaninen, founded The Greek Opera Studio - https://www.greekoperastudio.com - where she serves as Artistic Director. The educational academy, which runs in conjunction with The Festival of the Aegean, offers instruction in vocal training, movement, dance, acting, oratorio and audition presentation by world-class professionals such as David Malis, a leading baritone at the Metropolitan Opera for 12 seasons. The Greek Opera Studio's Young Artists will also perform at the Festival of the Aegean alongside main stage artists in La Cenerentola and in their own productions of Puccini's Gianni Schicchi and Liederabend on July 24, as well as a Grand Finale Gala featuring "opera duets and scenes" and Puccini's' Le Villi opera-ballet on July 25.
Related Articles
More Hot Stories For You
BREAKING: Matt Doyle, Jennifer Simard, Christopher Sieber, and More Join COMPANY; Cast Announced!
Full casting has been announced for the upcoming Broadway production of Company! Joining the previously announced Katrina Lenk as Bobbie and Patti LuP... (read more)

Zachary Noah Piser to Join Cast of DEAR EVAN HANSEN as Evan Alternate; Plus New Cast Begins Tomorrow
Zachary Noah Piser will join the Broadway company of Dear Evan Hansen on November 26, 2019 as the 'Evan alternate', playing his first performance as E... (read more)

Krystal Joy Brown Will Play Eliza in HAMILTON on Broadway
According to Page Six, Krystal Joy Brown will take over the role of Eliza Hamilton in the Broadway company of Hamilton beginning December 10.... (read more)

Breaking: THE WHO'S TOMMY Will Come Back to Broadway in 2021
It was announced today that producers Hal Luftig and Patrick Catullo will bring a new production of the classic rock opera The Who's Tommy back to Bro... (read more)

Photo Flash: In Rehearsal with the Tour Cast of BANDSTAND
Get a peek inside rehearsals for the Tony Award-winning musical Bandstand before the company heads out for the national tour.... (read more)

VIDEO: Go Inside Rehearsal For FUNNY GIRL in Paris, Led By Christina Bianco!
Funny Girl, starring Christina Bianco, is coming to THeatre Marigny in Paris, beginning November 7. Bianco took to Twitter to give a behind the scenes... (read more)