PETROLEO Comes to CABA This Week
The event is on 21 September.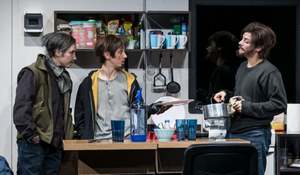 Yacimiento petrolero en la Patagonia. Cuatro hombres conviven en un tráiler y, a sólo unos metros de allí, extraen petróleo de un pozo casi vacío. Arriba, el tiempo libre se cubre de polvo, de mitos oscuros de la zona, de desafíos físicos. Abajo, la piedra se fractura para extraer la última gota, lo poco que queda.
En su quinta obra, Piel de Lava investiga la posibilidad de habitar personajes masculinos, en diálogo constante con la capacidad de generar ficción a partir de ciertos procedimientos grupales y, también, como una forma de indagar sobre la construcción del género y los estereotipos.
The event is on 21 September.