Alaska Junior Theater Presents THE VELVETEEN RABBIT Next Month
Performances run February 1 - 4, 2023.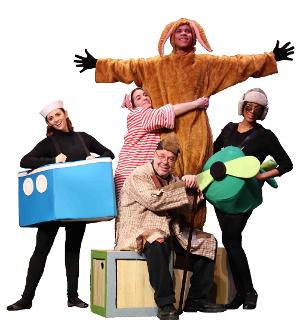 Alaska Junior Theater kicks off 2023 with a live presentation of the storybook classic The Velveteen Rabbit (Grades K-6), performed by the Pushcart Players in the Discovery Theatre.
A young boy's love and a little nursery magic bring this classic bedtime story to life before your eyes. Watch the velveteen rabbit join his boy on exciting imaginary adventures, from deep caves to the wide-open sea, building an unbreakable bond. Together, they learn the true meaning of friendship.
Based on one of America's favorite storybooks written by Margery Williams, The Velveteen Rabbit is an imaginative performance designed to enhance the theater experience and increase literacy in the arts. This charming adaptation is performed by one of Anchorage's favorite touring companies for youth and family audiences: Pushcart Players.
Pushcart Players is an award-winning, professional touring theater company specializing in arts in education for children. A social profit organization founded in 1974, Pushcart Players brings substantive musical theater, workshops, educational programs, and residencies to young people and their families in schools and community theaters nationwide.
Twice nominated for an Emmy©, Pushcart is the recipient of numerous state and private awards for excellence and innovation. The company has traveled more than 2 million miles nationally and abroad, from the little red schoolhouse to the White House.
Pushcart Players addresses social studies, literature, history, the Autism spectrum, special educational needs, and values clarification for young people, their families and their educators. All performances by professional artists (Actors' Equity Association) are supported by study guides, post-performance assessments, and other supplemental materials.
School Show Performances will be February 1 - 3, 2023 at 10 AM & 11:45 AM in the Discovery Theatre at the Alaska Center for the Performing Arts.
Wednesday, February 1 at 4:00 PM at the Loussac Public Library Velveteen Rabbit free reading and craft event with the Pushcart Players
One Great Saturday - February 4th beginning at 1:00 PM
Live Public Performance "The Velveteen Rabbit" will be on February 4, 2023 at 2:00 PM.
Storytelling in the Discovery Theatre Lobby at 1:00 PM. Get better parking by arriving early and enjoy stories read to your children before the show.
Best Beginning's will have two Story Track Books for young people to walk through the story themselves. Featuring Tracks in the Snow and We're Going on a Bear Hunt.
Bright Beginnings will be giving away free books to kids.
"Milk and Cookie Reception/Cake Walk" with the Pushcart Players after the show.
Tickets will be available at Click Here.
For more information on Alaska Junior Theater and upcoming performances, please visit us online.