Popejoy Puts a Modern Twist on Irish Dance with MURPHY'S CELTIC LEGACY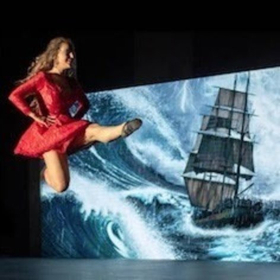 Coming to Popejoy Hall Sunday, February 24 at 3:00 pm, Murphy's Celtic Legacycombines contemporary and ancient Irish dance forms to produce an exhilarating performance. The show takes viewers on an epic journey depicting a fictional Irish clan's search for a new home. Telling a story of ancient Celtic clans, the performers use dance and music to express the struggle for peace, family, and unity.

Internationally acclaimed dancer Chris Hannon created Murphy's Celtic Legacy to bring his passion for Irish dance across the globe. Within the performance, dancers perform complex tapping rhythms with intricate ankle and footwork. Viewers will marvel at the incredible speeds of the talented, vibrant performers as they execute perfectly synchronized movements. Hannon, a Lord of the Dance veteran, designed the show to showcase the long and storied tradition of Irish dance, in a modern and exciting way.

The show features traditional Irish music, supported by the most up-to-date stage technology. Visual projections of Irish scenes reflect the mood of the music, and a live band brings composer John Eliott's vibrant score to life. Expansive backgrounds and pyrotechnics shine behind the dancers, lending additional power to their performances as they carry the audience on a spectacular Celtic journey.

Tickets for Murphy's Celtic Legacy are currently on sale for $69, $49, $35, and $25. Tickets can be purchased at the UNM Ticket Offices. Online purchasing is available at popejoypresents.com or unmtickets.com. To charge by phone call (505) 925-5858. Group orders for 15 or more may be placed by calling (505)-277-1569.