Interview: Barbara Hatch of YOU CAN'T TAKE IT WITH YOU at New Mexico School For The Arts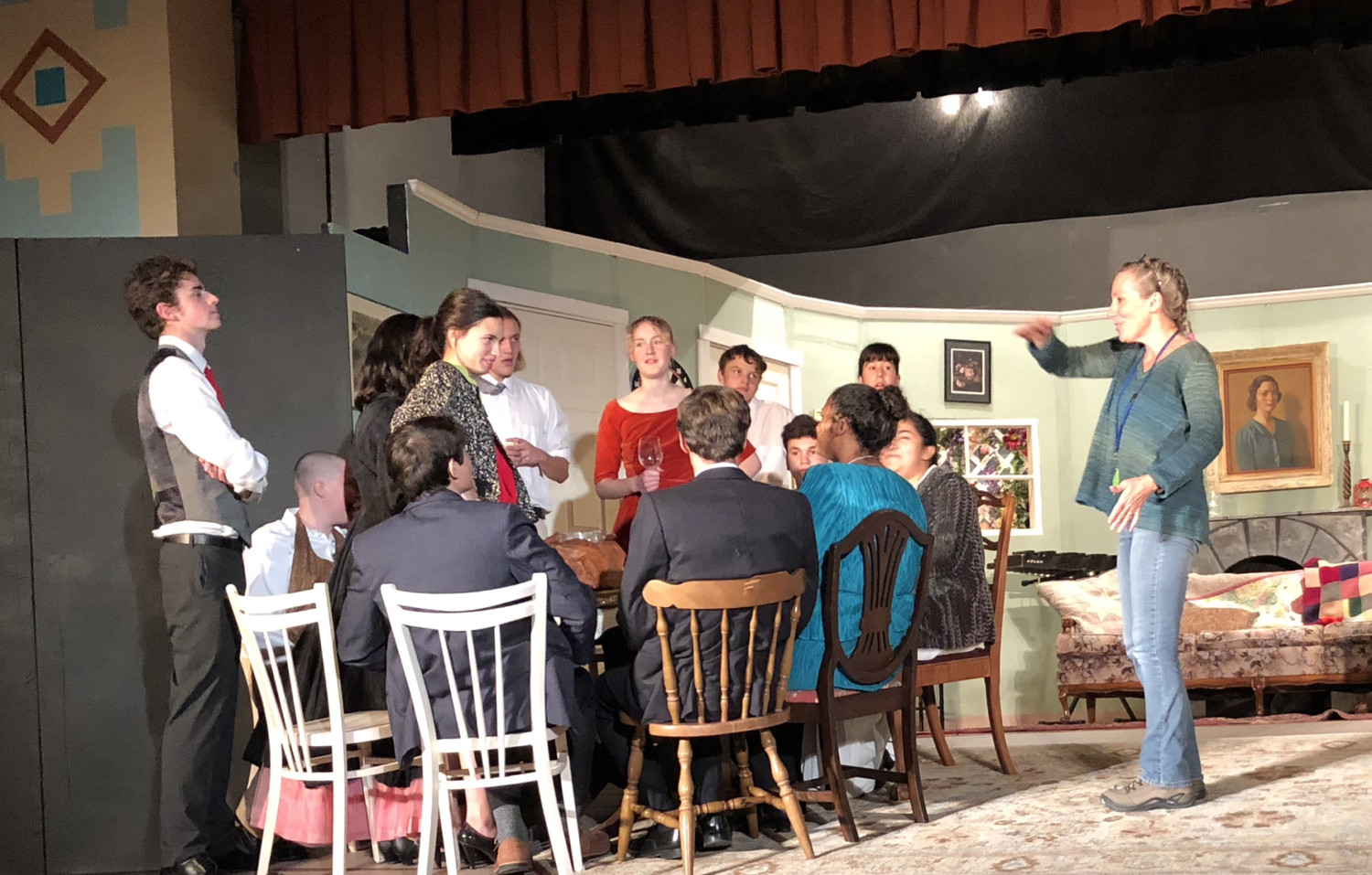 As a theatre educator, I think it is very important to cover youth performances. This is the first of - hopefully - many columns about the wonderful high school performing arts programs in the Santa Fe area.
---
Santa Fe is known for its art. It is widely known that the City Different is home to world class visual and performing arts; it is also home to a school that educates high schoolers striving to be part of the next generation of world class artists. That school is the New Mexico School for the Arts, and I had the privilege recently to sit in on a rehearsal of their production of You Can't Take It With You, as well as chat with director and faculty member Barbara Hatch about the show and NMSA in general.
(You Can't Take It With You is, of course, a classic, Pulitzer Prize winning comedy largely dealing with a young woman's hesitance to bring her new love interest home to meet her lovable, but truly bizarre, family. It has been one of the 10 most produced amateur plays since rights became available in 1939)

Ms. Hatch took the time, first, to tell me a little bit about NMSA. "Admission to our school is audition and portfolio based," she said. "At the beginning of the school year, for the first two weeks, we begin with really trying to build a sense of company with our ninth through twelfth grade students. During the third week, students audition for all four fall semester productions." Yes, four productions. She went on to tell me that the school day at NMSA starts with a core block of academic classes (NMSA is fully accredited, and actually is one of the few Blue Ribbon Schools in the state of New Mexico).
Starting at 2:10 PM, students begin their arts coursework - whether they are studying visual arts, music, theatre, or dance, students then spend a couple hours in classes dedicated to their discipline. If students are not in a production, they receive more specialized training in their field. If they are, this is when they rehearse.
This is where I found myself, as I came in to catch the last half hour or so of You Can't Take It With You rehearsal. "We started the rehearsal process with a lot of table work," Ms. Hatch said of her cast of 19 sophomores, juniors, and seniors. "We read over the script several times, discussed characters and relationships and broke the script down into beats." Up until recently, they had been rehearsing the production in a classroom (now in NMSA's large rehearsal hall), so Ms. Hatch said that they had spent some time working on modifying blocking as they came into their new space.
When asked if there were any interesting discoveries her cast had made during this production, Ms. Hatch said, "with comedies, you never know if students will 'get it' - but to make discoveries, students must play". She said that she really appreciates how, in You Can't Take It With You, every single character has a quirk. "I just love them all," she said with a laugh.
As stated previously, NMSA produces four shows in the fall semester. Ms. Hatch informed me that first production - a freshman only affair - had just happened. You Can't Take It With You is second, and the third production - The Women of Lockerbie by Deborah Brevoort - will be next weekend (November 1-3). That production is going to be particularly exciting for the students at NMSA because the playwright will actually be in attendance, and will teach a master class while she is there. The fourth show this semester, going up the second weekend in November, is an original European clown show the students are developing.
"NMSA is a very unique school for New Mexico," Ms. Hatch said. "Students come from all over the state to attend, and the passion and delight at the school are palpable. It's an amazing place to call home."
You Can't Take It With You runs November 25-27 at NMSA (275 E Alameda). All performances are at 7 PM. Tickets cost $10 for general admission and $5 for students and seniors. Tickets may be purchased online at www.nmschoolforthearts.org/tickets or at the door.