Now Playing Onstage in Casper - Week of 4/21/2013
View All Show Listings for Casper
Click Here to View BroadwayWorld.com Casper Calendar
INTO THE WOODS JR
LANDER VALLEY H S
4/25-4/25/2013
The Brothers Grimm
"go Broadway" as Sondheim and Lapine offer up a cockeyed fairy tale where all of your favorite characters""Cinderella, Little Red Riding Hood, Jack (and his beanstalk) and The Witch""meet and interact on their journeys. With unforgettable roles, little dancing and no chorus, INTO THE WOODS JR. showcases a medium-sized ensemble of talented singers and actors. The sophisticated score has been adapted to make it easier--though still challenging--for young performers. INTO THE WOODS JR. is a funny and engaging way to get young people to think about the stories with which they've grown up and the ethical issues raised therein.
Click Here for More Information
MONTANA SKIES
Our Saviour's Lutheran Church
4/26-4/26/2013
Their name, Montana Skies, is a metaphor for musical freedom, and they continue to follow their creative instincts far beyond traditional boundaries. In concert, these award winning musicians delve into music from Pink Floyd and Rush to Vivaldi, and House of the Rising Sun, as well as their own originals that have been featured everywhere from NPR to the Travel Channel. Montana Skies seemingly non-stop tour schedule has taken them all across the US as well as to Canada, Asia, and Russia; and their dedication to their musical vision has helped them build an enthusiastic grassroots fan base along the way. Combining elements of classical technique, jazz improv and the power and energy of rock n' roll; Jonathan's guitar wizardry and Jenn's blazing electric cello combine to create a sound that is truly remarkable. While the music defies simple categorization, it is a fusion in the truest sense of the word. It's been called everything from chamber rock to psychedelic strings. Whatever you want to call it, rest assured, this ain't your grannies chamber music. Jonathan and Jennifer met while studying music at the University of Georgia, in Athens, GA. Recognizing a kindred spirit in each other's devotion to their music, the desire to share music together was ignited immediately. The two assumed they would be performing classical recitals and great works for the cello and guitar; then, in one trip to the library to select music, their whole world of classical intentions came crashing down. The discovery: music written for cello and guitar was as rare as the combination itself -- no great classical works existed. What resulted from this new musical freedom of expression between the two was the formation of Montana Skies, and a unique style of music that would garner instant recognition and praise. Jonathan explains, "The fact that 'ready made' repertoire is not available for our combination of instruments is really what pushes us to be more creative with our music. We love composing and arranging, and appreciate the opportunity to present old favorites, along with newer music, to our audiences." Jonathan's full length instructional book and CD, "Getting Into Fingerstyle Guitar" was published in 2002 by Mel-Bay Publications. Additional publications are in-the-works.
Click Here for More Information
CARPE DIEM STRING QUARTET
WYO Theater
4/26-4/26/2013
Carpe Diem is a boundary-breaking ensemble that has earned widespread critical and audience acclaim for its innovative programming and electrifying performances. With programming that reflects its passions for Gypsy, tango, folk, pop, rock, and jazz inspired music alongside the traditional string quartet repertoire, Carpe Diem has defied easy classification while quickly become one of America's premiere "indie" string quartets. The quartet is committed to pushing the limits of the classical string quartet and to changing the concert experience of chamber music. Using innovative programming, thematic concerts, popular music for younger generations, cameras and video to assist in the visual presentation, as well as speaking from the stage to better engage the audience, Carpe Diem is bringing new audiences into the concert hall and revitalizing the chamber music experience.
Click Here for More Information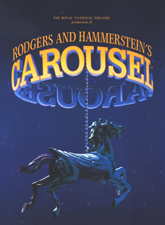 CAROUSEL
Cody High School
4/25-4/27/2013
In a Maine coastal village toward the end of the 19th century, the swaggering, carefree carnival barker, Billy Bigelow, captivates and marries the naive millworker, Julie Jordan. Billy loses his job just as he learns that Julie is pregnant and, desperately intent upon providing a decent life for his family, he is coerced into being an accomplice to a robbery. Caught in the act and facing the certainty of prison, he takes his own life and is sent 'up there.' Billy is allowed to return to earth for one day fifteen years later, and he encounters the daughter he never knew. She is a lonely, friendless teenager, her father's reputation as a thief and bully having haunted her throughout her young life. How Billy instills in both the child and her mother a sense of hope and dignity is a dramatic testimony to the power of love. It's easy to understand why, of all the shows they created, CAROUSEL was Rodgers & Hammerstein's personal favorite.Music by Rodgers, Richard; Book by
Oscar Hammerstein
II; Lyrics by
Oscar Hammerstein
II; Based on the Play LILIOM by Ferenc Molnar; As adapted by
Benjamin F. Glazer
; Original Dances by
Agnes De Mille
Click Here for More Information
TWELFTH NIGHT (SHAKESPEARE)
University of Wyoming - UW Fine Arts Main Stage
4/23-4/28/2013
A harrowing shipwreck separates twins Viola and Sebastian-but tragedy turns to comedy when they wash up on the shores of Illyria, a land turned upside-down by passion and a colorful cast of characters. In Shakespeare's madcap dance of mistaken identities, cunning plans, and miraculous discoveries, the only real mistake to make is not to love at all.
Click Here for More Information
WEST SIDE STORY
JACKSON HOLE HIGH SCHOOL
4/25-5/4/2013
The world's greatest love story takes to the streets in this landmarkBroadway musical that is one of the theatre's finest accomplishments.Shakespeare's Romeo and Juliet istransported to modern-day New York City, as two young idealistic loversfind themselves caught between warring street gangs, the "American"Jets and the Puerto Rican Sharks. Their struggle to survive in a worldof hate, violence and prejudice is one of the most innovative,heart-wrenching and relevant musical dramas of our time.Highlighting the talents of a young ensemble cast, WEST SIDE STORY has found popularity in schools as well as professional theatres throughout the world. Its exciting, sophisticated score by Bernstein and Sondheim is often considered Broadway's finest--its songs part of the nation's musical heritage. As originally staged by the legendary
Jerome Robbins
, the show is an impressive showcase for accomplished dancers (a guide featuring the original choreography is available for rental). And with a reduced orchestration and transpositions on demand, this masterpiece is easier to mount than ever before!
Click Here for More Information
QUILTERS
Casper College, Thomas H. Empey
Studio Theatre
4/25-5/5/2013
Click Here for More Information
PANIC
Stage III
4/26-5/11/2013
By
Joseph Goodrich
A famous director of suspense films finds himself accused of a hideous crime, as he arrives in Paris for the premiere of his latest masterpiece. The mysteries he films are nothing compared to his real life nightmare.
Click Here for More Information
View All Show Listings for Casper
Click Here to View BroadwayWorld.com Casper Calendar