Photo Flash: Music Theatre Wichita Opens 2014 Summer Season with SOUTH PACIFIC, Now Through 6/15
Music Theatre Wichita opened its 43rd summer season this week with the first of its five large-scale productions, Rodgers and Hammerstein's South Pacific. Check below for photos and click here for a sneak peek!
Directed by producing artistic director Wayne Bryan, this production reunites the two leading players from the recent Paper Mill Playhouse production, Erin Mackey (Chaplin, Sweeney Todd) as Nellie Forbush and Mike McGowan (Book of Mormon, The Producers) as Emile de Becque. Other featured players include Joanne Javien as Bloody Mary, Ryan Vasquez as Lt. Cable, J. Bailey Burcham as Luther Billis, and Shea Renne as Liat.
Under the musical direction of Thomas W. Douglas, the show features a cast of 46 and an orchestra of 27 players. Choreography was created by Billy Sprague Jr.
Scenery by David Yeargan and Costumes by Catherine Zuber are augmented with additional designs by Leon Dobkowski, with lighting by David Neville and sound by David Muehl. South Pacific opened on Wednesday June 11 and continues throughSunday evening, June 15.
The MTWichita season will continue with West Side Story (June 25 - 29) featuring Ali Ewoldt, Ryan Vasquez, Shina Ann Morris, Kevin Munhall and Michael Graceffa, directed by Mark Madama and choreographed by Mark Esposito.
Joseph and the Amazing Technicolor Dreamcoat follows (July 9 - 13) with Ian Patrick Gibb as Joseph and Darcie Roberts as the Narrator, directed and choreographed by Lyndy Franklin Smith and Jeromy Smith. This is followed by the area premiere of Catch Me If You Can (July 23 - 27) featuring Thom Sesma, Skyler Adams, David Hess, Paula Leggett Chase, andCarolyn Anne Miller, directed by Wayne Bryan and choreographed by Linda Goodrich, with scenery by Robert Andrew Kovachand costumes by Dixon Reynolds.
The season concludes with an all new production of 42nd Street, directed and choreographed by original cast member Jon Engstrom, and featuring Damon Kirsche as Julian Marsh, Tracy Lore as Dorothy Brock, and Tessa Grady as Peggy Sawyer. All new scenery has been designed by Bruce Brockman, and costumes are being created by Debbie Roberts. 42nd Street plays August 6 - 10, during which time the Music Theatre Wichita 2015 summer lineup will be announced.
Photo Credit: Christopher Clark

Lt. Cable (Ryan Vasquez) sings "Younger Than Springtime" to Liat (Shea Renne)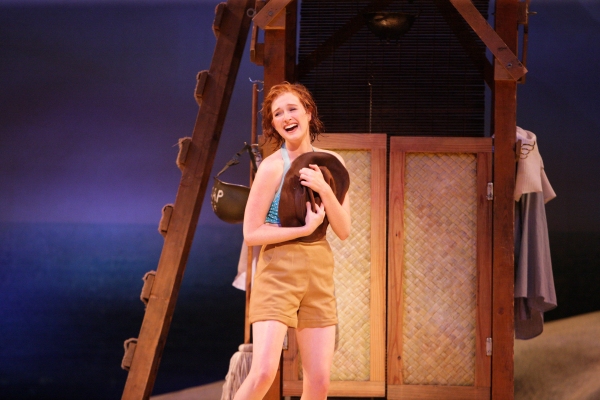 Nellie Forbush (Erin Mackey) is "In Love with a Wonderful Guy"

Nellie Forbush (Erin Mackey) and the nurses prepare to wash Emile de Becque out-a Nellie's hair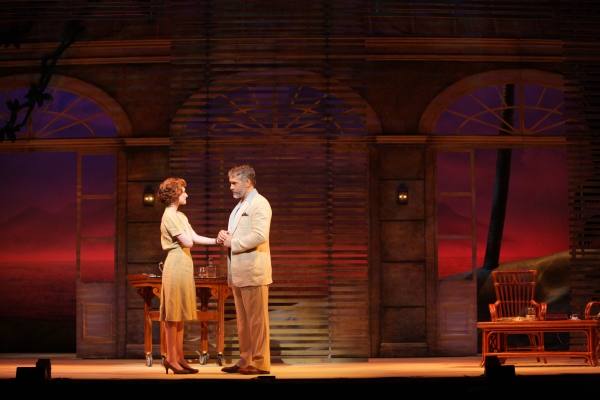 Emile de Becque (Mike McGowan) serenades Nellie Forbush (Erin Mackey) with "Some Enchanted Evening�

Emile de Becque (Mike McGowan) proposes to Nellie Forbush (Erin Mackey)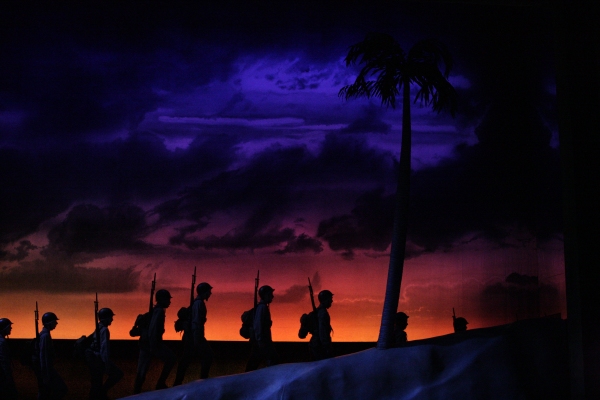 Nurses and Seabees leave the island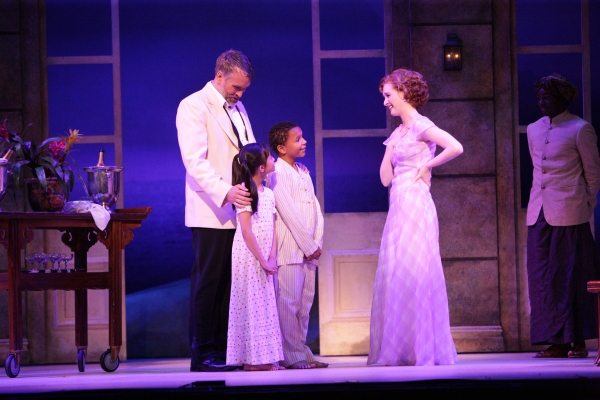 Emile de Becque (Mike McGowan) introduces his children Ngana (Sage Belen Goco) and Jerome (Camdin Hardyway) to Nellie Forbush (Erin Mackey)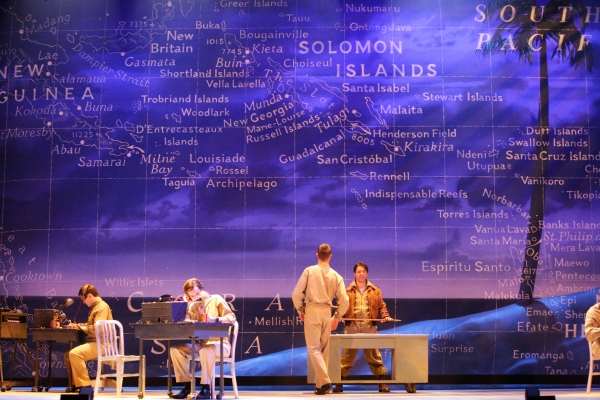 The military map rooms brims with activity, thanks to David Yeargan's set design and David Neville's lighting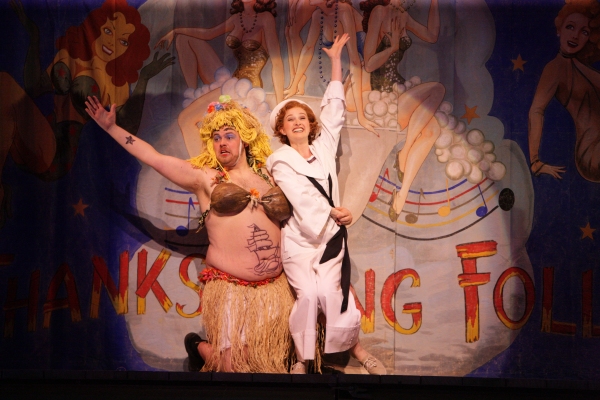 Nellie (Erin Mackey) sings about her "Honey Bun," Luther Billis (J. Bailey Burcham)

Emile de Becque (Mike McGowan) shares a quiet moment with Nellie Forbush (Erin Mackey) and his children (Sage Belen Goco, Camdin Hardyway)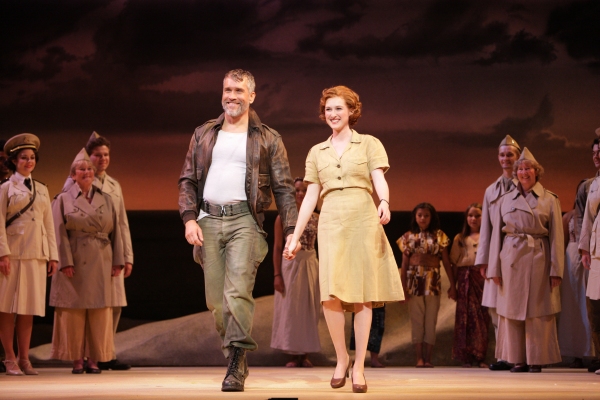 Emile de Becque (Mike McGowan) and Nellie Forbush (Erin Mackey) take their final bow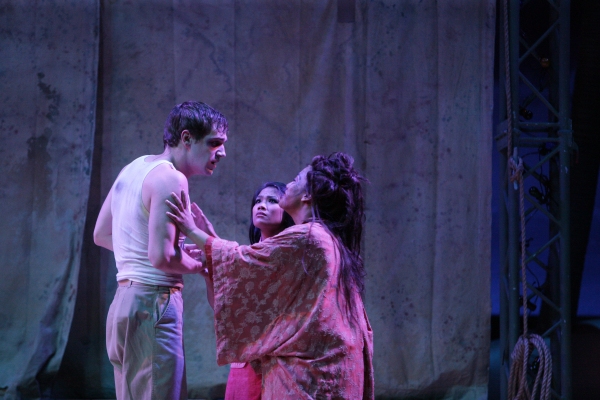 Bloody Mary (Joanne Javien) urges Lt. Cable (Ryan Vasquez) to marry her daughter Liat (Shea Renne)

Nellie (Erin Mackey) gets her laundry from Billis (J. Bailey Burcham) and the island Seabees

Bloody Mary (Joanne Javien) sings "Bali Ha'i" to Lt. Cable (Ryan Vasquez)