BWW Review: IT'S A WONDERFUL LIFE-A LIVE RADIO PLAY at Wichita Scottish Rite Signature Theatre, 'I Wanna Live Again!'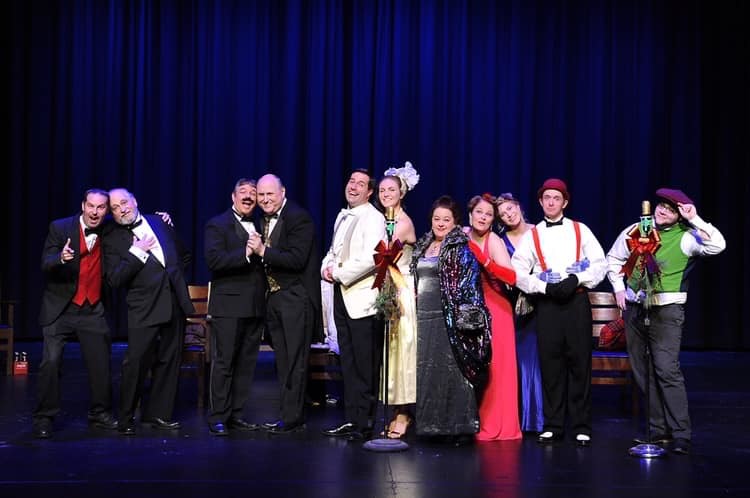 There's one thing that Wichita knows and that's theatre. There's no better way to celebrate this celebrated art form than with a classy live radio play version of It's A Wonderful Life - A Live Radio Play, presented by the Wichita Scottish Rite Signature Theatre at the Wichita Center for Performing Arts at 9112 E. Central Avenue. Under the direction of Deb Campbell, the theatre company is now in its 15th season and made up mainly of community-based performers.
The setting-a radio station circa 1948. Three microphones stand near the edge of the stage, surrounded beautifully by real poinsettias at the base and a bow and evergreens on top. Behind are wooden chairs, sturdy and regal enough for a home for the radio actors. Above, two Christmas wreaths and garland. Stage right is the radio announcer's desk and stage left is for the Foley artist, significantly named after filmmaker Jack Foley who was renowned for his sound effects in film. And then, the play begins. Entering the stage, we meet the radio announcer played by Ted Woodward, notably of KNSS here in Wichita, the stage manager (Chris Wilborn) and the Foley artist, a true actor's dream role, played here by Lyle Valentine. Immediately following we notice the rest of the actors, dolled-up in glamourous tuxes and evening gowns carefully selected by Deb Campbell, all entering from the back of the auditorium. With brief introductions, the radio announcer announces, "We are live and on the air!"
The story, It's a Wonderful Life, is a time-honored Christmas tradition told almost existentially from the point of view of George Bailey, a man who wants to end his life on Christmas Eve. John Keckeisen returns to Wichita audiences to lead the cast of eleven to re-tell the 1946 film in the role of Bailey. Keckeisen delivers dialogue with great attention to detail, particularly during his revelation that he wants to live again. He also makes strong choices that only a live audience could see but not hear if truly done live on the radio. Opposite Keckiesen is Madi Laughlin in the role of Mary Bailey. Laughlin, a new face to the Wichita theatre scene, has a classic 40's appearance and uses her ingenue flair to her advantage. Musical director Matthew Hale chooses music that pushes the story along with a heightened sense of anticipation and prominence. Other studio actors include Chelsea Clark, who plays Violet, as well as Cary Hesse, Bryan Welsby and husband and wife duo J.R. Hurst and Diane Tinker-Hurst. All are strong in weaving in and out of multiple characters, accents, et alia, but it's truly the commercial segments that steal the show. Finally, veteran actor Dan E. Campbell portrays Clarence, a Dickensian inspired role that reminds everyone that no man is a failure who has friends.
While pacing was smooth and efficient, it would have been nice if emphasis was made on iconic lines from the film. Luckily, Hesse does this with "Look daddy. Teacher says, 'Every time a bell rings an angel gets his wings.'" The true spirit of the show is not lost, however, when the production concludes with Christmas generosity from the townspeople to George Bailey, saving him from financial turmoil.
For more information on Signature's current season, it would behoove one to like their facebook page @wsrstheatre or simply by searching Wichita Scottish Rite Signature Theatre.
Photo Credit: Liz Harp
Related Articles View More Wichita

Stories

Shows