Rose Theatre Kingston Presents VIENNA 1934 – MUNICH 1938 A Work in Progress by Vanessa Redgrave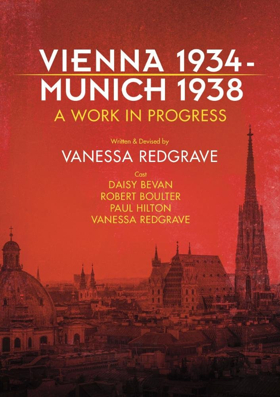 Rose Theatre Kingston and Vanessa Redgrave today announce a work in progress, Vienna 1934 - Munich 1938. Vanessa Redgrave performs on stage with Daisy Bevan, Robert Boulter and Paul Hilton. Opening with a limited run as a Work in Progress, at Rose Theatre Kingston on 7 February until 9 February. Also announced today is An Evening with Vanessa Redgrave hosted by Roger Michell on Saturday 9 February 7.30pm.
In the late 1930s the famous actor Michael Redgrave became close friends with the celebrated poet Stephen Spender. Through their families' notebooks, journals and memoirs, and Stephen's poems, Vanessa Redgrave discovers the love affairs that they remembered, and the hopes and fears of the generation that confronted the fascist seizing of power in Europe. Among these was the German writer Thomas Mann.

As Stephen's love and respect for a young American woman studying psychology in Vienna grew deeper, he and his secretary Tony Hyndman tried to assist her in obtaining false visas and passports for socialist Jews and their families to escape from fascist Austria.

Written and devised by Michael's daughter Vanessa, the play highlights the affectionate and intimate thoughts of individuals during these years of political and social disaster.
Vanessa Redgrave's theatre credits include The Inheritance (Noël Coward Theatre/Young Vic), Richard III (Almeida Theatre), The Revisionist (Off Broadway - Cherry Lane Theatre), Driving Miss Daisy (Golden Theatre USA/Wyndham's Theatre) and The Year of Magical Thinking (Booth Theatre USA/National Theatre). Her television credits include Man in an Orange Shirt, Call the Midwife, The Black Box and The Fever. Vanessa is the winner of the Academy, Emmy, Tony, Olivier, BAFTA, Cannes, Golden Globe, and the Screen Actors Guild Awards. Vanessa is an advocate for human rights internationally. She has been a UNICEF Goodwill Ambassador since 1995 and is a supporter of Amnesty International and Liberty.
Daisy Bevan's theatre credits include Dorian Gray (Riverside Studios). Her television credits include The Alienist and The Outcast. Her film credits include Noble Earth, Modern Life is Rubbish, Revolution: New Art For A New World, One Crazy Thing, The Two Faces of January, The Affair of the Necklace and Elizabeth.
Robert Boulter's theatre credits include The Inheritance (Noël Coward Theatre/Young Vic), Mercury Fur (Menier Chocolate Factory), Herons (Royal Court Theatre), Revolt. She Said. Revolt Again., The Ant and the Cicada, I You Can Hear (RSC), The Odyssey, Karamazoo, Burn/Citizenship/Chatroom, An Island Far From Here (National Theatre), How to Curse (Bush Theatre) and A Midsummer Night's Dream (Wirksworth Festival). His television credits include Evidence, Father Brown, Survivors, Waking the Dead and The Long Firm. His film credits include Star Wars Episode IX, Genesis, Mark, Some Things Mean Something, Mercenaries, Donkey Punch and Daylight Robbery.
Paul Hilton's theatre credits include The Inheritance (Noël Coward Theatre/Young Vic), The Cherry Orchard, The Daughter-in-Law (Young Vic), Mosquitoes, Peter Pan, wonder.land, The President of an Empty Room, Mourning Becomes Electra, Three Sisters, The Oresteia (National Theatre), Anatomy of a Suicide, Terrorism, Mountain Language (Royal Court Theatre), Rosmersholm, The Storm (Almeida Theatre), All New People, Riflemind, In Celebration (Duke of York's), Dr Faustus, As You Like It (Shakespeare's Globe), Polar Bears, The Wild Duck (Donmar Warehouse), The Mysteries and Romeo and Juliet (RSC). His television credits include The Crown, A Very English Scandal, Grantchester, Silk, Twenty Twelve, and True Dare Kiss. His film credits include Lady Macbeth, Wuthering Heights, London Road, Swansong, Edge, Klimt and Eternal Beauty.
AN EVENING WITH Vanessa Redgrave
Saturday 9 February, 7.30pm
Vanessa Redgrave is one of the world's most acclaimed actresses and a prominent human rights activist. Join her in this unique evening hosted by director Roger Michell (Notting Hill), as Vanessa shares tales from an extraordinary career spanning seven decades.
All proceeds from the show will support the Rose's commitment to produce first-class theatre, alongside its Learning and Participation programmes. Although the Rose is the largest producing theatre in South West London, it does not receive regular Arts Council subsidy and must secure additional fundraising income to complement contributions from stakeholders, benefactors and sponsors. This vital funding helps the Rose to advance its artistic and charitable activities.