Review Roundup: EVITA Arrives on the West End!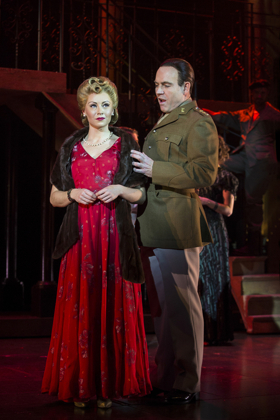 Following its smash hit run at London's Dominion Theatre, Bill Kenwright's production of the extraordinary musical, Tim Rice and Andrew Lloyd Webber's Evita, is thrilling audiences once again across the UK. Taking on the iconic role of Eva Perón is one of musical theatre's most exciting leading ladies today, Emma Hatton. Making his UK debut is leading Italian performer Gian Marco Schiaretti as Che. Joining them will be Kevin Stephen-Jones, set to play Argentine President Juan Perón.
Telling the story of Eva Perón, wife of former Argentine dictator Juan Perón, Evita follows Eva's journey from humble beginnings through to extraordinary wealth, power and iconic status which ultimately lead her to be heralded as the 'spiritual leader of the nation' by the Argentine people.
Let's see what the critics had to say...
Andrew Tomlins, BroadwayWorld: Although this revival is identical to the production staged at the Dominion Theatre in 2014, I enjoyed Evita considerably more this time around. I think the production sits nicely in the more intimate Phoenix Theatre (where Kenwright's production of Blood Brothersran for 21 years) - the show works well in a more personable environment.
Dominic Cavendish, Telegraph: Hatton's Eva, a smile of self-satisfaction on her lips, is so busy discarding lovers on her way from rural poverty to Buenos Aires ("I wanna be a part of BA," runs a line you won't hear at many airports) she elbows aside much of our sympathy early on. Combine this with some hard-to-fathom lyrics and the prowling, incongruous choric presence of Che (Guevera), Italian hunk Gian Marco Schiaretti oozing cynicism and smugness in equal measure, and the show often looks all dressed up (Hatton earns her fee in costume changes alone) with nowhere dramatically coherent to go. Such is the general allure of the story and the particular pull of those stand-out songs, though, that flawed as Evita is, we certainly haven't seen the last of it.
Tim Bano, The Stage: A mirror ballet during Rainbow High is the one interesting bit of Bob Tomson's direction but, in this production, it's easy to forget the sweeping, conflicted power of songs such as Don't Cry For Me Argentina. It's easy to forget the politics that are deeply etched into the musical. In fact, this production is just easy to forget.
Fiona Mountford, Evening Standard: I've never seen a production of Evita with such a resolutely downbeat drive in the closing scenes. From a well-drilled ensemble onwards, everything runs like clockwork; I particularly enjoyed the mischievous and immaculately spoken cluster of upper-class ladies united in their disdain for the self-proclaimed "first lady of Argentina". Yet clockwork is never scintillating and there's a small, tightly packed vacuum just where the heart of the show should be. Gian Marco Schiaretti is fine-voiced and charismatic as Che, haunting Evita's every well-calculated move up the social scale like a Jiminy Cricket in combat fatigues. There's very little not to like here. As for love, let's save that for the songs alone.
Sam Marlowe, The Times: There's no question about this show's place in musical theatre history - but must it also be so resolutely stuck in the past? In 1978 Andrew Lloyd Webber and Tim Rice's blockbuster about Argentina's first lady, Eva Perón, was pioneering. A "rock opera", it was fluid, ambitious, and its lilting, Latin-inflected score introduced audiences to songs that have become hummable classics - notably Don't Cry for Me, Argentina. This touring revival, directed by Bob Tomson and Bill Kenwright, makes no effort to bring any fresh perspective to the material.
Photo Credit: Pamela Raith Photography