BWW Review: EVITA, Phoenix Theatre

Last seen in the West End three years ago at the Dominion Theatre, Bill Kenwright's production of Evita has opened at the Phoenix Theatre for a three-month limited run. Hot off the heels of its most recent UK tour, Emma Hatton and Gian Marco Schiaretti have reprised their roles as Eva Peron and Che and are, without doubt, the strongest pair to have led the show for years.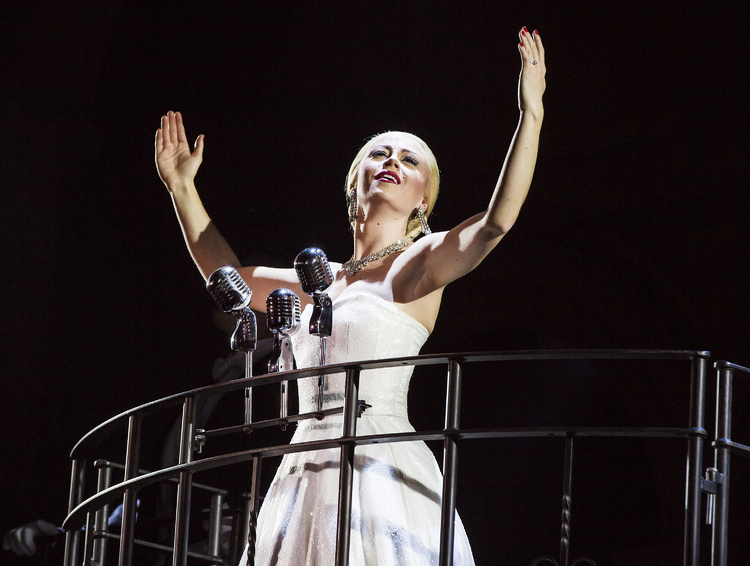 Centring around Eva Peron, the wife of former Argentine dictator Juan Peron, Andrew Lloyd Webber and Tim Rice's musical premiered in the West End in 1978 famously starring Elaine Paige. Evita begins with members of the public learning of Eva's death during an interrupted cinema showing before jumping back in time, where we see Eva's early life before she finds wealth and power. We then follow her journey as she becomes a public icon and is heralded as the spiritual leader of the nation by the Argentine people.
Although this revival is identical to the production staged at the Dominion Theatre in 2014, I enjoyed Evita considerably more this time around. I think the production sits nicely in the more intimate Phoenix Theatre (where Kenwright's production of Blood Brothers ran for 21 years) - the show works well in a more personable environment.
In addition, the cast are far stronger this time. Fresh from playing Elphaba in the West End production of Wicked, Emma Hatton's performance as Eva Peron is nothing short of triumphant. Eva is a tough character to play, as it isn't easy for an audience to warm to her, yet Hatton's portrayal is likeable whilst still fiery.
Hatton is a force of nature. Her voice is controlled beautifully - one minute she shows off beautifully soft tones before unleashing her powerful belt. She gives feisty renditions of "Buenos Aires" and "Rainbow High" as well as stunning performances of "Don't Cry For Me Argentina" and "You Must Love Me". Eva is one of the most challenging musical theatre roles of all time, but Hatton takes it all in her stride and marches around the stage with electrifying presence, giving a performance to remember.
Italian performer Gian Marco Schiaretti, last seen in the title role of the German production of Disney's Tarzan, makes a sensational West End debut as Che. Supposedly reflecting the voice of the Argentine people, Che is also a tough role to crack, but Schiaretti glides around the stage and is captivating whilst showcasing superb vocals. Elsewhere, Sarah O'Connor shines in the iconic role of The Mistress.
Under the direction of Bob Tomson, the production has good pace. Bill Deamer's choreography looks sharp, and Matthew Wright's design is better suited to the smaller Phoenix Theatre.
If you're looking to see something fresh, new and exciting then Evita isn't the show for you. However, there's no denying that it's a big part of musical theatre history, and it's nice to see it popping back to the West End from time to time. Whilst this production works nicely, one day it would be exciting to see a fresh new staging of the show - there's so much that could be done with the material.
With Hatton and Schiaretti centre stage, Evita is in safe hands and bringing West End audiences to their feet once again.
Evita runs at the Phoenix Theatre until 14 October
Read our interview with Emma Hatton
Photo Credit: Pamela Raith