Photo Flash: Winners Announced for the Stephen Sondheim Student Society Performer of the Year
This afternoon the winners of the Stephen Sondheim Society Student Performer of the Year and Stiles + Drewe Prize were announced at the 12th anniversary West End Gala at the Savoy Theatre which was hosted Olivier Award winner Tracie Bennett.
Alex Cardall wins the Stephen Sondheim Society Student Performer of the Year award performing Buddy's Blues from the musical Follies and Best New Song winner - You and Me by Adam Wachter. Cardall was selected out of 12 finalists who qualified from the UK's many musical theatre courses and has been awarded a £1,000 first prize. Adam Wachter wins the Stiles + Drewe Prize for Best New Song for his song You and Me. This Prize, sponsored by the Entertainment Business, recognises an outstanding song from a new musical, and the winner receives a prize of £1,000 to put towards developing their work.
In addition, Jim Barne and Kit Buchan win the Stiles and Drewe Mentorship Award with their new musical The Season. The Award is supported by Music Theatre International Europe. Barne and Buchan will receive 12 months of mentorship and support, benefiting from monthly writers' labs, a one-week writing retreat, and two panel-led progress labs, with the year culminating in an industry showcase.
Past winners of the Student Performer of the Year prize have included Hollywood star Taron Egerton and Alex Young (Carrie in Carousel at ENO, Young Sally in Follies and now Sally Smith in Me and My Girl at Chichester). Last year's winner, Izuka Hoyle, is soon to appear in the much-anticipated Sylvia at the Old Vic.
Previous winners of the Stiles and Drewe Prize for Best New Song include Tamar Broadbent who took her one-woman show All By My Selfie to the Adelaide Fringe. The 2015 winners Richy Hughes and Joseph Finlay received a full production of their musical The Superhero at the Southwark Playhouse.
The winners were selected by a panel of judges including Rebecca Caine, Rebecca Trehearn, Stephen Ridley, David Benedict, Sharon D Clarke and Susie McKenna and the student performer judging panel was chaired by, writer and broadcaster Edward Seckerson.
This year the annual gala was directed by Chris Hocking with musical direction by Mark Etherington.
The Stephen Sondheim Society Chairman Craig Glenday said today 'It really does get harder and harder to judge these talented students each year. The standard was higher across the board than ever according to Edward and his jury, but there was no doubt that Alex Cardall deserved that first prize. These graduates are all a force to be reckoned with - you're bound to see them on a stage in the near future.'
Executive Director of MMD Victoria Saxton said 'As always we are so proud of all the MMD members who submitted songs and the final 12 that were showcased today. The future of new British musical theatre is brighter than ever.'
George Stiles and Anthony Drewe said, 'If at first you don't succeed... There has never been a more telling example because Jim and Kit, who won this year's mentorship award, entered last year and were shortlisted. They've worked so hard on their show that it was impossible not to award them the prize this year. If that doesn't tell you what writing new musicals is about then nothing will.
What we loved about the winner of the Best New Song this year, You and Me, was that it absolutely lured the audience in. We judged this award alongside Sharon D Clarke and Susie McKenna who had never heard any of the songs before and of all the songs, this was the one that beckoned them in. It was the simplicity of the language, music and drama together telling the story which made it stand out and is all we ever look for in a best new song.'
Alex Cardall said of winning the Student Performer of the Year award, 'I'm utterly thrilled to have won SSSSPOTY today. It's a fantastic day filled with the best of musical theatre writing and I'm honoured to have been apart of it.'
Photo Credit: David Ovenden

Winner and Judges of the Best New Song Prize and Mentorship Award

Judges and Finalists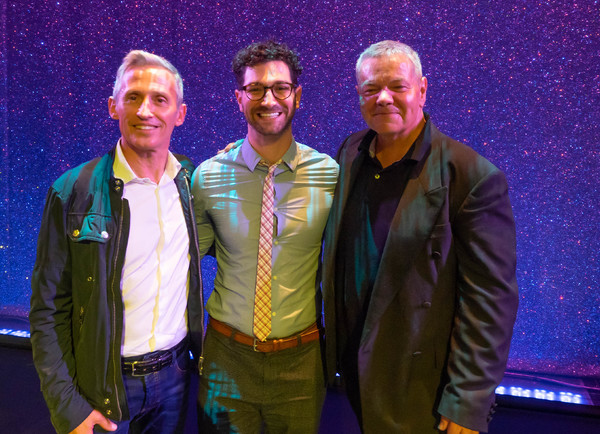 George Stiles, Adam Wachter, Anthony Drew