Click Here for More Articles on WAR HORSE
Photo Flash: WAR HORSE Continues 'Galloping' At New London Theatre
On June 23, the National Theatre's award-winning production of War Horse released over 150,000 new tickets for sale, taking bookings at the New London Theatre up to 12 February 2010. The National's sell-out production of Nick Stafford's adaptation of Michael Morpurgo's book transferred to the West End in March this year where it has been playing to packed houses ever since. Last week, just 12 weeks after its opening at the New London Theatre, War Horse recouped its transfer costs, having had a record breaking week of sales in May of over £330,000.
Nicholas Hytner, Director, National Theatre, said: "War Horse caught the imagination of audiences from its very first outing at the National, and I'm delighted that this astonishing production is engendering an equally heartfelt response from thousands of theatregoers in the West End."
Michael Morpurgo said: "So, War Horse gallops on. I am so pleased for the National Theatre and for all those wonderful people concerned with this unique production and I am delighted that so many people want to be part of it."
At the outbreak of World War One, Joey, young Albert's beloved horse, is sold to the cavalry and shipped to France. He's soon caught up in enemy fire, and fate takes him on an extraordinary odyssey, serving on both sides before finding himself alone in no man's land. But Albert cannot forget Joey and, still not old enough to enlist, he embarks on a treacherous mission to find him and bring him home.
Directed by MariAnne Elliott and Tom Morris, War Horse is designed by Rae Smith, with puppet design and fabrication by Basil Jones and Adrian Kohler for Handspring Puppet Company, lighting by Paul Constable, and movement and horse choreography by Toby Sedgwick; the puppetry directors are Basil Jones and Adrian Kohler, with video design by Leo Warner and Mark Grimmer, songmaker John Tams, music by Adrian Sutton, sound by Christopher Shutt.
War Horse is produced in the West End by the National Theatre and National Angels and is sponsored by Accenture, supporters of Innovation at the National Theatre.
Photo Credit: Simon Annand

Topthorn (puppet) and Joey (puppet)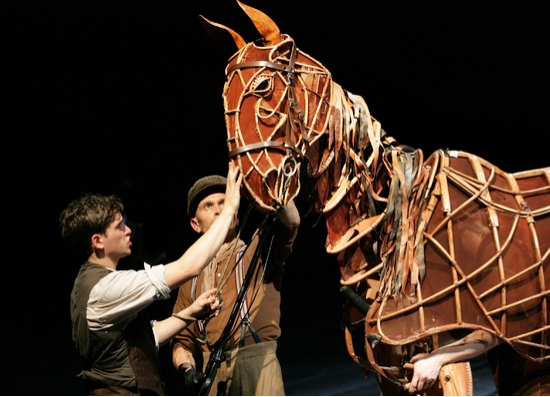 Kit Harington, Puppeteer (Craig Leo) and Joey (Puppet)