Photo Flash: First Look at the UK Tour of SATURDAY NIGHT FEVER
Bill Kenwright's highly anticipated new production of Saturday Night Fever is underway. Joining acclaimed dancer and actor Richard Winso ras Tony Manero, in his first leading role in a major musical, is: Kate Parr (Follies) in the role of Stephanie, Owen Broughton (Gus), Michael Cortez (Joey), Raphael Pace (Bobbie C) and Jared Thompson (Double Jay).
The cast is completed by: Philip Aiden (Frank Senior); Anna Campkin (Annette); Faizal Jaye (DJ Monty); Melody Jones (Flo Manero); Marios Nicolaides (Frank Junior); and the ensemble: Rhianne Alleyne, Javier Cid, Jess Ellen, Andrew Gordon Watkins, Olivia Kate Holding, Carly Miles, Aimee Moore, Nathan Rylesand Brett Shiels.
They are joined, for the first time, by The Bee Gees with Ed Handoll (Barry Gibb), Alastair Hill (Maurice Gibb) and Matt Faull (Robin Gibb) singing the hit soundtrack of the disco classics.
Get a first look at the production in the photos below!
40 years since its famous UK cinema release, Saturday Night Fever is a reimagined and revitalised music and dance spectacular. Opening in London at the New Wimbledon Theatre on 30 August 2018, the nationwide tour includes Liverpool, Dublin, Birmingham, Bristol, Aylesbury, Glasgow, Edinburgh, Blackpool, Llandudno, Bradford and Cardiff.
Saturday Night Fever tells the story of Tony Manero, and his reckless, yet thrilling road to dancing success. The musical features The Bee Gees' greatest hits includingStayin' Alive, How Deep Is Your Love, Night Fever, Tragedy and More Than a Woman as well as 70's favorites Boogie Shoes, Disco Inferno and for the first time will feature a group playing The Bee Gees live on stage.
The 70's classic Paramount/RSO movie, with story by Nik Cohn, was an instant hit when it was released in cinemas. The album remains the best-selling movie soundtrack of all time.
Whilst paying homage to the movie, this new stage version promises more drama, more music and hot new choreography. It is directed and produced by Bill Kenwright, with choreography by Olivier Award winning Bill Deamer, designs by Gary McCaan, lighting by Nick Richings, and sound by Dan Samson. The stage adaptation is by Robert Stigwood in collaboration with Bill Oakes.
Photo Credit: Pamela Raith

Anna Campkin

Richard Winsor, Olivia Kate Holding, Melody Jones, Phillip Aiden

Richard Winsor, Owen Broughton, JarEd Thompson, Raphael Pace, Mario Nicolaides, and Michael Cortez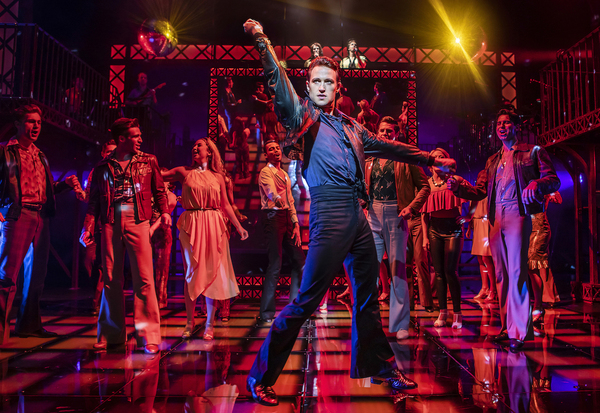 Richard Winsor and Cast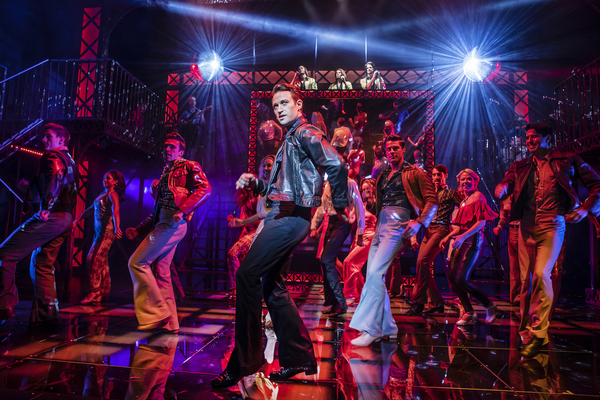 Richard Winsor and Cast