Mitchell Hunt and Tom Berkeley to Star in the 25th Anniversary Production of THE TAILOR-MADE MAN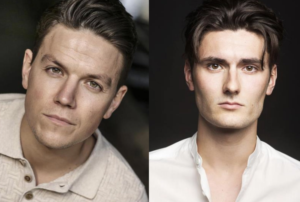 The Tailor-Made Man, the powerful true story about the Hollywood studio system and its hypocrisy and the star who gave up everything for the man he loved, is to get a 25th anniversary production in London.
William "Billy" Haines was a popular silent screen MGM movie star who was fired by Louis B Mayer because he was gay and refused to give up his lifelong partner, Jimmie Shields, and marry the silent screen vamp Pola Negri. As punishment, his films were removed from release and sealed in the MGM vaults never to be seen again, and his studio photographs destroyed. It was an attempt to erase him completely from movie history. But Billy and Jimmy's turbulent, passionate love affair was to survive and lasted over 50 years...this is their story.
The Tailor-Made Man, by Claudio Macor, directed by Bryan Hodgson, will run at the White Bear Theatre, 138 Kennington Park Road, London, SE11 from Tuesday 7 November to Saturday 25 November.
Press night is Thursday November 9 at 7.30pm
The cast includes Mitchell Hunt (Mr Selfridge, Hollyoaks) as William "Billy" Haines and Tom Berkeley as Jimmie Shields.
Claudio Macor said: "Thirty years ago a friend gave me a copy of Kenneth Anger's book Hollywood Babylon. As I was reading the various Hollywood scandals Kenneth Anger so vividly described I came across "The White Legion and the Purple Poodle" and discovered the story of William "Billy" Haines and Jimmie Shields. I was still acting at the time and dreamed of playing Billy but soon fell out of love with acting when I started writing. The Tailor-Made Man play premiered in London at the Hen and Chickens in 1992, it quickly got a transfer to the Battersea Arts Centre (BAC) to be followed by a TV showcase by Thames Television, who were were planning to bring back Masterpiece Theatre. The Tailor-Made Man" was chosen to be one of the six initial episodes but then Thames lost their ITV franchise. The play was then performed on Freedom Radio with Broadway star Robert Bogue as Billy and Oscar-nominated Judd Hirsch as Louis B Mayer, and had successful runs in San Diego and West Hollywood. It received another London run at the Cockpit Theatre before its off-Broadway run at Centre Stage New York. It was turned into a musical in 2013 at London's Arts Theatre. This revival of the original play at the White Bear Theatre is the 25th year anniversary production. It's actually 25 years and 25 days since the first performance!"
The Tailor-Made Man is produced by Eastlake Productions.
William "Billy" Haines
Charles William "Billy" Haines (January 2, 1900 - December 26, 1973), known professionally as William Haines, was discovered by a talent scout and signed with Metro-Goldwyn-Mayer (MGM) in 1922. His career gained momentum when he was loaned out to Columbia Pictures where he received favourable reviews for his role in The Midnight Express. Haines returned to MGM and was cast in the 1926 film Brown of Harvard. The role solidified his screen persona as a wisecracking, arrogant leading man. By the end of the 1920s, Haines had appeared in a string of successful films and was a popular box office draw. But his career was cut short by the 1930s due to his refusal to deny his homosexuality. Billy's fate has played a huge part in preventing movie stars from coming out to this very day. Box Office is routinely used as the excuse but the real reason is the fear of annihilation that Billy suffered. With Jimmie's help Billy then forged a spectacular career as an interior designer to the stars, Presidents and ambassadors. His interior design career eclipsed his film career. Billy and Jimmie were together for over 50 years and lived like a modern day gay couple, from the 20's to the 70's this was achievable only in Hollywood. They were often quoted as the "happiest married couple in Hollywood" What makes this story stand out from other Hollywood stories is the sheer determination Billy had in succeeding in his design business. A business that is still active today and his shop is still open in the same location in West
Hollywood and of course the love story, after all it is Hollywood greatest love story. He died of lung cancer in December 1973 at the age of 73.
Claudio Macor - playwright
Claudio Macor was born in South Africa to Italian parents. His career as an actor began at the Library Theatre in Johannesburg. He moved to London in 1983 where he found his true love in writing and directing. Writing and directing credits: Savage (Arts Theatre), The Tailor-Made Man - The Musical (Arts Theatre), The End of Innocence (Hen and Chickens), Santa Cruz (Westminster Theatre), The Other Man (Baron Court), the first stage adaptation of Gabrielle D'Annunzio classic novel L'Innocente (Barons Court), Venetian Heat 1999 (Barons Court), In The Dead of Night (Barons Court, Landor Theatre), The Man Inside (Hen and Chickens), The Love of An Angel (Mermaid), 1993 BAC (Cockpit), The Tailor-Made Man original play" (Hen and Chickens, BAC, San Diego, West Hollywood, Cockpit, Off- Broadway), Casanova (Hen and Chickens), Burning Rhythm (Etcetera Theatre), Venetian Heat (Etcetera Theatre). Writing credits: Venetian Heat Steam Industry (Finborough), Summer Madness the Musical (Hen and Chickens), Open Secret (Etcetera) and the adaptation of Somerst Maughm's The Letter (Etcetera Theatre). Awards and Nominations: The Tailor-Made Man nominated Best New Play 1995 and nominated writer of the year, Casanova runner up for Best New Play. Screenplay credits: The Tailor-Made Man, Burning Rhythm and Out of The Night. In 2002 he shot a short film Night of the Clowns. Claudio is Artistic Director of Torchlight Theatre Company and founder of Torchlight Pictures LTD.
Bryan Hodgson - director
Training: Guilford School of Acting and Hull University.
Directing credits: Salad Days (Union Theatre and Theatre Royal Bath), The Fellowship (Yvonne Arnaud Mill Studio) Kray Kray (Theatre N16), The Tailor-Made Man play reading (Above the Arts Theatre) Waiting Room (Upstairs at the Gatehouse), Cymbeline (The Space), The Fellowship (Hen and Chickens), The Royal Wallevik Trio (Denmark tour), Wind in the Willows (Waterloo East Theatre), Dorothy (Waterloo East Theatre), Singing in the Rain (Stagecoach, Kings College). As Associate Director Moby Dick The Musical (Union Theatre) directed by Andrew Wright. As Assistant Director: Judy! (Arts Theatre) directed by Ray Rackman. Rent (Pleasance Theatre) directed By Hannah Chisswick, Casa Valentina (Southwark Playhouse) directed By Luke Sheppard. Bryan has also written several plays which are being professionally produced all over the UK: The Wind and the Willows, Dorothy, The Fellowship, and Kray Kray. Bryan has also worked as an actor and musical director including: as an Actor: Charlie in Chaplin (UK Tour) A Christmas Carol (The Castle, Wellingborough) Leader of the Pack (Waterloo East Theatre) The Importance of Being Earnest - A Two Hander (Union Theatre, Waterloo East Theatre) Whistle Down The Wind (Union Theatre) Ludwig Live! (Leicester Square Theatre, Edinburgh Fringe) Comrade Rockstar (Workshop) A Rose Between Two Thorns ( Waterloo East Theatre) Shakespeare for Breakfast (Blenheim Palace) As MD: Aladdin (Yvonne Arnaud Theatre) Loserville (Union Theatre) IF - The Musical (GSA) Make Me A Mormon (The Phesantry) Here's to Life (National Portrait Gallery)