Michael Longhurst to Step Down as Artistic Director of the Donmar Warehouse
The news comes after five years in the role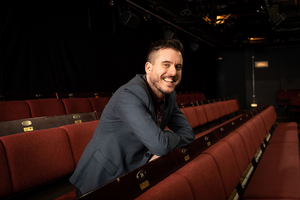 After five years in the role, Michael Longhurst has announced that he will step down as Artistic Director of The Donmar Warehouse when his contract ends in February 2024.
During his tenure, Michael has championed new writing including work by Branden Jacobs-Jenkins, Alice Birch and the upcoming world premiere of Trouble in Butetown by Diana Nneka Atuona. He has also revived classics including Henry V, starring Kit Harington. His own productions directed at the theatre include Europe by David Greig, Mike Lew's ground-breaking Teenage Dick, starring leading disabled actors Daniel Monks and Ruth Madeley, Tim Price's adaptation of Ruben Östlund's Force Majeure, where the stage was transformed into a ski slope, and the recent sell out run of acclaimed musical The Band's Visit.
For much of Michael's tenure, the sector faced unprecedented challenges with the Covid-19 pandemic, and the enforced closure of theatres around the world. During this time the Donmar carried out significant capital improvements to the theatre, ensuring it is more accessible and fit for purpose for years to come. Michael also led a programme of artistic innovation during this time, in particular the 2020 critically acclaimed sound installation Blindness which went on to tour the UK and internationally to cities including Amsterdam, Hong Kong and Auckland, enabling venues worldwide to safely welcome audiences back into their spaces, including one of the first theatres to reopen in New York.
In Summer 2021, as theatres were gradually reopening with social distancing restrictions, Michael conceived and directed an innovative multi-cast model of his production of Nick Payne's Constellations, which was seen by 60,000 people at the Vaudeville Theatre and won Best Revival and Best Actress for Sheila Atim at the 2022 Olivier Awards.
Other key achievements include: putting the climate emergency at the heart of the company's ethos with the appointment of a Climate Dramaturg, and growing the Donmar's work in its local community and schools, including staging the UK premiere of Dawn King's The Trials. Michael has also been committed to supporting the next generation of theatre-makers, creating the Donmar's Catalyst programme, which seeks to reduce barriers to careers in the theatre industry due to ethnicity, gender, disability or socio-economic background.
Michael Longhurst said, "I could not be prouder of the Donmar team and all that we've achieved across my tenure - the impact of the pandemic on our industry was devastating, but in the face of this, I am so grateful that the team rose to the challenge, not only to fundraise for and deliver an essential capital project, but to simultaneously help reopen theatres with our globally-transferring sound installation Blindness and our multi-cast Olivier Award-winning revival of Constellations in the West End. Thank you to all the artists and theatre makers who have been part of the journey so far. I am proud that in a time so challenging for freelancers to have enabled so many Donmar debuts, and to have continued to improve the diversity of those making work here. I am enormously grateful to my Co-Chief Executive Henny Finch for her unwavering support and great skill throughout my tenure.
As I approach the end of my contract, it feels like the right moment to hand over this incredible theatre - now celebrating its 30th anniversary. When I leave next year, I will do so with the company in robust financial health, in part due to the Donmar's many loyal supporters, with whose help we feel confident we can fill the gap left by the recent withdrawal of our Arts Council funding. I know that the Donmar will not simply survive, but thrive and continue to forge forward as an industry leader and innovator - this next chapter is a new moment and an incredible opportunity for the company's next Artistic Director.
Before then, I am beyond thrilled to be honouring the 50th anniversary of Coward's death by reviving his most famous work Private Lives in the fierce intimacy of the Donmar; producing Jack Thorne's astonishingly timely play about BBC independence, and directing the long-awaited UK premiere of Tony Award and Pulitzer Prize-winning musical Next to Normal, with Broadway star Caissie Levy, whose vocals are currently Grammy-nominated on the cast album of my last Broadway production Caroline, or Change. I look forward to announcing my final season later in the year, before pursuing new artistic challenges for myself in 2024".
Adam Kenwright, Chair of The Donmar Warehouse commented, "On behalf of the Donmar's Board, I would like to thank Michael for his inspired artistic leadership since the start of 2019. Not only has he directed and produced some of the standout work of the past few years, he also ably steered the theatre through a very challenging time, putting the Donmar at the forefront of innovation. Working closely with Executive Director Henny Finch and the brilliant Donmar team, Michael spearheaded the essential renovations of our theatre during our enforced Covid closure, ensuring when we reopened it was improved and welcoming for future audiences and artists. His are big shoes to fill, but I have no doubt there are fantastic candidates out there, who can continue the Donmar's commitment to staging work that thrills, engages and excites our audiences. Together with my board colleagues we will begin the recruitment process for Michael's successor in mid-February"
Photo Credit: Helen Maybanks