LENNON'S BANJO Cast Complete With Original Beatles' Drummer Pete Best Set to Make Guest Appearances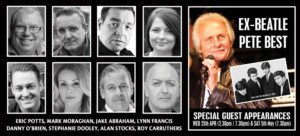 Lennon's Banjo makes its world stage premiere at Liverpool's Epstein Theatre in April - and the show is already making headlines around the world as one of the most hotly anticipated productions of 2018.
The final cast member in a brand-new comedy stage play coming to Liverpool about the quest to find John Lennon's missing childhood banjo has been revealed.
Liverpool stage actor Danny O'Brien completes the exciting line-up of Lennon's Banjo. The cast also includes Eric Potts, Mark Moraghan, Jake Abraham, Lynn Francis, Stephanie Dooley, Alan Stocks, and Roy Carruthers.
Also, it was recently announced that The Beatles' original drummer Pete Best, will play himself in three special performances of the show's two-week run.
Produced by Pulse Records Ltd in association with Bill Elms, Lennon's Banjo opens at the Epstein Theatre on Tuesday 24 April, continuing through until Saturday 5 May. Tickets are on sale now.
Lennon's Banjo is written by Rob Fennah, who will also co-produce the show. No stranger to theatre, Fennah wrote the stage play adaptation of Helen Forrester's Twopence to Cross the Mersey which has enjoyed success spanning 20 years.
It was John Lennon's mother, Julia Lennon, who introduced him to the world of pop music, teaching him to play rock and roll on a banjo, given to her by John's grandfather. The play is about a quest to find the holy grail of pop memorabilia - the first instrument John Lennon learned to play, which has been missing for 60 years and is now worth millions to whoever finds it.
Mysteriously, the banjo went missing shortly after Julia's death. One thing is certain though, if it did resurface it is estimated to be worth in the region of five million pounds.
Set in present day Liverpool, Lennon's Banjo is based on the 2012 novel Julia's Banjo written by Rob Fennah and Helen A Jones. A mix of fact and fiction, the production will be directed by Mark Heller.
For the first time, the full plot and characters featured in the stage comedy can be revealed.
When Beatles tour guide Barry Seddon (Eric Potts) finds a letter written by John Lennon, he unearths a clue to solving the greatest mystery in pop history - the whereabouts of Lennon's first musical instrument which has been missing for 60 years. But Barry's loose tongue alerts Texan dealer Travis Lawson (Danny O'Brien) to the priceless relic.
In an attempt to get his hands on the letter and the clues, he persuades his wife Cheryl (Stephanie Dooley) to befriend the hapless tour guide and win his affections. The race for the holy grail of pop memorabilia is on!
Coronation Street and Doctor Who's Eric Potts will play tour guide and Beatle nerd Barry.
Barry lives for just one thing, The Beatles. His love for the Fab Four is all consuming and probably the main reason he has never had a girlfriend. Oblivious to ridicule by his workmate, Sid, and so-called friends, Joe and Steve, he has only one true admirer, Brenda.
Star of Coronation Street and Emmerdale, Mark Moraghan joins the cast to play the part of 'Beatles Shop' co-owner Joe. Joe is the older brother of Steve. Both ex dock-workers, Joe harbours a nagging sense of guilt for persuading Steve to go into partnership with him and buy The Beatles Shop. After 20 years in the shop, all his hopes and dreams of a better life have long since evaporated.
Liverpool's own Jake Abraham takes on the role of disgruntled 'Beatles Shop' co-owner Steve who, along with his brother Joe, has grown tired of his business tenure. Steve resents working in The Beatles Shop and misses the camaraderie of his old workmates. He feels his life is wasting away and craves for a more glamorous existence. Opening a bar in Tenerife is his ultimate goal.
Lynn Francis will play work-weary pub landlady Brenda. Brenda has clearly been through the mill. But underneath her dull appearance there still remains an attractive woman crying out for love. Unimpressed by loud-mouthed admirers like Sid, Brenda has her eyes set on a much gentler soul...Barry.
Danny O'Brien will be appearing in the role of Travis. Texan native Travis is not afraid to risk everything if it means making a fast buck. But underneath the bullish bravado lurks a gentler character. Despite causing his wife no end of grief with all the wheeling and dealing, he desperately wants to be a winner and make her proud.
Stephanie Dooley has also joined the cast to play the part of Texan, Cheryl. Stephanie is best known for her roles in Emmerdale and Casualty. Long suffering Cheryl does her best to stand by her husband Travis. She is the common sense in the marriage and tries to reign Travis in whenever she feels he's getting over ambitious. She rarely succeeds.
Appearing in the role of Sid is Alan Stocks. A throw back to 50's teddy-boy era, Sid fancies himself as a ladies' man but in reality women wouldn't touch him with a bargepole. Always on Barry's case, Sid sees the tour guide as an easy target and enjoys winding him up at every opportunity.
Roy Carruthers will play ruthless Texan businessman Tony DeVito. Tony DeVito oozes the confidence of a successful businessman. Never seen without a cigar hanging from his mouth, he is used to getting what he wants. DeVito's bravado is propped up by his hired muscle, Carl and Wayne.
Ex-Beatle Pete Best will appear as himself in three performances. Alan Stocks will portray Pete Best in all other performances during the two-week run.
Pete Best was The Beatles' drummer between 1960 and 1962, playing more than 1,000 live performances including nightclubs and dance halls in both Liverpool and Hamburg. He recorded 27 songs as a Beatle, and he also played The Beatles' very first show in Liverpool at the Casbah Coffee Club. Pete will appear in the 2.30pm and 7.30pm shows on Wednesday 25 April, and the 7.30pm show on Saturday 5 May.
Lennon's Banjo's are delighted to be working with its Fab Four Production Partners who are The Cavern Club Liverpool, The Beatles Story, Hard Days Night Hotel, and The Beatles Shop.
For more info visit www.lennonsbanjo.com