Click Here for More Articles on LONDON TOP 10
HAMILTON Leads December's Top 10 New London Shows
London is never short of temptations, whether splashy West End shows, epic dramas or bold fringe offerings. From a feverishly anticipated musical to sci-fi and Shakespeare, here are some of this month's most eye-catching openings. Don't forget to check back for BroadwayWorld's reviews - and find our top Christmas picks here!
1. Hamilton, Victoria Palace Theatre
Lin-Manuel Miranda's phenomenon finally opens in the UK at the revamped Victoria Palace, following a building work delay. The cast features Jamael Westman, Giles Terera, Rachel John, Rachelle Ann Go, Obioma Ugoala, Christine Allado, Michael Jibson, Tarinn Cellender, Jason Pennycooke and Cleve September. Watch out for late release, lottery and standing tickets - and read our guide!
6 December-30 June, 2018. Book tickets here
2. Barnum, Menier Chocolate Factory
Hugh Jackman leads a film biopic of 'the Greatest Showman', P.T. Barnum, this Christmas, while at the Menier - and on a rather different scale - Gordon Greenberg revives this Cy Coleman, Mark Bramble and Michael Stewart musical. The cast includes Marcus Brigstocke, Laura Pitt-Pulford, Harry Francis, Tupele Dorgu and Celinde Schoenmaker.
Until 3 March, 2018. Book tickets here
3. The Twilight Zone, Almeida Theatre
Anne Washburn adapts the cult sci-fi TV show for stage, bringing several of its most powerful tales to life. Richard Jones directs Matthew Needham, Oliver Alvin-Wilson, Adrianna Bertola, Amy Griffiths, Cosmo Jarvis, Sam Swainsbury, John Marquez, Franc Ashman, Neil Haigh and Lizzy Connolly. Read our interview with Lizzy
5 December-27 January, 2018. Book tickets here
4. Pinocchio, National Theatre
The classic story is reincarnated, via Dennis Kelly, John Tiffany and a high-powered creative team. Expect puppetry and illusions in this family show, plus beloved songs and score from the original Disney film (such as "When You Wish Upon a Star"). The cast features Joe Idris-Roberts, Audrey Brisson and David Langham.
1 December-7 April, 2018. Book tickets here
5. RSC Rome Season, Barbican
Three great prospects remain: Iqbal Khan directs Josette Simon and Antony Byrne in Antony and Cleopatra, with music from Laura Mvula; Blanche McIntyre helms the David Troughton-starring Titus Andronicus; and Angus Jackson delves into the political backstabbing of Julius Caesar, which features Andrew Woodall, Alex Waldmann and Martin Hutson. Read our interview with Martin
Until 20 January, 2018. Book tickets here
6. Project Polunin, London Coliseum
Ballet star Sergei Polunin presents a mixed multimedia programme, encompassing not just new dance work, but also film, social media and VR. Andrey Kaydanovskiy choreographs a short ballet for Polunin, there's a production of Kasyan Goleizovsky's Scriabiniana, and the world premiere of Polunin's Satori, with a score by Lorenz Dangel.
5-9 December. Book tickets here
7. The Grinning Man, Trafalgar Studios
A hit for Bristol Old Vic, Carl Grose, Tim Phillips and Marc Teitler's macabre musical - based on a Victor Hugo novel - offers circus freaks, puppetry and mystery. Tom Morris directs, and the cast features Louis Maskell, Julie Atherton, Sanne Den Besten and Julian Bleach. Watch our video interview and sneak peek
6 December-17 February, 2018. Book tickets here
8. Cell Mates, Hampstead Theatre
Edward Hall revives Simon Gray's deftly funny 1995 play about the unlikely friendship struck in Wormwood Scrubs between a petty criminal and a notorious double agent, and the all-encompassing world of spymasters and deception. The cast features Geoffrey Streatfeild, Emmet Byrne, Philip Bird, Cara Horgan and Danny Lee Wynter.
Until 20 January, 2018. Book tickets here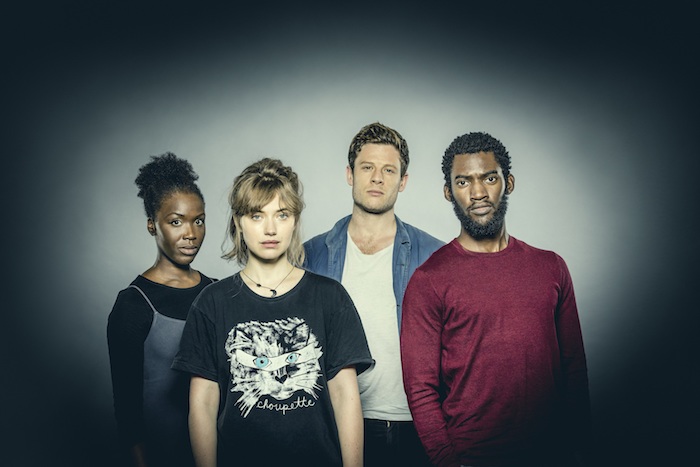 9. Belleville, Donmar Warehouse
American writer Amy Herzog's acclaimed play follows a yuppy couple living an expat bohemian life in Paris; though seemingly perfect, their romantic union begins to crack under pressure. Michael Longhurst directs this UK premiere, which stars a talented quartet: James Norton, Imogen Poots, Faith Alabi and Malachi Kirby.
7 December-3 February, 2018. Book tickets here
10. Mischief Movie Night, Arts Theatre
The unstoppable Mischief Theatre return to their comedy roots with this show. Audience members suggest a movie genre, location and title, and the company improvises a blockbuster live on stage. The cast includes Josh Elliot, Dave Hearn, Harry Kershaw, Henry Lewis, Ellie Morris, Charlie Russell, Jonathan Sayer and Henry Shields.
13 December-27 January, 2018. Book tickets here
Want more recommendations? Find previous Top 10 lists here
Related Articles