BWW Review: WHITE TEETH, Kiln Theatre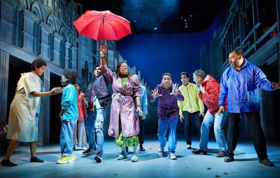 A few protestors might be doggedly hanging on outside the Kiln (was Tricycle) Theatre, but their complaints are firmly refuted by its current show: a vibrant adaptation of Zadie Smith's award-winning novel that is not just about but firmly rooted in the diverse, complex "melting pot" of north-west London.
Adaptor Stephen Sharkey introduces a framing device that centres the prickly relationship between dentist Rosie and mum Irie; the latter has always been cagey about her past, and the identity of Rosie's dad. One needle-wielding-patient-induced coma later, and Rosie journeys back into her family's history, with said patient - local eccentric 'Mad Mary' - acting as a crotchety spirit guide.
There's something of the Mamma Mia! arc to all this, and occasionally the father quest gets in the way of more interesting material; the sprawling novel is teeming with ideas, including colonial history. Dentistry puns and metaphors also land clunkily, and some of Smith's nuance is inevitably lost.
On the plus side, Sharkey's adaptation lends plenty of heart (and more female agency) to an action-packed journey, and opens it up to widely relatable ideas like young adults coming to better understand how childhood shaped their parents, and how they in turn either repeated or rebelled against those patterns.
The production isn't quite a full-blown musical - more a play with songs (by Paul Englishby), or more accurately a play that might be better off without songs. Dodgy sound balance ensures most of the lyrics are lost, and those that do make it through are pretty mediocre, talking in generic terms about friendship or the Eighties.
A reggae love duet has some charm at least, but the best is a spiky deconstruction of the West Hampstead middle-class liberal (as one who might meet that description, I couldn't possibly comment...). But either the songs need to carry more dramatic weight and better illuminate the characters and cultures, or be ditched altogether to streamline a hefty show.
After all, we're already whizzing through the formation of a friendship during the Second World War to a groovy Seventies meet-cute, stark parenting decision in the Eighties, and finally a climactic twist of fate that ties up most of the major story strands.
Along the way, there's plenty of searingly resonant talk about immigration in modern Britain, with the major characters including a mixed-race couple with Jamaican heritage and a Bangladeshi family whose patriarch worries his children are drifting from their faith and culture.
Well-meaning lefties also come under scrutiny, most brilliantly in a right-on PTA meeting at Willesden Lane Primary, where an earnest but slightly confused group try to make the case for Harvest Festival in their culturally sensitive calendar.
Smith's story also touches on genetic engineering - particularly science vs faith - as well as the lure of Islam during a revolutionary era, and the difficult displacement of the immigrant experience as one home recedes without the other entirely coming into focus.
It's a lot to take on board, though confidently handled in Indhu Rubasingham's crisp, energetic production. A hard-working company play multiple roles - often with a fourth wall-breaking wink - and zip through scene changes, with everything backed by the play's most enduring character: the neighbourhood itself, represented by Tom Piper's receding flats that echo the 'High Road' where the theatre sits.
Some of the elements that work - with plenty of breathing room - in Smith's novel fare less well here, particularly the fable quirks (twins feature heavily, as does the toss of a coin) and a far-fetched coincidence involving an infamous Nazi. The tone of the production occasionally strays into heightened cartoon to accommodate them.
Better are the more grounded, human moments. Amanda Wilkin brilliantly establishes the high-achieving Rosie and her fraught but loving dynamic with her mother in an initial phone call, and the pair cautiously circling one another throughout is compelling.
As the secretive Irie, Ayesha Antoine somehow portrays a range of ages while simultaneously convincing as Rosie's mum, scared to show the vulnerable choices of her past, while Michele Austin terrifically anchors the show as 'Mad Mary' - spouting plenty of incisive commentary amidst the nonsense.
There's great work too from Tony Jayawardena, Ayesha Dharker, Richard Lumsden, Naomi Frederick, Sid Sagar and Assad Zaman, plus the actor-musician company. Polly Bennett's movement is a vital component of a slick show, as well as adding wit to sequences like a visit to the hairdressers.
However, even the latter has deeper meaning, as Irie goes to 'relax' her hair in order to appeal to a boy smitten by white girls with sleek blonde manes. There are great details like that throughout, from the dark-comic moment of suicide prevention by irate kosher butcher to an Irish pool hall with no pool tables and now run by Arabs.
With some judicious cuts (most likely the songs) and further development, there's no doubt this production has a place in 2018 - even if its essentially genial portrait of identity and multiculturalism doesn't feel entirely up to date. Crucially, it's the perfect fit for a theatre that's had its own identity struggles, and, with this piece, winningly balances ambition with a sense of homecoming.
White Teeth at Kiln Theatre until 22 December
Photo credit: Mark Douet