Review: THE WOMAN IN WHITE, Charing Cross Theatre

This is the kind of show that has plenty of what makes people say "I don't like musicals" in the same way that I say that I don't like marzipan - because I tried it once when I was 15 and never again.
Naturally, The Woman In White also has bundles of what makes people treasure "big musicals", prompting them to brave trips to the West End - the soaring score, the emotions flooding down from stage to stalls, the all-enveloping melodrama. It's not a night out likely to convert the naysayers, but it'll delight the genre's aficionados, another triumph for director, Thom Southerland's, quest to find, adapt and breathe new life into half-forgotten works.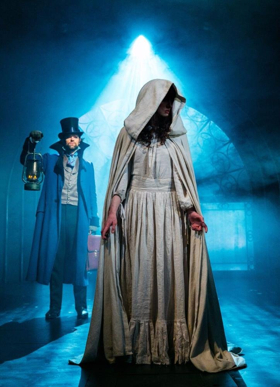 The story (and this is the main problem - but it often is in Shakespeare and, aside from Measure for Measure and The Winter's Tale, he usually gets a free pass) is based on Wilkie Collins' 1859 proto-mystery novel of the same name.
From that source flows the convoluted plot, the potboiler-ish sensationalism that breaks through insistently and the villains sketched so broadly that they are barely able to hold back the desire to twirl a moustache and engage full panto mode.
But enough of that. There is so much else to admire and where's the fun in poking holes in a production whose raison d'etre is not to push back the boundaries of artistic achievement in the portrayal of psychological trauma, but to entertain with bloody good songs and engaging characters? Not being Sweeney Todd is hardly a fair criticism!
And good songs and engaging characters is exactly what we get, especially from the the two sisters at the heart of the yarn. Anna O'Byrne gives us a tragic heroine, Laura, whose red-haired passion flames in the presence of Ashley Stillburn's disruptive bit of rough, Walter Hartwright.
O'Byrne is as fine an actress as she is singer, all stolen glances at her working class paramour and flinching fear in the presence of her betrothed, the dissolute Sir Percival Glyde (Chris Peluso, correctly doing all he can to play down the stock evil Lord of the Manor stuff we've seen a million times before). There's good work too from the eponymous. ghostly Sophie Reeves, whose secret is so telegraphed, she might as well have it on an Eighties Katherine Hamnett T-shirt.
The singing is fantastic from first to last and supported by a fine ten piece orchestra under musical director, Simon Holt - this is Broadway and the West End standard fare, but with tickets readily available at prices most can afford. Andrew Lloyd-Webber's score has plenty of echoes of Benjamin Britten's The Turn of the Screw and of Gilbert and Sullivan's Ruddigore and, it has to be said (and I mean this in a good way) quite a few bars that touch off memories of his own work.
But the real joy comes from the invention of David Zippel's lyrics, with the sisters' excitement at Hartwrights' arrival in their provincial bleak country house, "We Hope You Like It Here" and Marian's commitment to her sister "All for Laura", real standouts.
Ah yes, Marian. If O'Byrne acts and sings with real passion, Carolyn Maitland matches her as Marian, the woman who seeks justice for her sister. Her singing is worth the ticket price alone, belting into one of London's more tricky auditoria with total commitment and great technique, a masterclass in how to go full-on musical theatre passion without ever losing sight of the fact that the character is supposed to be real.
She veers close to opera (as does the largely sung-through show from beginning to end) but that's a compliment in a production of this ambition. One of 2017's best performances in the West End arriving late in the year.
A nod too in the direction of Greg Castiglioni, whose shameless Count Fusco is a dazzling turn, his setpiece "You Can Get Away With Anything" not requiring orange foundation, ludicrous fair hair and an American accent to remind us of a certain man who is small of hands and narrow of mind.
And plaudits go to Jonathan Lipman's magnificent costumes, the heft of which almost force the men into their Victorian milieu with the shimmering silks displaying the Victorian hypocrisy of an unmarried woman's lack of agency in a man's world.
So go and wallow in this sumptuous spectacle for ears and eyes, marvel at the confidence and skills of the performers and swallow the flaws of the plot. And, if you can convince a musical theatre sceptic to do the same thing, well, they'll enjoy it just as much.
The Woman In White continues at the Charing Cross Theatre until 10 February.
Photo Darren Bell