BWW Review: THE RED LION, Trafalgar Studios

Patrick Marber was inspired to write The Red Lion following his own experiences in non-league football club ownership. And the play - which was first performed in 2015 at the National Theatre - has been revised (by Marber) to make it a much slicker and darker insight into male relationships and the tricky juxtaposition between the roles of big business and community spirit in our grassroots game.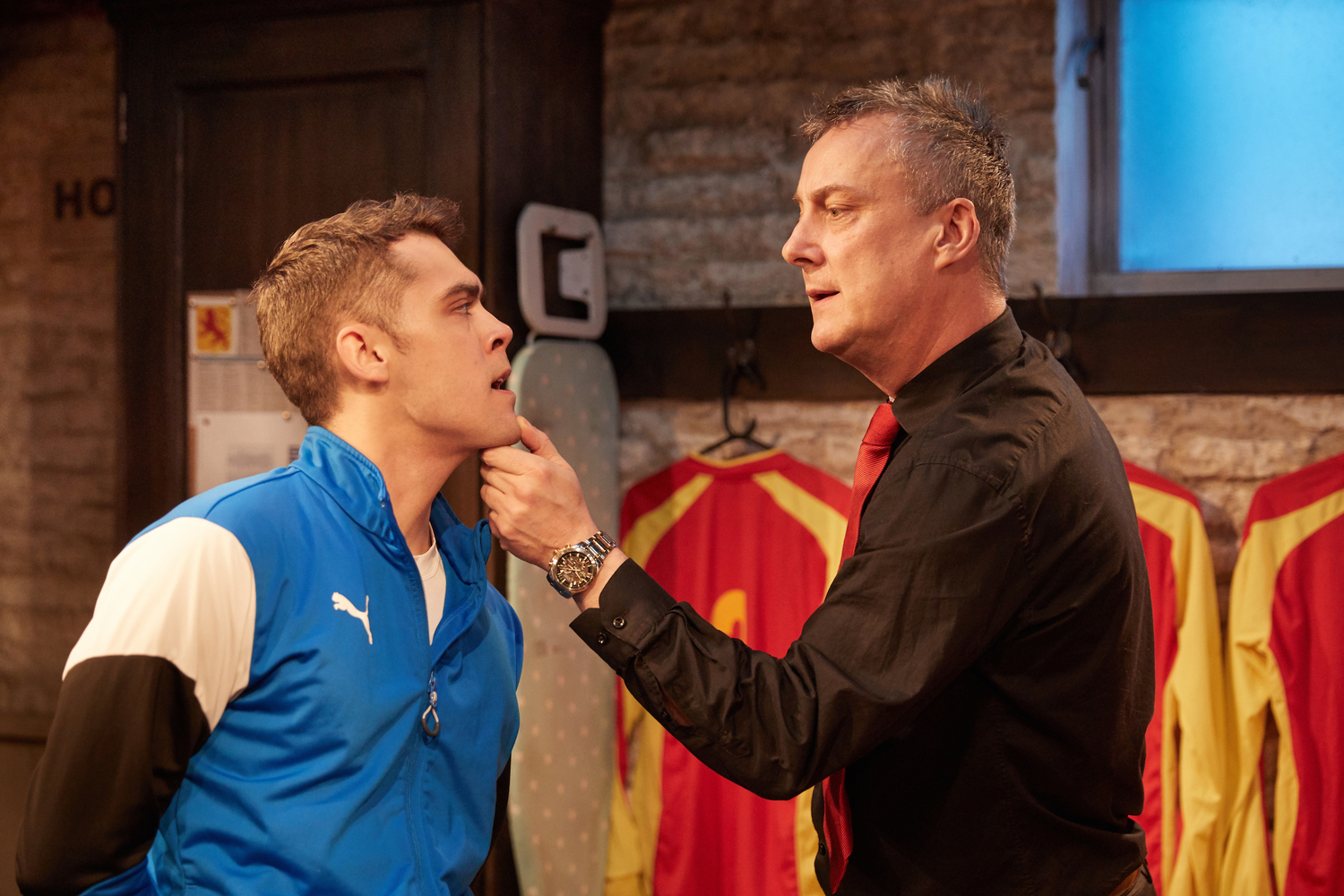 The play focuses on three characters and is set in the changing room of a small-town club desperately seeking promotion to a higher league. We first meet the local legend and veteran kit man Yates (John Bowler), who has given his life and soul to the club.
He's gained renewed vitality with the arrival of a promising and yet troubled young player, Jordon (Dean Bone), but the ambitious manager Kidd (Stephen Tompkinson) - with a failing marriage - is desperate to cut his own deal in order to rescue himself from spiralling debt.
What ensues is a fascinating tug of war, which exposes both of the characters' weaknesses, as Kidd plays for the side of the business - unscrupulous and crooked - while Yates represents the community and puts the club first above almost everything else.
It's quite apparent that Marber has written about something he knows intimately, with the banter and the grumbles about the state of the ground perfectly 'pitched' to make a wholly believable episode. I say episode, because you feel like you have dropped in on just one moment in the history of English football, something that will have repeated again and again over the years.
The set, by Patrick Connellan - with grimy benches, a greying Belfast sink and chilly painted brickwork - immediately transports you to the cowshed-like changing facilities, which any players of winter sports will remember with a mixture of affection and loathing. Add the unmistakable aroma of Deep Heat filling the auditorium and you get an atmosphere that suggests masculinity right from the start.
But it's in the direction by Max Roberts and the first-rate portrayals by the cast where the piece really gets its potency. Dean Bone plays the innocent young footballer - who is hiding a troubled past - with an unswerving appeal. Tompkinson's resounding resentment towards those who would stand in the way of his success is wonderfully offset with moments of conscience, while Yates's forthright determination is given depth by Bowler's rhythmical delivery.
And the result is a gritty and truthful depiction of not just football, but of British culture and the complicated relationships between men in our society.
The Red Lion at Trafalgar Studios until 2 December
Photo credit: Mark Douet
Related Articles