BWW Review: PETER PAN, Regent's Park Open Air Theatre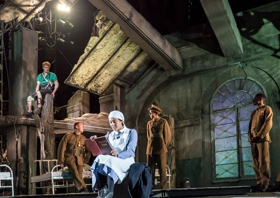 Timothy Sheader and Liam Steel's production of J.M. Barrie's Peter Pan returns to Regent's Park Open Air Theatre, three years after it first captivated audiences - young and old.
Pirates, fairies and flying boys who refuse to grow up all come together to create a magical production, made even more enchanting by the open-air setting.
In this production, Wendy, Michael and John's bedroom becomes a First World War hospital, full of injured soldiers. These lost boys soon become Peter's Lost Boys, while the nurse caring for them becomes Wendy. Mrs Darling is a ghostly figure, singing mournfully for her lost children - a stark reminder of the scores of mothers who waited for their sons to come home from war.
This is an inventive production using cleverly designed puppets, created by Rachael Canning - the mermaids in particular are breathtaking, with gas masks for faces while they fluidly move about the stage. Tinkerbell is created using what looks like a desk lamp, while the ever-present ticking crocodile is also extremely imaginative - but I'll let that remain a surprise!
Jon Bausor's set moves the story fluidly from the frontline of war to Peter's underground home in Neverland, to Skull Rock and a pirate ship, in wonderfully creative ways.
There's also something particularly joyous about watching Sam Angell acrobatically fly across the stage (there were gasps when he first leapt off the bed and glided high above the audience) - he perfectly embodies the naivety, innocence and stubbornness of Peter.
Dennis Herdman is terrific as Captain Hook, along with his gang of hapless pirates, including Caroline Deyga as the useless but loveable Smee.
There couldn't be a more apt time for this revival, with 2018 marking 100 years since the end of the Great War, and the presence of war is never far away, with soldiers acting as a constant reminder of the loss of life and innocence of the young men who fought, forced to act as adults while still children themselves.
This is a beautiful and poignant production that captivates its audience from start to finish. It was most evident when Peter was beseeching the audience to save Tinkerbell by showing they believed in fairies by clapping; an almighty roar erupted from the theatre.
Peter Pan at Regent's Park Open Air Theatre until 15 June
Photo Credit: Johan Persson