BWW: KISS ME, KATE, London Coliseum

Cole Porter's 1948 love letter to showbiz is brilliantly served by Opera North's big, bold and bawdy production - both soaringly romantic and packed with meta winks. A touring staple, Jo Davies' detailed take (the revival helmed by Ed Goggin) beds down very comfortably in the London Coliseum.
Colin Richmond's set efficiently whisks us between onstage faux-glamour (tapestry hangings and colourful cod-Renaissance dress) and the reality of life behind the scenes: the plain side of the towering scenery flats, cramped quarters, harassed stage managers, no money, and a Gordian knot of love affairs and quarrels.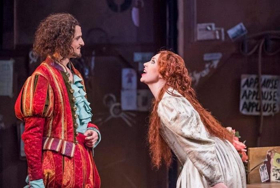 Director and star Fred Graham (Quirijn de Lang) is playing opposite his ex-wife, Lilli Vanessi (Stephanie Corley), in The Taming of the Shrew - while simultaneously romancing nightclub dancer Lois Lane (Zoe Rainey), cast as Bianca. Lois, in turn, is hoping this will be a big break for her and sweetheart Bill Calhoun (Alan Burkitt), the gambling-addicted hoofer playing one of Bianca's suitors.
Adding another complication is the arrival of two armed goons (Joseph Shovelton and John Savournin), sent to collect on Bill's IOU to their mobster boss - except he's signed it Frederick Graham, putting the director in their crosshairs instead. Naturally, the duo (who make a very funny entrance ambushing Fred at the urinals) soon become part of the show-within-a-show as well, putting their New Yoik spin on the Bard.
It's not the most nuanced of backstage dramas, but Bella and Samuel Spewack's book is wittily engaging, and the central couple's conflict does effectively tally with Shakespeare's - leading to a particularly violent wooing and textured conclusion. Besides, the plot is really just an excuse for the continual arrival of dynamite numbers.
What a treat to hear the score played by a fantastic full orchestra, under the baton of James Holmes: Porter's musical ambition really shines through. Yes, "Wunderbar" is parody, but it's also teeming with beautiful nuances, and Corley and de Lang's exquisite harmonies vividly demonstrate the deep bond between Fred and Lilli.
That's particularly needed later in the show, when their warring turns vicious - and shades into what looks to a modern, #MeToo-savvy audience uncomfortably like abuse. The production wisely skates past it as fast as possible, and a heightened playing style keeps things light; it's part of an absurd, essentially silly world, rather than normalised behaviour.
De Lang finds a good combination of cartoon ego and genuine presence, his powerful voice making Fred the sure leader of his company, while Corley tears into set-piece "I Hate Men". Both show genuine vulnerability, too, with the yearning "So In Love"; Lilli sings it in the wings, making it part fantasy, part out-of-body realisation. The pair really do feel bound together - for better or worse.
As their lighter counterparts, Rainey and Burkitt are pure musical theatre bliss. The former lends a wry pragmatism to her supposedly dumb-blonde showgirl, particularly in the irresistible "Always True to You in My Fashion", while Burkitt's lithe dance solos are jaw-dropping - both lyrical and virile. His powerful leaps and turns quite literally turn Lois on, and make us understand why she puts up with him.
That's the running theme throughout really, in a piece that affectionately but candidly communicates the ups and downs of theatre, being on the road, the uncertainties and hardships. Yet none can resist. So, too, do the relationships work not despite the pain they cause, but because of it.
The great Act II opener, "Too Darn Hot", encapsulates that contradiction. The company - led by the astonishingly athletic Stephane Anelli - rails against the heat, and then comes to embrace it in a breathless, vigorously building number that climaxes in Revivalist prayer meeting ecstasy.
Will Tuckett's choreography is a pleasure throughout - not just in the intricate formations and big climaxes, but in the clarity and intent of movement. Ditto the wonderfully articulated speech and lyrics (the sound balance is spot on) and unified tone, all demonstrating an assured overall vision.
There are times when the operatic beauty competes slightly with the material - whether in dragging the pace of what's already a baggy show, eliding the odd musical accent, or lacking some of the earthiness of other incarnations.
But there's lovely characterisation right through the Opera North Chorus (see: the Shrew cast wisely backing away from the latest Fred/Lilli skirmish), as well as superb singing, making this a spirited and joyful revival.
Kiss Me, Kate at London Coliseum until 30 June
Read our interview with Stephanie Corley
Photo credit: Tristram Kenton