BWW Interview: Stephanie Corley Talks KISS ME, KATE Tour
"Another op'nin', another show..." Following the award-winning production in 2015, Opera North's Kiss Me, Kate returns to tour the UK this summer.
Talking to Kate herself during rehearsals, Stephanie Corley shares her journey into opera, the challenges of taking on a musical, and her connection to the show.
What was your first memory of theatre?
I remember we used to go to operas, ballets and musical theatre a lot when I was a kid.
But the one thing which really struck me and which I got the soundtrack for was The Phantom of the Opera, when I was about seven. I used to sing along with that and pretend I was Christine.
Was there a particular moment you realised that this was what you wanted to go into?
I think I always wanted to sing. I was in a lot of pop and rock 'n' roll bands, following in my father's footsteps, and I attended drama clubs, choirs, piano and singing lessons and a Saturday junior music school when I was young. From there, it was narrowing it down. My mum actually said, "Do you want to end up at Glyndebourne or Glastonbury?".
So I ended up on the path towards opera, thanks to my teacher's guidance. I went to the Royal Welsh College of Music and Drama in Cardiff for five years and then joined Glyndebourne Opera House, which takes a lot of young singers in the chorus, and did three years there. And then a year at the National Opera Studio in London. It was all great training and experience.
And you're currently with Opera North, who you've worked with before. Can you tell us about your previous experience and roles with them?
I was doing an opera in Birmingham, and somebody from Opera North came to see me in that and they thought I might be good for their Merry Widow, an operetta. So that was my first role here. And since then, I've performed and covered other roles for Opera North, alongside various concerts for the company.
And so it's great to be back for Kiss Me, Kate, and I'll be doing something later on in the year with them which will be more traditional opera. I've been fortunate enough to have had quite a variety of things: a musical, an operetta and an opera.
How did you become involved in Kiss Me, Kate?
Well, I had auditioned originally when they did the production in 2015. So I had studied quite a bit of the music a few years ago, before auditioning again for it.
And I feel a bit of a connection to the piece. My mother-in-law had played Kate in her youth, so she waxed lyrical about it. And in fact when I got married, we actually used one of Kate's numbers from the show as our first dance: "So in Love".
Aww! That's wonderful.
My best friend sang it for us and I sung "I Hate Men" in a little cabaret after-wedding breakfast, which my husband thankfully saw the funny side of.
So I've been living with the piece in my head for a couple of years, before being asked to audition this time. So that was nice and I felt much more familiar with it.
Did you get to see the original Opera North production of Kiss Me Kate?
I didn't, no. I pulled out of the auditions after doing three of them, because I was pregnant and I was going to be giving birth around first night! But I heard great things about it and have watched a DVD of it, which has been useful for this.
Can you tell us a bit about your approach to the roles you play?
I've actually found it quite challenging. First there's Kate and the weight of Shakespeare behind that and the character, which is really knotty and tricky in itself. Then there's the really complicated thought of trying to play Kate through Lilli Vanessi, in this play-within-a-play. When does Kate come through and when will Lilli come through?
Then on top of that, the complications that come with Cole Porter and those 1940s views relating to women, and having to portray that now. So the historical and social weight of that.
Especially towards the end, we put a lot of Kate's speech in. "I am ashamed that women are so simple". It's already controversial in Shakespeare, and in Kiss Me, Kate it's Lilli coming back to save the show, but speaking through Kate's words. So trying to access the motivation and clarity of saying that on those levels, it's very challenging.
I think with the way we've approached that both in text and direction though, this production does discover things that I hadn't initially thought of or felt on first reading, and which audiences may not have considered.
How have rehearsals been going so far?
Really good, and we've just got on stage. We got to sing with the orchestra and Alan Burkitt [Bill/Lucentio] did his tap dance break with them, which was a treat for everyone.
We've spent quite a lot of time in the rehearsal room, considering it's a second revival. There are some original cast members in the room who know it inside out, like Quirijn [de Lang, Fred/Petruchio]. He's been amazing, he's never ever once made me feel like I'm wasting time by asking questions; he's been an amazingly supportive colleague.
Because it can be very challenging, reviving with people who don't know the show as well as you do. But he's been so generous and kind-spirited.
Have you had to learn any skills for this show, or "Brush Up Your Shakespeare", as it were?
Ha! Yes I have, actually. I've learned huge amounts.
Singing wise, I've had to develop different skills to those I usually use for opera. (Though I think if any role is going to be more from the background of opera, it's these ones.)
And this sounds really basic but remembering, "Think, breathe, sing". For opera singers unfortunately it can be more like, "Breathe, sing, think". So sound quality over text, which it never ever should be, but sometimes it's things like that.
So it's been really great for me as an artist and actor to try and find the truth in what I'm saying in the moment. The revival director Ed Goggin has been really on me, "Don't do any gestures, stop pulling faces! We'll put sellotape on your forehead if you keep doing that!".
Also trying to sing with less vibrato and not so loudly, because we are mic-ed. And to try to sing with Lilli's voice and find that. The first couple of times we did Kate's songs, they said, "It doesn't sound like Lilli's singing". It was a bit operatic or overblown.
And you're about to set off as "a troop of strolling players", touring across the country. Have you toured a lot before?
I've worked a lot for Scottish Opera and we've toured the Highlands and the Lowlands and the islands. I've also gone across Wales and England, as well as France and the Netherlands.
This is kind of a weird tour. We do a week of intense shows, then have a week off. So all the people who are used to musical theatre think it's a walk in the park. Whereas the people who are more opera orientated think it's going to be a massive challenge!
I think that once we get to the Coliseum it's going to be quite intense as we have so many shows.
Have you performed there before?
No, I've never performed there but I actually saw my first operas there. It is such a big space and there are so many seats to fill. But I'm hoping we'll get a good crowd.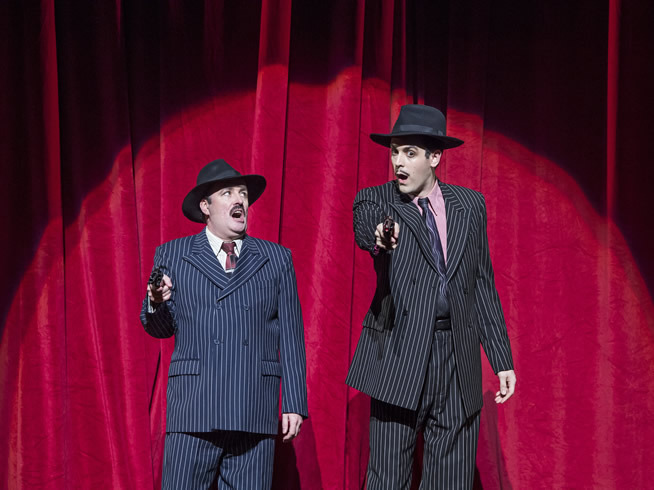 This might be "So in Love", but do you have a particular favourite number to perform?
One of the challenges for me is that all the songs are so different, emotionally. "So in Love" is a really truthful, vulnerable and open moment. However, in contrast, "I Hate Men" is a real show-stopping comedy number.
I'm not sure which one I'll enjoy most once we're on stage in front of an audience. I think after doing it a while, I'll find out. But I'm also enjoying seeing other people's versions of songs, like Quirijn's "So in Love" reprises, which are beautiful.
I'm always totally thrilled by Alan Burkitt's "Bianca" song and following tap routine, Stephane Anelli and Aiesha Pease in "Too Darn Hot" really are sizzling, and anything Zoë Rainey sings is mind-blowingly good, she's a star.
I imagine you'll be sitting backstage singing along to everyone else's songs, because they're so catchy!
Yes! "Brush Up Your Shakespeare" in particular. And the boys that are doing it, John Savournin and Joseph Shovelton, are just amazing. They've done it since the start, so their opening night here will be their 50th show.
Finally, what can audiences expect from Kiss Me, Kate?
I think it's an amazing spectacle, from every point of view. The singing, the dancing, the acting, the pace is fierce and engrossing. You never know what's going to happen next with the plot, but you've always got another great number just around the corner.
Kiss Me Kate at Leeds Grand Theatre until 26 May, then touring to the London Coliseum and the Festival Theatre, Edinburgh
Photo credit: Tristram Kenton