Click Here for More Articles on Stream Now
Guest Blog: Róisín Devine Discusses The Old Red Lion Theatre's Reopening Season
The family-run pub theatre has had to adapt to ever-changing COVID-19 guidance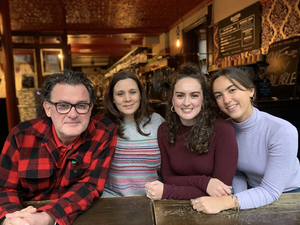 The theatre industry going dark as a result of the pandemic was heart-breaking for theatre-lovers across the world. But when your family runs an independent Fringe venue in central London, it cuts deeper still.
As Landlord of the Old Red Lion Theatre Pub in Islington, my Dad, Damien Devine, has had a front-row seat to two decades of challenges within London's fringe theatre scene. But sitting in our deserted venue on the eve of the first national Lockdown, even he was floored by the enormity of what he faced.
Like so many family-run businesses across the country, we met the announcement of Lockdown with huge trepidation for what was in store for us. Not only is the Old Red Lion our business, but it's also our home.
My sisters and I grew up here, befriending the locals at the bar and sneaking into shows upstairs that weren't always age-appropriate! Since, we've worked box office and pulled pints alongside a changing cast of family employees, including our cousin, Helen, who has managed the venue for the last 16 years.
So, as we turned the lights out on our auditorium and bar, the darkness felt personal.
We contended with the uncertainty by using the imposed downtime to ensure we were in the best possible position to reopen once allowed. The duplicity of our venue - traditional pub downstairs, acclaimed fringe theatre above - means we straddle the entertainment and hospitality industries. So we've had a double-whammy of restrictions to navigate in our mission to re-open. It's a wonder we haven't got whiplash from all the obstacles and U-turns that the government have thrown at us!
We're proud of how we've adapted our venue to become COVID-secure. We've refurbished our outdoor areas to create festive, sheltered spaces for mixed-household groups to enjoy and have partnered with another local business to provide the government-mandated food offering alongside alcohol sales.
As ever, our efforts were a family affair. One of the upsides of the pandemic has meant that those not usually employed at the Old Red Lion have been able to pitch in. I've been furloughed from my job since April, but it's been a blessing to have time to help the Old Red Lion in its time of need. Although the last few months have been incredibly hard work, we have been lucky to spend them with our family, whilst so many have been apart from theirs.
Most excitingly, we were delighted to benefit from the Culture Recovery Fund, which was to provide us with the much-needed financial support to bring the lights up on our theatre for the first time since March.
We worked hard to programme an exciting new season of work, with wonderfully committed theatre-makers who were so grateful to return to what they love. But unfortunately, two days before the new season was set to open, we learned of the Government's decision to move London into Tier 3 and had no option but to close our venue and postpone our season.
Whilst we completely understand that the measures are necessary to safeguard our city, closing down our business for the third time in 10 months felt particularly hard this time around.
Luckily, we can still keep the tradition of Christmas Theatre alive, with our first foray into the world of digital theatre! December written by our most recent Artistic Director Alexander Knott is an innovative inversion of Dickens' classic A Christmas Carol, which takes the beloved Bob Cratchit on a time-bending journey through Christmas future. Whilst we cannot welcome audiences through our doors this Christmas, we're thrilled to be able to send the magic of theatre into their homes to enjoy with their families.
The recovery of Fringe venues like ours will be integral to the revival of British theatre, as the Fringe has always been a cultural litmus for the health of the wider industry: when the Fringe is thriving with unheard voices and diverse new artists, those talents and trends flow upwards and outwards to challenge and inform the work being created in larger, more mainstream rehearsal rooms.
The Old Red Lion Theatre has been a cornerstone of London Fringe theatre since 1979, and as one of the oldest and most-loved fringe venues in the city, has platformed the early careers of theatrical greats like Kathy Burke, Nina Raine and Stephen Daldry. For these creatives and so many others, the Fringe is a gateway to careers in theatre, and its accessible venues and ticket prices mean that it is often the entry point for audiences too.
It must be protected.
Whenever theatres are reopened, please support independent and Fringe venues. In doing so, you'll be helping to safeguard the future of British theatre. And on a personal note, at the ORL, you'll be supporting a family that's got a fight on their hands.
The Old Red Lion Theatre's production of December by Bag of Beard available online from 20th December