Click Here for More Articles on Andrew Lloyd Webber's Cinderella
Andrew Lloyd Webber is in Negotiation With Equity to Pay CINDERELLA Performers During Temporary Closure
It was just reported that Cinderella will resume performances on 18 August.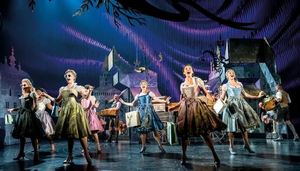 Andrew Lloyd Webber's Really Useful Group is currently working with Equity on negotiating a way to pay performers from Cinderella, who are unable to work due to the COVID-related delay the production is now facing, The Stage reports.
Under a temporary variation agreement negotiated by Equity and the Society of London Theatre last year, a production can be suspended for up to 12 weeks, but no salaries will be paid during the closure period.
However, the company is "taking a different approach" for Cinderella, and is now working with the union to negotiate pay for its members during this time.
"Shows that cannot perform can be suspended under a no-payment force majeure clause," said Equity general secretary Paul W Fleming. "Cinderella is taking a different approach and will be making a payment, which we are negotiating at present."
"Theatre is now operating in the context of a ludicrous government policy that has more to do with bureaucracy than public health. It is almost impossible for producers or the union to sustain the industry in these conditions," he said.
A spokeswoman for Equity explained that "artists have been paid a portion of the minimum, early holiday pay or other sums negotiated by the union" in most instances.
"Non-payment is a last resort when no alternatives are available, and would otherwise mean show closure. We have not been made aware of any producer to date making use of the provision; all have explored and negotiated payments with Equity," she added.
Read more on The Stage.
It was just reported that Cinderella will resume performances on 18 August. Previews initially began on Friday 25 June 2021, before another period of closure due to Covid-19 isolation protocols. The production will now officially open on 25 August.