showHive Teams with MODERN WARRIOR LIVE to Shift Narrative on PTS and Veterans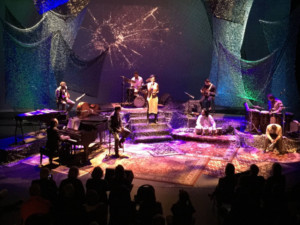 showHive, Inc. announces a new creative development partnership with Modern Warrior Live, a nonprofit organization focussing on raising awareness of Post Traumatic Stress (PTS,) Post Traumatic Growth (PTG,) and building a civilian culture of understanding through the theatrical show, Modern Warrior Live.
The creative and design team is lead by showHive Director, Emmett Murphy and Lighting and Set Designer, Garrett Caine.
Co-created by United States Army veteran Jaymes Poling and musician Dominick Farinacci, Modern Warrior Live is a theatrical music experience that explores the psychological weights of war, the challenges of reintegration as a civilian, and the potential for positive personal and communal experiences.
showHIve is providing show direction, technical direction, lighting, set and multimedia design for the original musical drama. showHive is also a producer of the initiative. Emmett Murphy notes, "By fusing live music and the compelling real-life account of the effects and aftermath of war with a theatrical setting, multimedia and show-stopping performances, we are able to convey the idea of Post Traumatic Growth to educate our audiences about the possibility of a positive outcome for our veterans experiencing Post Traumatic Stress."
Garrett Caine notes, "By creating a unique lighting and scenic concept that integrates custom multimedia projections with photos, video and ephemera from Jaymes's life, we have been successful in deepening his story and juxtaposing visual commentary against the important issues that the show addresses."
Modern Warrior Live seeks to build bridges between veteran and civilian communities through live performances, collaborative workshops and panel discussions, in order to inform, entertain and inspire, while de-stigmatizing our veterans. Murphy adds, "The message in this show provides evidence that the perpetuated narrative of PTSD being insurmountable is not the only outcome. It's a living story of hope and growth."
The production has undergone an extensive workshop process in 2017 at the Cleveland Playhouse complex, the second largest theater district in the US outside of New York. The show will tour performing arts centers starting with shows in Chicago, Cleveland, Washington-Baltimore Metro Area and New York City beginning in the fall of 2017.
Narrated by Staff Sergeant Poling, who spent three years in Afghanistan as an infantryman with the 82nd Airborne division, the show is complemented by dynamic musical performances led by Dominick Farinacci (Mack Avenue recording artist and former Global Ambassador to Jazz at Lincoln Center) and Musical Director Christian Tamburr. The show is accompanied by jazz artists such as international vocalist Shenel Johns, recording star Clint Holmes, gospel sensation Geoffrey Golden, spoken word artist Orlando Watson and features a world-class band, including percussionists Jamey Haddad and Salar Nader, among other notable musicians.
Watch below for a look behind the scenes!
---
Modern Warrior is endorsed and supported by the United War Veterans Council, the producer of the New York City Veterans Day Parade.
For more information about showHive, contact connect@showHive.com, call (212) 365-4154 or visit showHive.com.
showHive is a collective of visionary artists, craftsmen and designers. We focus on the creative development of entertainment and theatrical productions. Our team's productions have been seen on the stages of theaters and entertainment venues around the world. showHive delivers big, bold entertainment and production solutions.