Washington Ballet Announces New Company Dancers and Promotions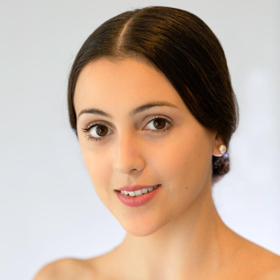 The Washington Ballet announces updates to its company roster for the 2018.19 season.
Katherine Barkman joined the company shortly after her debut as a guest artist in the 2018.19 season opener, TWB Welcomes. Formerly a principal dancer with Ballet Manila, she has performed around the world as an international guest star with numerous ballet companies in full-length productions and at international festivals and galas. The Washington Post described her dancing with "simply clean steps, exhilarating energy and a vision of joy."
Ariel Martínez was a Principal Soloist with the Cuban National Ballet. Born in Havana, he started his dance career when he was 10 years old. He has been compared to the famous Cuban ballet star Carlos Acosta sharing such on stage presence as an electrifying "bravura," dynamic technique and machismo personality balanced with humility.
"We are building a company of distinction that represents the nation's capital. Some of ballet's most promising dancers have come here to be part of The Washington Ballet," saidArtistic Director Julie Kent. "We are so proud to add these incredibly talented dancers to our company roster and I know they will delight audiences in our upcoming productions at the Kennedy Center and the Harman Center."
Additionally, Alexandros Pappajohn has been promoted from apprentice to Company dancer. Pappajohn thrilled audiences with his breakout performance in Tarantella earlier this season with his powerful jumps and spirited turns. He joined the Washington Ballet's Studio Company in 2016 and was promoted to Apprentice in 2017.
Three studio company members - Gilles Delellio, Samara Rittinger and Masanori Takiguchi have been promoted to Company Apprentice.
"We are fully committed to the diversity and development of our company," said Ms. Kent. "Our broader goals include expanding our repertoire and elevating the artistic product. Helping dancers reach their potential as artists and professional members of The Washington Ballet is incredibly rewarding for (Associate Director) Victor (Barbee) and me. We grow as they grow and the audience is part of that process. It's very exciting to see."
COMPANY BIOS
Katherine Barkman started her dance training in Bucks County, PA when she was barely three years old. By age 14 she began extensive training with Nadia Pavlenko, a graduate of the Vaganova Academy of Russian Ballet. In 2014 Ms. Barkman received the Gold Medal at the Youth American Grand in Philadelphia and was a finalist at the Youth American Grand Prix in New York the same year. In 2015 she joined Ballet Manila as a guest principal. She has performed as a guest artist in Latvia, Hong Kong, Russia, Australia, Canada and the United States.
Ariel Martínez is from Havana, Cuba and began his ballet studies at The School of Ballet Alejo Carpentier in Havana and continued his education at Fernando Alonso National Ballet School, associated with Ballet Nacional de Cuba. He has competed in Italy, South Africa, Mexico, and Cuba, winning awards including a silver medal at the International Meeting of Academies for the Teaching of Ballet in 2014 and a gold medal for contemporary ballet performing Innovation in South Africa in 2016. In 2014 he became a company member of Ballet Nacional de Cuba and was promoted to First Soloist in 2016.
Alexandros Pappajohn is from New York City and began taking ballet class when he was nine years old at Ballet Academy East. In 2013 he began training at the School of American Ballet and in 2015 he joined American Ballet Theatre's Studio Company. In the two years he has been with The Washington Ballet he has been cast in programs that showcase genre-specific choreography such Symphonic Variations as well as works by Paul Taylor and full-length productions of Giselle and Romeo and Juliet.
Gilles Delellio is from Belgium and began his dance studies in tap and jazz. He started to study ballet at age 10. At 13 he entered the Royal Ballet School of Flanders for 2 years. He has studied dance in France and Spain and participated in competitions in in Italy, Germany, Greece and Korea. In 2016 he won the silver medal in both ballet and contemporary dance in the Valentina Kozlova Ballet Competition in New York.
Samara Rittinger is from North Vancouver, Canada and started her training when she was eight years old. She later continued her studies at Goh Ballet Academy. She left home at 13 to study at Canada's Royal Winnipeg Ballet (RWB) Professional Division School for four years where she received the Evelyn Hart Scholarship three years in a row and graduated with distinction. Samara has performed with Canada's Royal Winnipeg Ballet's and joined the The Washington Ballet's Trainee Program in 2016. In 2017 she was promoted to Studio Company.
Masanori Takiguchi is from Tokyo, Japan. He began his training at Studio Les Bijoux and Pittsburgh Ballet Theatre's School. He danced for a year with The Joffrey Ballet's Studio Company and won first place in the National Society of Arts and Letters' 2017 Classical Ballet Competition and first place in the 2018 Youth America Grand Prix Chicago.
The Washington Ballet (TWB) was founded as The Washington School of Ballet by Mary Day in 1944 and incorporated as a professional company in 1976. At the helm is internationally acclaimed ballerina Julie Kent. As The Washington Ballet's Artistic Director, Kent's mission is to build a world-class dance company in the Nation's Capital, by continuing the tradition of classical ballet and contributing to the evolution of the art form through contemporary works and new commissions. The Washington Ballet strives to reflect the diversity of the community and the nation through its dancers and its repertoire. Kent has introduced into the repertoire seminal works by George Balanchine, Frederick Ashton, Jerome Robbins, Antony Tudor, Justin Peck and Alexei Ratmansky while embracing the work of emerging choreographers including Clifton Brown, Gemma Bond, and Ethan Stiefel, among others.
Her commitment to the development of both the dancer and the art form is fulfilled through the presentation of beloved classic 19th-century ballets and landmark 20th-century works while reaffirming a commitment to commissioned works that will contribute to the evolution of ballet and its relevance in our times. TWB's three-part mission: ensuring excellence in its professional performance company; growing the next generation of dancers through its school, professional training programs, and Studio Company; and serving the community in which it resides through community engagement programs will continue to propel TWB to a more prominent place within the nation's capital and beyond.