Click Here for More Articles on OPERA - WASHINGTON DC
Review Roundup: Washington National Opera's CANDIDE Starring Alek Shrader and Emily Pogorelc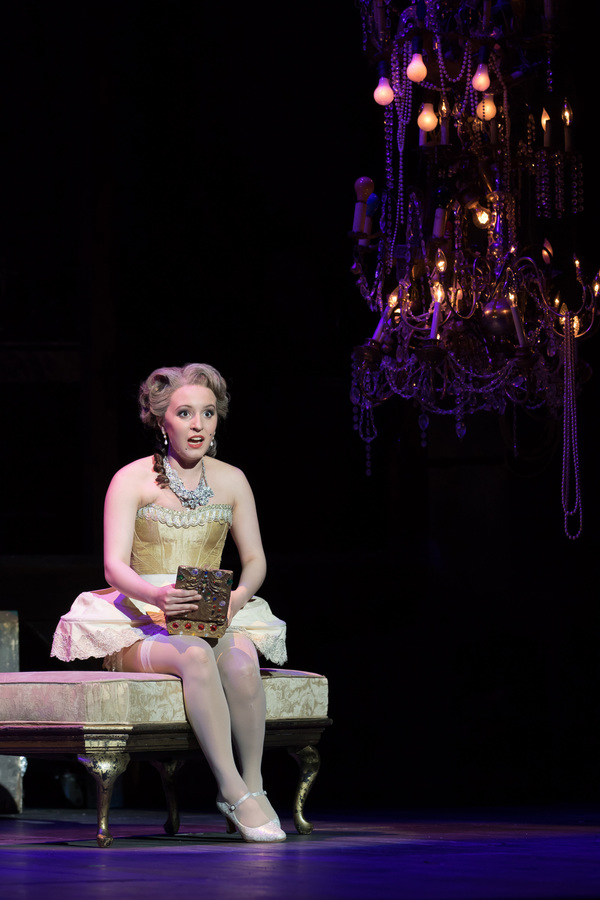 Washington National Opera concludes its 2017-2018 season with the company premiere of Leonard Bernstein's biting satire Candide, running now through May 26, 2018, in the Kennedy Center Opera House.
Candide is one of Bernstein's most popular and enduring works, blurring the lines between opera and musical theater. Heading the all-American cast are three powerhouses from the world of opera: tenor Alek Shrader in his WNO debut in the title role, soprano Emily Pogorelc as his forlorn love interest Cunegonde, and WNO audience favorite and local legend Denyce Graves as the Old Lady. This new-to-Washington production, the centerpiece of the Kennedy Center's season-long Leonard Bernstein at 100 celebration, is directed by WNO Artistic Director Francesca Zambello and conducted by Nicole Paiement.
The cast also features Wynn Harmon (Lost in the Stars and Show Boat) in the dual role of Voltaire and Candide's tutor Dr. Pangloss. Two dynamic rising artists make their WNO debuts: baritone Edward Nelson is Maximilian and bass-baritone Matthew Scollin sings the roles of James and Martin. WNO's Domingo-Cafritz Young Artist Program is well represented in the cast of Candide. Tenor Frederick Ballentine is Cacambo, mezzo-soprano Eliza Bonet is Paquette, and tenor Alexander McKissick is the Grand Inquisitor and the Governor. Soprano Kerriann Otaño, an alumna of the program, sings the roles of the Baroness and Vanderdendur. A talented ensemble of soloists performs Candide's many character roles: Tom Berklund, Jaely Chamberlin, Andrew Harper, Katherine Henley, Michael Hewitt, Nicholas Houhoulis, Jarrod Lee, Andrea Beasom Lindgren, Danny Lindgren, Alison Mixon, Ameerah Sabreen, and Louisa Waycott.
Marshalling all of these talents is WNO Artistic Director Francesca Zambello, who directed this production's premiere at The Glimmerglass Festival in upstate New York, where she serves as General and Artistic Director. Earlier this season, Zambello directed WNO productions of Aida and The Little Prince; next season she will direct a new production of La traviata and a revival of her world-premiere production of The Lion, the Unicorn, and Me.
Leading the WNO Orchestra in interpreting Bernstein's rollicking score is Nicole Paiement, who has previously appeared at WNO conducting the world premiere of Mohammed Fairouz's The Dictator's Wife in 2017 and The Little Prince in 2014. Paiement, who also serves as Artistic Director of Opera Parallèle in San Francisco and as Principal Guest Conductor of The Dallas Opera, will return next season to conduct WNO's company premiere of Kevin Puts and Mark Campbell's Silent Night.
The creative team also includes associate director and choreographer Eric Sean Fogel, associate director E. Loren Meeker, scenic designer James Noone, costume designer Jennifer Moeller, lighting designer Mark McCullough, hair and makeup designer David C. Zimmerman, and sound designer G. Thomas Clark for GTC Sound Design. Candide opens on Saturday, May 5, 2018 at 7 p.m. in the Kennedy Center Opera House and runs for nine performances, including May 9, 12, 14, 18, 20, 22, 24, and 26. The opera's running time is two hours and 50 minutes, including one 25-minute intermission. Candide is performed in English with projected English titles. Visit WNO's website for complete production details and casting information.
Washington National Opera's 2017-2018 season also includes Rossini's charming romantic comedy The Barber of Seville. The 2018-2019 season includes a new WNO production of Verdi's classic romantic drama La traviata, the company premiere of Kevin Puts and Mark Campbell's Pulitzer Prize-winning Silent Night, Tchaikovsky's legendary epic Eugene Onegin, Gounod's devilishly entertaining Faust, and Puccini's towering masterpiece Tosca. The season also features the return of Mars, Incorporated Opera in the Outfield and the American Opera Initiative Festival; a revival of WNO's hit world-premiere holiday family opera The Lion, the Unicorn, and Me; a special Domingo-Cafritz Young Artist performance of La traviata; and other exciting vocal events. Tickets are available now.
Let's see what the critics have to say!
Anne Midgette, The Washington Post: One highlight is "Glitter and Be Gay," which Zambello and her original Glimmerglass Cunegonde, Kathryn Lewek, turned improbably into a kind of feminist manifesto about living with sexual abuse. Lewek had to withdraw from the WNO production because of pregnancy, and Emily Pogorelc, who replaced her, let some of the role's traditional cuteness leach back into her interpretation, though she kept the bite to the reading, and brought down the house.
Grace Jean, Washington Classical Review: Under the baton of Nicole Paiement, the WNO Orchestra played with spirit and meticulous musicality. Those attributes were echoed in kind by the chorus and soloists onstage - and collectively they turned in strong full-cast performances across the board, especially in the diabolical "Auto-da-fe" and the hopeful "Make Our Garden Grow." Opening night jitters - a few tempo bobbles between orchestra and singers; a bit of unevenness and flagging energy levels in the beginning of Act II-were the only debits marring an otherwise polished production.
Susan Galbraith, DC Theatre Scene: Shrader has a pure and lyrical tenor quality, and his voice and to my mind is perfectly suited to Candide. Bernstein has given the character simple melodies, often in minor keys with falling lines that are emotionally affecting. Perhaps because Candide's songs don't have the typical operatic tenor throbbing build up to a final ringing note, the WNO audience didn't break into applause that I think he deserved.
Hillary Sutton, DC Metro Theater Arts: Those who can enjoy the ride, laugh at life's absurdities, and appreciate the deeper meaning, will enjoy it most. And even if you can't, you can't argue with the stunning score and incredible performances. Zambello's production serves its audience very well. Whether or not Candide is your taste, it is a fine show.
Rachel Goldberg, BroadwayWorld: This isn't to say the whole production is miserable. The cast is full of talented performers who might have been more enjoyable in a different capacity - the two female leads were regulated to a surprisingly high register that showed their skills but prevented the audience from truly appreciating their voices. The costumes were wonderfully imaginative and beautifully done - I especially appreciated the contrast of the ensemble's white outfits and the red lining on the military coats to portray the post-battle carnage. The sheep from El Dorado were particularly clever (their knitting was one of the show's highlights), and the actresses who played them easily stole the too few scenes in which they were present. And a joke about lawyers will almost always play well, particularly in Washington, DC. But these little delights can't quite atone for the production's original sins: injecting far too much self-importance and taking itself far too seriously.
Related Articles
More Hot Stories For You