Photo Flash: Imagination Stage Hits 'Repeat' for P.NOKIO: A HIP-HOP MUSICAL
Hip-Hopia is back and as fly as ever when P.Nokio: A Hip-Hop Musical returns to open Imagination Stage's 2012-2013 season. P.Nokio, written by hip-hop theatre artist and playwright Psalmayene 24, updates the classic Pinocchio story with a new beat for today's audiences. Made possible by a generous grant from the National Endowment for the Arts, this Helen Hayes Recommended musical enjoyed its world premiere at Imagination Stage this past February and a successful tour to the New Jersey Performing Arts Center in March. Get a preview of the show's repeat engagement in the photos below!
P.Nokio: A Hip-Hop Musical runs in Imagination Stage's Annette M. and Theodore N. Lerner Family Theatre September 29 through October 18, 2012.
In P.Nokio, G.Petto is a designer of game characters, and P.Nokio is one of his designs that magically comes to life. P.Nokio has raw talent to rap and break-dance. Arming P.Nokio with the sacred "Book of Rhymes," G.Petto sends his boy to The Old School to master style, originality, swagger, and the ways to use hip-hop to help the community. However, en route to school, P.Nokio finds a fork in the road, leading to "the way of fun and trouble," which turns out to be mighty tempting.
Psalm, who also directs and performs the title role, has been recognized as one of the pioneers of hip-hop theatre. Psalm performed at the first NYC Hip-Hop Theatre Festival. His influential solo play, Free Jujube Brown!, was published in the first hip-hop theatre anthology, Playz from the Boom-Box Galaxy: Anthology for the Hip Hop Generation (TCG). His first play for young audiences, Zomo the Rabbit: A Hip-Hop Creation Myth, was commissioned by Imagination Stage, as was P.Nokio.
The original cast and production team will return for this remounted production. Musician Nick Hernandez, sound designer/composer, had his theatrical debut with Zomo the Rabbit: A Hip-Hop Creation Myth. Nick has produced original soundtracks for Loose Change 9/11, Paige in Full, and The Peter Rosenberg Show, as well as for national and local artists. Paige Hernandez, the choreographer, also plays the Graffiti Fairy (a spray paint-wielding fairy godmother). In addition to her many performing and teaching credits, Paige is a hip-hop education advocate, helping teachers understand the fundamentals of hip-hop while incorporating the culture into their curriculum.
Joining Psalm and Paige on stage are James Johnson (G.Petto), who was previously seen in Imagination Stage's Lyle the Crocodile and Zomo the Rabbit; Jacob Yeh (Fox Madoff), whose recent credits include Brother Bear in Imagination Stage's Wake Up, Brother Bear!; and Katy Carkuff (Cat Burgler), whose credits include work with Folger Shakespeare Theatre and Studio Theatre 2ndStage.
The remainder of the creative team includes Set Designer Ethan Sinnott, Costume Designer Kendra Rai, and Lighting Designer Andrew Griffin.
The theater has grown to become one of the leading sources of theatre for young audiences, producing more than 30 world premiere commissions, with another, Roald Dahl's The Magic Finger, premiering in April 2013.
For tickets, scheduling and more information, visit www.imaginationstage.org.
Photo Credit:
Scott Suchman


The P.NOKIO Company (clockwise from top left: Paige Hernandez, Psalmayene 24, James Johnson, Katy Carkuff, and Jacob Yeh)

The Graffiti Fairy (Paige Hernandez, top) brings P.Nokio (Psalmayene 24, bottom) to life

G.Petto (James Johnson, center) is in trouble with his boss, the Machine Master (Jacob Yeh, left), and Crony (Katy Carkuff, right)

The Graffiti Fairy (Paige Hernandez) scolds P.Nokio (Psalmayene 24) for lying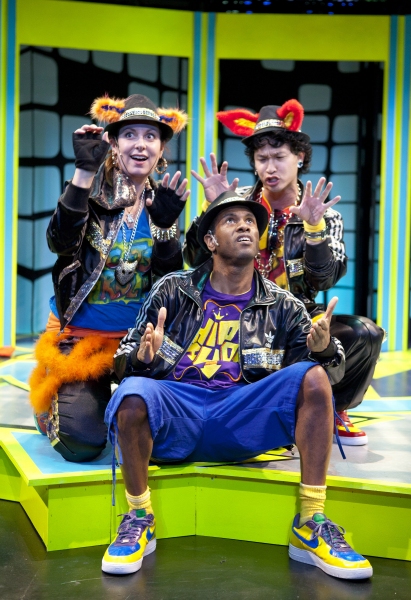 Cat (Katy Carkuff, right) and Fox (Jacob Yeh, left) try to trick their new friend P.Nokio (Psalmayene 24, center)

G.Petto (James Johnson, center) presents the Book of Rhymes, with the Graffiti Fairy (Paige Hernandez, left) and P.Nokio (Psalmayene 24, right)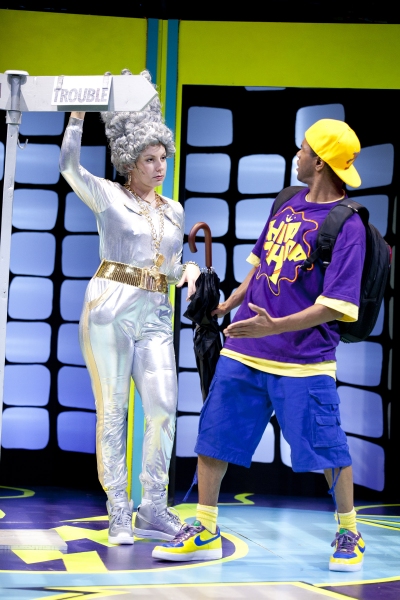 P.Nokio (Psalmayene 24, right) meets a Fork (Katy Carkuff, left) in the road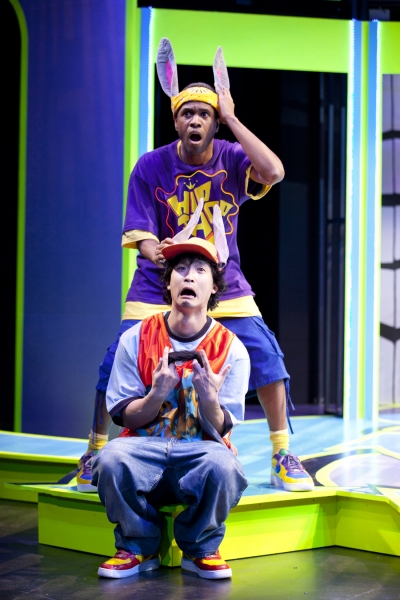 P.Nokio (Psalmayene 24, top) and Skelly (Jacob Yeh, bottom) have been turned into donkeys