Jacob Yeh News
BWW Review: YOGA PLAY at Keegan Theatre
by Mary Lincer - Apr 11, 2022
For Keegan Theatre's regional première of Yoga Play by Dipika Guha, Set Designer Matthew J. Keenan provides a sleek, beige unit set onto which Jeremy Bennett's projections shine, pop, narrate, move, and comment. (Be sure to read the changing smoothie descriptions in the Jojomon canteen.) Cindy Landrum Jacobs dresses the set with useful objects which multi-task effortlessly, and Alberto Segarra's lights unify everyone's work. Sound Designer Dan Deiter lets the audience down once in Act I when a phone conversation with a character's mother is garbled and plot points are thus muffled. Otherwise, a very complicated sound plot enhances the production. Shadia Hafiz' costume choices suit southern California corporate offices and yoga studios everywhere.
Keegan Theatre Announces Cast and Team for YOGA PLAY Regional Premiere
by A.A. Cristi - Feb 28, 2022
The Keegan Theatre has announced the cast and creative team of Dipika Guha's sharp satire, YOGA PLAY, making its Regional Premiere as the fifth production of Keegan's 25th Anniversary Season. 
BWW Review: MYSTICISM & MUSIC at Constellation Theatre Company
by Rachael F. Goldberg - Oct 25, 2021
Despite a solid slate of talent both on and off stage, Constellation Theatre Company's latest production just misses the mark.
BWW Review: An Act of God at NextStop Theatre Company
by Timothy Treanor - Aug 23, 2021
Is it time to hold God (inhabiting the body of Jacob Yeh) to account?  God knows – forgive the reference – we have occasion to do so.  Even as we hunker, masked, vaccinated and socially distant, within the confines of NextStop Theatre Company, we add more counts to our indictment – a terrible disease, economic disruption, social unrest. And that's just for us, the richest country in human history! At least we don't have to worry about religious maniacs entering our homes and shooting us. Yet.
NextStop Theatre Company Announces Fall 2021 Season
by A.A. Cristi - Jul 15, 2021
Producing Artistic Director Evan Hoffmann announces the full reopening of NextStop Theatre Company with the first shows of their eighth season of professional theatre in Northern Virginia. The Fall 2021 Season at NextStop will bring the excitement of live, full-scale performances back to Herndon.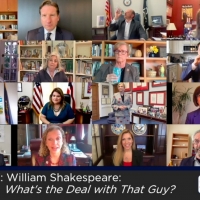 BWW Review: Will on the Hill and Far Away at Shakespeare Theatre Company
by Timothy Treanor - Jun 8, 2021
"What's past is prologue" Prospero says in The Tempest, but when the present passes into the past what's left is Will on the Hill and Far Away, the earnest and frequently successful effort by Congressmen to do Shakespeare funny. In this annual exercise, designed to raise funds for arts education, members of both Houses, as well as various other political luminaries (Washington is crawling with them), put themselves in preposterous situations which magically turn out well, just as characters in the Bard's plays often do.
Shakespeare Theatre Company Announces WILL ON THE HILL Fundraiser
by Chloe Rabinowitz - May 18, 2021
On Monday, June 7, Members of Congress and distinguished Washington influencers from both sides of the aisle will travel back to Shakespeare's day for one evening only! Following upon the success of last summer's virtual Will on the Hill, this year's performance will also be online with pay-what-you-will pricing.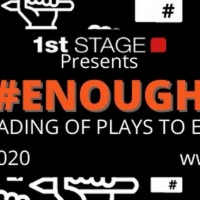 1st Stage Presents Staged Reading of #ENOUGH: PLAYS TO END GUN VIOLENCE
by Chloe Rabinowitz - Dec 8, 2020
1st Stage is participating in the ENOUGH: Plays to End Gun Violence project, working with visionary teenage playwrights across the country who have come together to speak out against gun violence. 
BWW Video: Watch Arena Stage's Latest World Premiere Film THE 51ST STATE
by Elliot Lanes - Sep 16, 2020
Arena Stage at the Mead Center for American Theater's latest world premiere film, "The 51st State', is now available to stream. You can watch the film by clicking here.  The hyper-local 60-minute docudrama created by Washington, D.C. artists through the voices of 11 residents was inspired by protests and the reignition of a movement after the murder of George Floyd and the quest for creating the 51st state and sovereignty in Washington, D.C. From a first-time protestor to a fourth-generation Washingtonian political scientist, to artists, an attorney, people of faith, and a retired couple moved to take part in the movement despite the COVID-19 risks, these diverse perspectives and real-life stories are vividly told and transformed into affecting narratives by 10 local playwrights.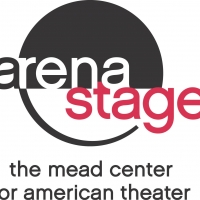 Arena Stage Debuts Third World-Premiere Film THE 51ST STATE
by Chloe Rabinowitz - Sep 11, 2020
Arena Stage at the Mead Center for American Theater's latest world premiere docudrama, The 51st State, will receive its world premiere through Arena Stage's Supper Club on September 16 at 7 p.m. Following the premiere, viewers can join artists and creatives for a post-film discussion and after-party on Zoom.