Photo Flash: First Look at Washington National Opera's THE MAGIC FLUTE
Washington National Opera (WNO) continues its 2013-2014 season with a new English-language production of one of the most beloved and family-friendly operas in the repertory: Wolfgang Amadeus Mozart's The Magic Flute, May 3-18 in the Kennedy Center Opera House. The eye-popping new production features set and costume design by Japanese- American artist Jun Kaneko in his WNO debut, and will be sung in a new English version by WNO dramaturg Kelley Rourke. BroadwayWorld has a first look at the cast in action below!
The opening-night performance on May 3 will be simulcast free to thousands of fans at Nationals Park as part of M&M'S Opera in the Outfield. A special May 16 performance features casting by current singers and alumni of WNO's Domingo-Cafritz Young Artist Program.
A prince's quest leads to love at first sight-but to prove his worth in marriage, he must first survive trials of wisdom and devotion. Lost in a faraway land, young Tamino is enlisted by The Queen of the Night to rescue her lovely daughter Pamina from the hands of Sarastro, an evil sorcerer. With the aid of a magic flute and the bumbling, lovelorn Papageno by his side, Tamino sets out on a fantastic adventure filled with danger and temptation, culminating in one final test at a mystical temple. Mozart's final opera, The Magic Flute is both a delightful fairy tale for the whole family and a profound reflection on spiritual enlightenment.
WNO Music Director Philippe Auguin leads the WNO Orchestra in interpreting Mozart's charming and familiar score, and Harry Silverstein (The Marriage of Figaro, 2010) returns to WNO to direct the production. Casting for The Magic Flute includes many exciting artists making their WNO debuts, including Maureen McKay and Eri Nakamura as Pamina, Kathryn Lewek and Anna Siminska as the Queen of the Night, Joseph Kaiser and Paul Appleby as Tamino, Joshua Hopkins and David Pershall as Papageno, Jordan Bisch as Sarastro, John Easterlin as Monostatos, and Ashley Emerson as Papagena. Current members and alumni of the Domingo-Cafritz Young Artist Program also appear in several key roles: Soloman Howard as Sarastro, Jacqueline Echols as First Lady, Sarah Mesko as Second Lady, Deborah Nansteel as Third Lady, Shantelle Przybylo as Papagena, Yi Li (recent winner of the Metropolitan Opera National Council Auditions) as First Armed Man, and Wei Wu as Second Armed Man. Complete casting by performance date is on pages 4 and 5 of this press release.
Known throughout the world for his eye-popping ceramics and large-scale sculptures, Japanese-American set and costume designer Jun Kaneko creates a high-tech fantasy world in which the singers interact with unique projections. More of Mr. Kaneko's artwork will be on display in a special exhibition in the Kennedy Center Hall of Nations from April 9 to May 19. The monumental ceramic sculptures on display include HEADS, a pairing of massive human figures; his signature Dangos (meaning "rounded form" or "dumpling" in Japanese) that are covered in a variety of bold shapes and patterns; and Tanuki, a series of badger-like animals. In addition to this special exhibition, the art of Mr. Kaneko will be celebrated at WNO's Opera Ball, which will be hosted by His Excellency the Ambassador of Japan and Mrs. Kenichiro Sasae at their official residence in Washington on Saturday, June 7, 2014. Animated projections from The Magic Flute designed by Mr. Kaneko will decorate the fac?ade of the residence for the Opera Ball.
The Magic Flute opens on Saturday, May 3, 2014 and runs for 10 performances; other dates are May 5, 7, 8, 10, 11, 15, 17, and 18. The special Domingo-Cafritz Young Artist Performance is Friday, May 16. For more information, visit www.kennedy-center.org.
Photo Credit: Scott Suchman for WNO

Kathryn Lewek as the Queen of the Night

Joshua Hopkins as Papageno and Maureen McKay as Pamina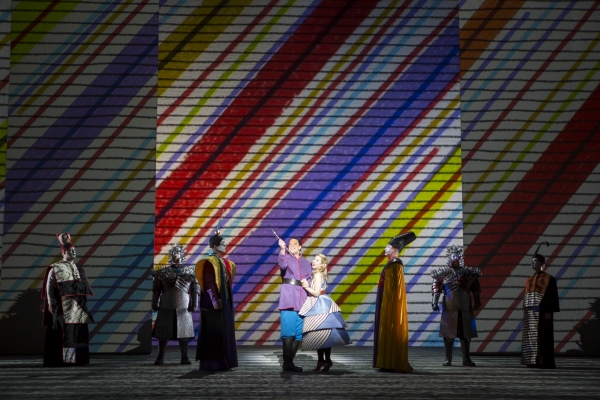 Corey Evan Rotz as Second Priest, Wei Wu as Second Armored Man, Soloman Howard as Sarastro, Joseph Kaiser as Tamino, Maureen McKay as Pamina, David Pittsinger as the Speaker, Yi Li as First Armored Man, and James Shaffran as First Priest

Kathryn Lewek as the Queen of the Night and Maureen McKay as Pamina

Soloman Howard as Sarastro

Joshua Hopkins as Papageno and Ashley Emerson as Papagena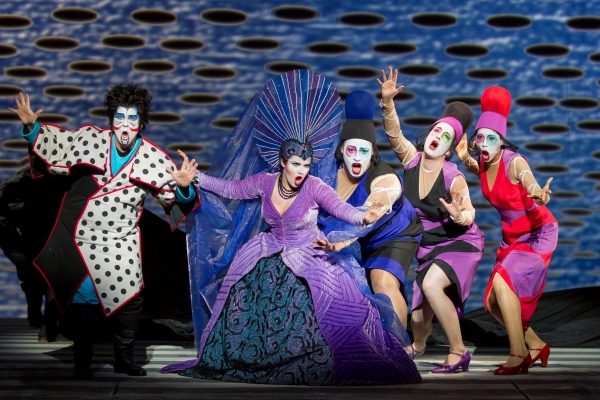 John Easterlin as Monostatos, Kathryn Lewek as the Queen of the Night, Deborah Nansteel as Third Lady, Sarah Mesko as Second Lady, and Jacqueline Echols as First Lady

Maureen McKay as Pamina and Joseph Kaiser as Tamino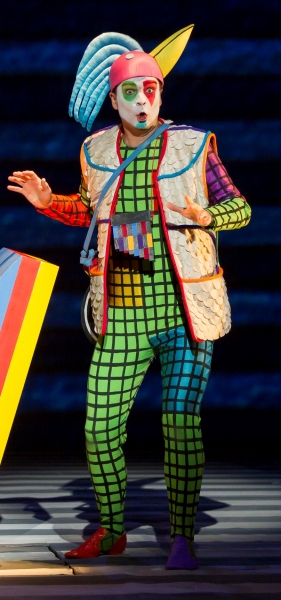 Joshua Hopkins as Papageno