Michelle Williams, Ariana DeBose, and More Join American Pops for RESPECT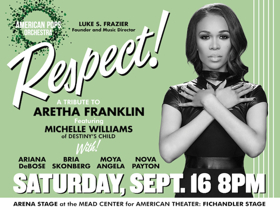 Maestro Luke Frazier and THE AMERICAN POPS ORCHESTRA - Washington, DC's innovative hometown orchestra - will honor the 75th birthday of one of the country's most treasured legends with Respect: The Music of Aretha Franklin to begin their star-studded third season. The concert was conceived by the APO's Founder and conductor Luke Frazier - who will lead the 19 piece orchestra -performing at the Orchestra's new home, Arena Stage at The Mead Center for American Theater (1101 Sixth Street SW) on Saturday, September 16 at 8:00 PM. Tickets are on sale now at www.TheAmericanPops.org.
Aretha Franklin has won 18 Grammy Awards and sold 75 million albums throughout her outstanding career, rightfully earning her the title of "The Queen of Soul." The American Pops will perform some of the greatest hits of Franklin's career, including "A Natural Woman," "Chain of Fools," "Spanish Harlem," and "Since You've Been Gone." The concert will star Michelle Williams (Destiny's Child), Moya Angela ("America's Got Talent," In Transit, Dreamgirls), Ariana DeBose (Hamilton, A Bronx Tale), Nova Payton (Helen Hayes Award winner, Carnegie Hall) and Bria Skonberg (Sony Records Jazz Recording Artist, Carnegie Hall, Lincoln Center). The evening will also feature four new arrangements designed to highlight the orchestra, including "Bridge Over Troubled Water" and "Angel."
"Aretha is truly an American icon," says Luke Frazier. "Her music speaks to so many different kinds of people in so many different ways. Her expansive career offers us such a broad repertoire, from toe-tapping R&B hits to soul stirring ballads. And as many of our programs center on the issue of diversity, she is particularly timely as a trailblazer of both women's rights and civil rights. I'm also excited we're providing free tickets to veterans and members of the military, senior citizens, children in need, victims of domestic violence and underserved members of the LGBTQA community. We believe that supporting the community and providing them with great music is the ultimate combination."
The APO will launch the season with a benefit event featuring a rare DC-area appearance of vocalist Marilyn Maye on Sunday, August 20 at 3:00 PM at Arena Stage at The Mead Center for American Theater. Tickets are $120 and include a concert by Ms. Maye, the Grammy Award nominated singer who performed 76 times on "The Tonight Show starring Johnny Carson." She will be joined by renowned pianist Tedd Firth. The two hour event will include hors d'oeuvres, champagne, drinks and dessert.
The 2017-2018 season will continue with Tranquility: Yoga with the American Pops Orchestra with yoga teacher Michael Peterson (November 10), a new family-oriented musical Around the World in 80 Days (January 6, two performances) and Let's Misbehave: Cole Porter After Dark with Mo Rocca, Liz Callaway and more (May 19). Tickets to all shows are on sale now at www.TheAmericanPops.org.
THE AMERICAN POPS ORCHESTRA founded by Luke Frazier presents innovative orchestral programming, featuring groundbreaking concepts to develop and inspire a new audience for the 21st century. This professional orchestra boasts outstanding musicians from New York and Washington DC. The American Pops presented six original orchestral programs in its opening 2015-2016 season, featuring leading Broadway singers, dancers, and actors. Highlights of the first season included "Stairway to Paradise: A Gershwin Spectacular" starring two-time Tony Award winner Christine Ebersole - which was hailed by DC Metro Theater Arts for "inspired arrangements of beloved Gershwin songs that reinvigorate the material and highlight the skill of his musicians" - and "A Broadway Christmas" featuring Elaine Paige, the first Lady of the British Musical Stage. APO's second season included a 75th birthday concert for Barbra Streisand, hosted by Fran Drescher; a celebration of the 80s, hosted by Olympic champion Greg Louganis; and a special World War II-era evening, commemorating Veterans Day.
Other high-profile performances include a special event at The Kennedy Center hosted by Tommy Tune; the Hispanic Heritage Awards, with Presidential Medal of Freedom winner Arturo Sandoval, which was nationally broadcast on PBS; theatreWashington's Helen Hayes Awards; The Giving Pledge at the Smithsonian Institute's National Museum of American History; the Beacon Prize, given by Human Rights First to honor commitment to the American ideals of freedom and human dignity; and the DC Standing Ovation Awards, celebrating excellence in the DC Public Schools.
The APO made its New York debut in December 2015 at the all-star Edith Piaf Centennial Celebration at The Town Hall. According to The New York Times, "As much as any individual singer, what warmed the evening was the sumptuous lilt of the American Pops Orchestra, conducted by Luke Frazier." www.TheAmericanPops.org