Join the National Philharmonic In a Triumphant Celebration of Poland's 100th Anniversary of Independence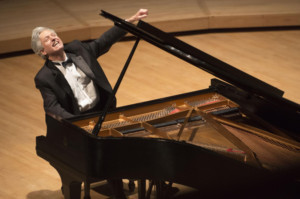 The National Philharmonic ends its 2017-2018 season at The Music Center at Strathmore with a musical celebration, "100th Anniversary of Poland's Independence," on Saturday, June 2 at 8 p.m. at the Concert Hall at the Music Center at Strathmore. Conducted by world-renowned Polish Maestro Miroslaw Jacek Baszczyk, the concert will feature music composed by Poland's greatest musicians, performed by some of today's leading vocalists and musicians.
The performance will commence with an introduction by the Ambassador of Poland, Piotr Wilczek. The 100th anniversary of Poland has significant meaning for The National Philharmonic, which is led by Polish-born Music Director and Conductor Piotr Gajewski. One of The National Philharmonic's veteran artists, Brian Ganz-who will perform at the Polish celebration concert-is also a frequent performer of Frédéric Chopin, beginning a quest in 2011 to perform all of the great Polish composer's works. During this celebratory concert, Maestro Baszczyk will lead The National Philharmonic Chorale, accompanied by Esther Heideman, soprano; Magdalena Wór, mezzo-soprano; Tyler Duncan, baritone; and The National Philharmonic in Krzesimir Dbski's Hussars' Polonaise and Karol Szymanowski's Stabat Mater and Mr. Ganz in Chopin's Piano Concerto No. 2 in F minor, Op. 21. Ticket prices are $23-$76 and are free for young people age 7-17. Strathmore is located at 5301 Tuckerman Lane, North Bethesda. For more information or to purchase tickets, visit www.nationalphilharmonic.org or call 301.581.5100.
In November 1918, after more than a century of invasion, partition, and subjugation by the Austro-Hungarian, German, and Russian empires, Poland regained its independence as a sovereign country. Throughout its long history, Poland maintained a strong nationalist spirit as well as pride in its cultural and artistic traditions. The concert, which represents almost two centuries of Polish music, pays tribute to this spirit.
Maestro Blaszczyk, who also serves as the artistic director of Poland's Silesian Philharmonic, studied in Ktowice under Karol Stryja. He was a prizewinner at the fourth Grzegorz Fitelberg International Conductors' Competition in 1991 and, two years later, was awarded a scholarship from the American Society for Polish Music. Blaszczyk went on to conduct orchestras throughout the country. Since May 1998, Blaszczyk has served as artistic director of the Silesian Philharmonic Orchestra in Ktowice and of the Grzegorz Fitelberg International Conductors' Competition. In September 2008, he was appointed musical director of the Symphonic Orchestra of the Lower Silesian Philharmonic in Jelenia Góra. Blaszczyk's career has brought engagements throughout Poland and internationally, with a series of acclaimed premieres and recordings. He received the Mayor of Ktowice Cultural Award for promoting Polish music, with special emphasis on contemporary music, and for the achievements with the Silesian Philharmonic in 2001. In 2009, Blaszczyk was appointed a Knight of the Silver Medal's "Gloria Artis."
A veteran National Philharmonic performer, Ganz is widely regarded as one of the leading pianists of his generation. An award-winning pianist, Ganz has shared First Grand Prize in the Marguerite Long Jacques Thibaud International Piano Competition and won a silver medal in the Queen Elisabeth of Belgium International Competition. He has performed as a soloist with such orchestras as the St. Louis Symphony, the St. Petersburg Philharmonic, the City of London Sinfonia, and Paris' L'Orchestre Lamoureux, and under the direction of conductors such as Leonard Slatkin and Mstislav Rostropovich. Ganz is a graduate of the Peabody Conservatory of Music, where he studied with Leon Fleisher. Gifted as a teacher himself, Ganz is a member of the piano faculty and Artist-in-Residence at St. Mary's College of Maryland. He also serves on the piano faculty of the Peabody Conservatory, and has been a member of the jury of the Long Thibaud Competition in Paris.
In 2010, Ganz visited Poland, invited by Maestro Blaszczyk to play with the Filharmonia Slaska and Filharmonia Pomorska. Visiting Chopin's home country affected Ganz profoundly. "Chopin is Poland's National Treasure. His face was pictured everywhere, sometimes with no name under it and no caption of any kind. It is almost as if he is the air people breathe. This was profoundly satisfying to me, because he has always been the air I breathe," Ganz said. In January of 2011, Ganz began a multiyear project in partnership with The National Philharmonic in which he will perform the complete works of Chopin at the Music Center at Strathmore. After the inaugural recital, The Washington Post wrote: "Brian Ganz was masterly in his first installment of the complete works [of Chopin]."
Heideman's career began at Carnegie Hall singing Handel's Messiah. Since then, she has performed with major orchestras throughout the world, such as the Saint Paul Chamber Orchestra, Chicago Symphony, and the Rotterdam Philharmonic Orchestra. In 2000, Heideman won the Metropolitan Opera National Council Auditions and the Licia Albanese Competition, followed by her 2001 Metropolitan Opera debut singing as Pamina in Wolfgang Amadeus Mozart's Die Zauberflöte. These performances were immediately followed by her debut with the New York Philharmonic in Bach's Christmas Oratorio, and her European debut with the Prague Radio Symphony, singing in Mahler's Symphony No. 2. In addition to performing the staples of traditional concert repertoire, such as Beethoven's Symphony No. 9 and Carl Orff's Carmina Burana, Heideman has been featured prominently in the premieres of some of today's most respected contemporary composers, including performing in the role of Jenny Lind in Libby Larsen's opera Barnum's Bird. Upcoming performances include R. Evan's Ireland's Poet Patriots with the National Cathedral, Britten's War Requiem with Music Worcester, and a holiday concert at the Kennedy Center. Heideman is also currently recording a CD to be released on iTunes.
Polish-born Wór moved to the United States in 1991. She is often praised by music critics and fans alike for the rich color of her voice and her vocal flexibility, which allows her to sing low and high mezzo repertoire, spanning Baroque through the 21st Century. Of Wór's debut in Madama Butterfly with Virginia Opera, Anne Midgette of The Washington Post wrote, "Magdalena Wór almost stole the show as a well-defined and well-sung Suzuki." In 2016, Wór debuted with the Seattle Symphony as a soloist for their performances of Handel's Messiah. She portrayed Maddalena in Opera Birmingham's Rigoletto and performed with The National Philharmonic in Bach's Mass in B minor and Handel's Messiah. In 2011-2012, Wór performed in Carmen for Lyric Opera of Virginia, Handel's Messiah with the Atlanta Symphony Orchestra and Alabama Symphony Orchestra, was a soloist for Leoš Janáek's Glagolitic Mass with the Cathedral Choral Society of the Washington National Cathedral, Bach's Magnificat with The National Philharmonic, and gave recitals at the Polish and Hungarian Embassies in Washington, D.C. Wór is winner of the Heinz Rehfuss Vocal Competition, a Metropolitan Opera Competition National finalist, and an alumna of the San Francisco Opera's Merola Summer Opera Program and Domingo-Cafritz Young Artist Program at the Washington National Opera.
Canadian baritone Duncan has performed leading roles in world-renowned international concerts, most recently performing at the Metropolitan Opera as Prince Yamadori in Giacomo Puccini's Madam Butterfly. Other appearances have included the role of the Journalist in Alban Berg's Lulu and Fiorello in Gioachino Rossini's Barber of Seville, both at the Metropolitan Opera; Dandini in Rossini's La cenerentola with Pacific Opera Victoria; and Demetrius in Benjamin Britten's A Midsummer Night's Dream at the Princeton Festival. Among various concerts, Duncan has performed Gustav Mahler's 8th Symphony with the American Symphony Orchestra; Johann Sebastian Bach's St. Matthew Passion with the Munich Bach Choir, Montreal Symphony, and the Oregon Bach Festival; and Ludwig van Beethoven's Ninth Symphony with the Philharmonie der Nationen in Munich, Berlin, Stuttgart, and Frankfurt. He has given recitals in New York, Boston, and Paris, and throughout Canada, Germany, Sweden, France, and South Africa. Among other prizes, Duncan won the 2010 Joy in Singing Competition, the 2008 New York Oratorio Society Competition, and the 2007 Prix International Pro Musicis Award. Duncan holds music degrees from the University of British Columbia, Germany's Hochschule für Musik (Augsburg), and Hochschule für Musik und Theater (Munich). He is a founding member on the faculty of the Vancouver International Song Institute.
Wilczek, born in Chorzów, Poland, was nominated to be Amassador to the United States in 2016 by the President of the Republic of Poland. He graduated in 1986 from the University of Silesia in Katowice, and remained a faculty member until 2008. In 2006, he received the title of Professor of the Humanities from the President of the Republic of Poland. In 2008, he joined the University of Warsaw faculty at the new, experimental Artes Liberales program. An international scholar active in Europe and the United States, he has been promoting liberal arts education, which breaks the existing barriers between narrow fields of specialization traditionally favored in the continental Europe. Wilczek is a member of the Warsaw-based non-partisan American Study Group at the Polish Institute of International Affairs, which brings together experts, journalist, and academics who comment on political and cultural developments in the United States and analyze their implications for Poland, Europe, and the trans-Atlantic alliance. Until his diplomatic appointment in the United States, Wilczek was a Representative in Poland of the New York-based Kosciuszko Foundation, a non-profit organization dedicated to educational, cultural, and artistic exchange between the United States and Poland.
The great Polish musician, Chopin (1810-1849), the quintessential composer for the piano and one of the greatest stylists in the history of Western music, composed two concertos for piano and orchestra, both of which date from his youth. The Piano Concerto No. 2 in F minor was the first to be composed (1829-1830), but the second to be published: hence its number. It is a work of lyrical beauty, romantically exuberant, and infused with the type of filigreed melodic lines that would become the hallmark of Chopin's style. Similarly, Szymanowski (1882-1937) was undisputedly the greatest and most celebrated Polish composer of the early 20th century. His stylistic development followed late Romantic and impressionistic influences, developing into a stronger use of traditional Polish music later on. He was seen as a National Treasure and was awarded some of the highest national honors, including the Officer's Cross of the Order of Polonia Restituta and the Order of Merit of the Republic of Poland. The Stabat Mater was inspired by a number of factors, but most importantly, it was a response to a tragic event in Szymanowski's life: the death of his niece Alusia Bartoszewiczówna. The Polish translation of the piece, by poet Józef Jankowski, mesmerized Szymanowski and he put his energy into composing the Stabat Mater. It is Szymanowski's first composition based on a purely liturgical text, and an acknowledgement of his increasing interest in Polish traditional music. One of Poland's most current influential composers, Dobski (born 1953) has achieved prominence as a composer of classical, jazz, opera, film, and television music. His vast and varied output has led to honors and awards both in Poland and abroad. Dobski's Hussars' Polonaise is a work of nationalist pride, orchestrated in an unmistakable military style that can easily rouse audiences to their feet.
Led by Maestro Piotr Gajewski, The National Philharmonic is known for performances that are "powerful," "impeccable," and "thrilling" (The Washington Post). In July 2003, the National Chamber Orchestra and Masterworks Chorus merged to create The National Philharmonic, an ensemble with more than 50 years of combined history, bringing high caliber musical performances to the Washington area. The National Philharmonic took up residence at the state-of-the-art Music Center at Strathmore upon its opening in February 2005. Now, more than 250 performances later, and with far-reaching educational programming, The National Philharmonic is the largest and most active professional orchestra based in Montgomery County.
The National Philharmonic boasts a long-standing tradition of reasonably priced tickets and free admission to all young people age 7-17, assuring its place as an accessible and enriching component in Montgomery County and the greater Washington, D.C., area.
As the Music Center at Strathmore's orchestra-in-residence, The National Philharmonic showcases world-renowned guest artists in time-honored symphonic masterpieces conducted by Maestro Gajewski, with additional conducting by Associate Conductor Victoria Gau, and monumental choral masterworks under National Philharmonic Chorale Artistic Director Stan Engebretson.
To purchase tickets for the performances and for information about the Philharmonic's 2018-19 season, please visit www.nationalphilharmonic.org or call the Strathmore Ticket Office at 301.581.5100. Tickets are $23-$76; young people 7-17 are free through the ALL KIDS, ALL FREE, ALL THE TIME program. ALL KIDS tickets must be purchased in person or by phone. Complimentary parking is available.