Cast Complete for A RAISIN IN THE SUN, Starring Will Cobbs and Dawn Ursula, at Arena Stage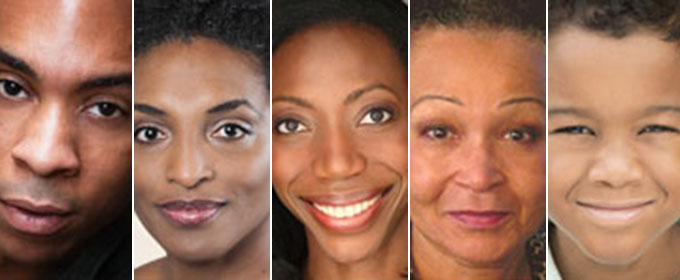 The "play that changed American theater forever" (New York Times) comes to Arena Stage at the Mead Center for American Theater for the first time ever this spring.
Lorraine Hansberry's A Raisin in the Sun follows the Younger family yearning for a better life far from the cramped confines of their Chicago tenement. The groundbreaking drama is helmed by veteran director Tazewell Thompson, who returns to direct his 19th production at Arena Stage.
Due to popular demand, the production has been extended for one week with eight additional performances, running March 31-May 7, 2017 in the Fichandler Stage.
Leading the cast are Will Cobbs (Broadway's Cat on a Hot Tin Roof) as Walter Lee Younger and Dawn Ursula (Arena Stage's Love in Afghanistan) as Ruth Younger. They are joined by Joy Jones (Arena Stage's Mary T. & Lizzy K.) as Beneatha Younger, Lizan Mitchell (Broadway's So Long on Lonely Street) as Lena Younger and 11-year-old Jeremiah Hasty (MetroStage's Uprising) as Travis Younger.
The primarily local cast includes Mack Leamon as Bobo, Thomas Adrian Simpson (Arena Stage's Carousel) as Karl Lindner, Keith L. Royal Smith (Everyman Theatre's Under the Skin) as George Murchison and Bueka Uwemedimo (The Lion King on the West End) as Joseph Asagai. Rounding out the cast are Emmanuel Epongo Jr. (u/s for Travis Younger), Brit Herring (Karl Lindner beginning May 2) and Valeka J. Holt (u/s for Ruth Younger, assuming role May 2).
"With race relations once again at the forefront of our mindset, this story of a family's dignity remains important to tell," shares Artistic Director Molly Smith. "I have wanted to produce A Raisin in the Sun at Arena for years. In Washington, with a new administration, it is our job as artists to remind everyone of the humanity around us. A Raisin in the Sun is the story of a brave family who can see a future that is better than their present. I know that Tazewell and his talented cast will bring these characters to life in a truly wonderful way."
"A Raisin in the Sun is a brilliant and important play of deep emotional depth and honesty; a joyous celebration of the human spirit with a proud family holding together to conquer, through love and determination, entrenched racism and residential segregation, issues and themes still unresolved in today's transiting America," adds Thompson. "I'm always happy to return to Arena Stage, my original artistic home since 1988, with an amazing cast and an extraordinary team of designers. I'm excited to tell theater stories in general, and present this classic play, in particular, in my favorite form-in the round, in the Fichandler Stage."
The creative team for A Raisin in the Sun includes Set Designer Donald Eastman, Costume Designer Harry Nadal, Lighting Designer Robert Wierzel, Original Composition & Sound Designer Fabian Obispo, Wig Designer Anne Nesmith, Dialect Coach Gary Logan, Stage Manager Christi B. Spann and Assistant Stage Manager Marne Anderson.
Tickets for A Raisin in the Sun are $40-90, subject to change and based on availability, plus applicable fees. For information on savings programs such as pay-your-age tickets, student discounts, Southwest Nights and hero's discounts, visit arenastage.org/shows-tickets/single-tickets/savings-programs.
Tickets may be purchased online at arenastage.org by phone at 202-488-3300 or at the Sales Office at 1101 Sixth St., SW, D.C.
Performance Dates: Sunday, Tuesday & Wednesday at 7:30 p.m.; Thursday, Friday & Saturday at 8:00 p.m.; Saturday & Sunday at 2:00 p.m.; weekday matinees at noon on Wednesday, 4/12; Tuesday, 4/18; Tuesday, 4/25; Wednesday, 4/26; & Tuesday, 5/2. Audio-described performances: 4/29 at 2 :00 p.m. Open-captioned performances: 4/19 at 7:30 p.m. & 4/20 at 8:00 p.m. Full calendar at tickets.arenastage.org/single/PSDetail.aspx?psn=23065.
Post-Show Conversations - Connect with our shows beyond the performance at a post-show conversation with artists and staff-April 12, 18, 25 and 26 following the noon performance; April 18 following the 7:30 p.m. performance; and April 27 following the 8:00 p.m. performance.
ABOUT THE ARTISTS:
Lorraine Hansberry (Playwright) became the youngest American playwright, fifth woman and only African-American to date to win the New York Drama Critics' Circle Award for Best Play when A Raisin in the Sun appeared on Broadway in 1959. In its authentic depiction of Black American life, the play made it impossible for the American stage to ignore African-American creativity and subject matter thereafter. In 1961, the film version received a special award at the Cannes Film Festival and a Screen Writer's Guild Award nomination. In 1965, Lorraine died of cancer at age 34. Her second Broadway play, The Sign in Sidney Brustein's Window, was in its early run when Hansberry died; the curtain came down on that date. To Be Young, Gifted and Black, an autobiographical portrait adapted by her former husband and literary executor Robert Nemiroff, was posthumously produced in 1969 and toured across the country. In 1970, her play Les Blancs ran on Broadway to critical acclaim.
Tazewell Thompson (Director) is an international opera and theater director, playwright and teacher. Opera productions in Madrid, Paris, Milan, Tokyo, Cape Town, Vancouver, San Francisco, D.C., Los Angeles, Detroit and NY. Since 1988, he has directed 18 productions at Arena Stage, including Caucasian Chalk Circle, M. Butterfly, Ma Rainey's Black Bottom, Yellowman, Playboy of the West Indies and The Glass Menagerie, and more than 75 productions in theaters across the country. His production of Porgy and Bess was broadcast live from Lincoln Center (Emmy Award nominations for Best Director and Best Classical Production). His award-winning play Constant Star received 14 national productions. His play Mary T. & Lizzy K., commissioned by Arena Stage, is the recipient of the Edgerton Foundation New American Play Award. He will next direct Handel's Xerxes (Glimmerglass Festival) and has been commissioned to write the libretto for a new opera for Glimmerglass with composer Jeanine Tesori.
Will Cobbs (Walter Lee Younger) makes his Arena Stage debut. His most recent theater credits include Safe House (Repertory Theatre of St. Louis), When I Come to Die (Kansas City Repertory) and Autumn's Harvest (Lincoln Center). He has also appeared on Elementary, Madam Secretary, Army Wives, The Goodwife, Unbreakable Kimmy Schmidt and The Night Of.
Jeremiah Hasty (Travis Younger) is excited to make his Arena Stage debut. Previous credits include Caroline, or Change (Creative Caldron) and Uprising (MetroStage). Film credits include The Trenches. He has also been featured in several print projects, PSAs for Poison Control Center of America, USDA training videos and on The National Harbor website. Jeremiah is a 5th grade student at St. Ambrose in Cheverly and is currently on the Honor Roll.
Joy Jones (Beneatha Younger) returns to Arena Stage after appearing in Mary T. & Lizzy K. Off-Broadway credits include workshops at the Lincoln Center Festival, The Public, Playwrights Horizons and Rattlestick. Internationally, Joy performed in Tantalus (Royal Shakespeare Company). D.C.-area credits include The Hard Problem, Cloud Nine, Belleville and Invisible Man (Studio Theatre), The Call (Theater J) and Agnes Under the Big Top (Forum Theatre). Select regional credits include Invisible Man (Huntington Theatre Company), Ruined and Tantalus (Denver Center) and Young Lady from Rwanda and Pericles (PlayMakers Repertory). Film/TV credits include Tantalus: Behind the Mask and The Broken Continent. Joy received her M.F.A. in acting from UNC-Chapel Hill and received a 2013 Helen Hayes Award for Outstanding Ensemble for Invisible Man at Studio Theatre. Twitter: @JoyJonesTweets. www.thejoyjones.com
Mack Leamon (Bobo) is thrilled to make his Arena Stage debut. Recent D.C.-area theater credits include Radio Golf (Hard Bargain Players); Coming Home, Stick Fly and Blues for an Alabama Sky (Port City Playhouse); A Raisin in the Sun (Castaways Repertory Theater); and The Big A: Scenes from a Vanishing Landscape (Macomb Theater Company). Mack is a proud graduate of Lincoln University.
Lizan Mitchell (Lena Younger)'s Broadway credits include Electra, Having Our Say and So Long on Lonely Street. Off-Broadway credits include The First Noel, Brownsville Song, Cell, The Hurricane Katrina Comedy Festival, Rosmersholm, For Colored Girls, Gum, Salt and Ma Rose. Regional credits include The Good Peaches (Cleveland Play House), The House That Will Not Stand (Yale Repertory, Berkeley Repertory, Victory Gardens), An Issue of Blood (Victory Gardens), Dead and Breathing (CATF), The Last Fall (Crossroads Theater), Having Our Say (McCarter), Fabulation (Center Stage) and Woolly Mammoth, Pittsburgh Public Theater, TheaterWorks, Goodman, Proposition Theatre, San Jose Repertory, Crossroads Theatre and the Humana Festival. Film/TV credits include Unbreakable Kimmy Schmidt, Deadbeat, We'll Never Have Paris, Golden Boy, John Adams (HBO), The Good Wife, Law & Order, The Human Stain, The Preacher's Wife, Sesame Street and The Wire.
Thomas Adrian Simpson (Karl Lindner)'s Arena Stage credits include Carousel, Oliver!, Fiddler on the Roof, Mary T. & Lizzy K., My Fair Lady and The Light in the Piazza, among others. D.C. credits include The Threepenny Opera and Company (Signature Theatre); Orphie and the Book of Heroes (Kennedy Center); 1776 and LiberTy Smith (Ford's Theatre); and Candide and The Boys from Syracuse (Shakespeare Theatre Company). Regional credits include Candide (Goodman); Quixote in Man of La Mancha (Wayside Theatre); 9 to 5 with Sally Struthers and LES MISERABLES (Riverside Center); and Outside Mullingar (New Mexico's Fusion Theatre). Tom is a graduate of the U.N.C. School of the Arts.
Keith L. Royal Smith (George Murchison) makes his Arena Stage debut. Past D.C. productions include Hooded: Or Being Black for Dummies (world premiere, Mosaic Theater Company). New York credits include 12 Angry Men: True Stories of Being a Black Man in America Today (Billie Holiday Theater); Political Snorts and Powerful Beyond Measure (La MaMa); and Take Me Out and Fuente Ovejuna (Abe Burrows Theatre). Regional credits include Richard III and The Comedy of Errors (Oregon Shakespeare Festival); Ruined and Under the Skin (Everyman Theatre); The Last Days of Judas Iscariot (Fabrefaction Theater Company); and Othello (Eubie Blake Cultural Center). Film/TV credits include Nehemiah (co-produced by Spike Lee), Landelions, Sampling and commercials. He graduated from New York University, University of the Witwatersrand and Baltimore School for the Arts. Keith sends love and thanks to the entire village.
Dawn Ursula (Ruth Younger) is thrilled to return to Arena Stage after performing in Love in Afghanistan. Select D.C. credits include Dot (Everyman Theatre, resident company member), Zombie: The American (Woolly Mammoth, resident company member) and the Angel in Angels in America I & II (Round House). She has been nominated for and received Baltimore City Paper and Helen Hayes Awards. TV/film credits include The Wire and Veep (HBO) and Prince Among Slaves (PBS). She has an M.F.A. from The Shakespeare Theatre's Academy for Classical Acting at George Washington University and a B.A. from The University of Virginia. Private Coach Vera Katz. www.dawnursula.com
Bueka Uwemedimo (Joseph Asagai) makes his Arena Stage debut. He is a British actor originally from Lagos, Nigeria. At the age of six, his family relocated to London, England where he discovered his passion for performing arts. His previous credits include King Mufasa in Disney's The Lion King (West End). Bueka has also performed at the prestigious Royal Ascots for Her Majesty Queen Elizabeth II and her guests. Since relocating to D.C., Bueka has been featured on several nationally recognized TV commercials and was nominated for a Helen Hayes Award for his spirited performance as Ray Heffernon in 1st Stage's award-winning show, The Good Counselor. www.BuekaUwemedimo.com
Emmanuel Epongo Jr. (Travis Younger u/s) makes his Arena Stage debut. He lives in Silver Spring, Maryland with his parents and attends Westland Middle School. Emmanuel has been acting since the second grade. He performed in the African play Shaker Zulu and Master Gideon Quest at the American International School in South Africa. During his time at RCF Elementary School, Emmanuel participated in a school play organized to honor elders in the community. Last December, he performed in A Midsummer Night's Dream. Emmanuel also loves to dance and play sports.
Brit Herring (Karl Lindner replacement) has appeared Off-Broadway in Shel Silverstein's The Devil and Billy Markham (SoHo Playhouse) and In Paradise (The Lion Theatre/Theater Row). Most recently, Brit appeared in Everyman Theatre's production of Great Expectations, directed by Tazewell Thompson. Regional credits include Shakespeare Theatre Company, The Guthrie, the Kennedy Center, Washington Stage Guild, Infinity Theatre Company, Annapolis Shakespeare and many others. Brit received his M.F.A. from Shakespeare Theatre Company's Academy for Classical Acting at The George Washington University. He works as a voice over artist with The National Library Service for the Blind and Handicapped. www.britherring.com
Valeka J. Holt (Ruth Younger u/s & replacement) is thrilled to make her Arena Stage debut! Off-Broadway credits include Church (The Public). D.C.-area credits include Father Comes Home from the Wars Parts 1, 2, & 3 (Round House); Sunset Baby (Rep Stage, DC Metro Theater Arts Award winner for Best Actress); As You Like It (Shakespeare Theatre Company); and A Midsummer Night's Dream (Annapolis Shakespeare Company, Maryland Theatre Guide nomination for Best Supporting Actress). Regional credits include Love's Labour's Lost (Penthouse Theatre) and In the Continuum and The Last Days of Judas Iscariot (Meany Studio). Film credits include The Runaways and For Entertainment Purposes Only. Valeka has her M.F.A. in acting from The University of Washington. She is the owner of V Studios, a boutique Acting Conservatory. Instagram and Facebook: @valekajholt and @thevstudios. www.vstudios.simplybook.me
For full company bios, visit arenastage.org/shows-tickets/the-season/productions/a-raisin-in-the-sun.
Arena Stage at the Mead Center for American Theater, under the leadership of Artistic Director Molly Smith and Executive Director Edgar Dobie, is a national center dedicated to American voices and artists. Arena Stage produces plays of all that is passionate, profound, deep and dangerous in the American spirit, and presents diverse and ground-breaking work from some of the best artists around the country. Arena Stage is committed to commissioning and developing new plays and impacts the lives of over 10,000 students annually through its work in community engagement. Now in its seventh decade, Arena Stage serves a diverse annual audience of more than 300,000.
More Hot Stories For You