BWW Review: Theater J's BECOMING DR. RUTH is a Sweet, Energetic Take on a Remarkable Life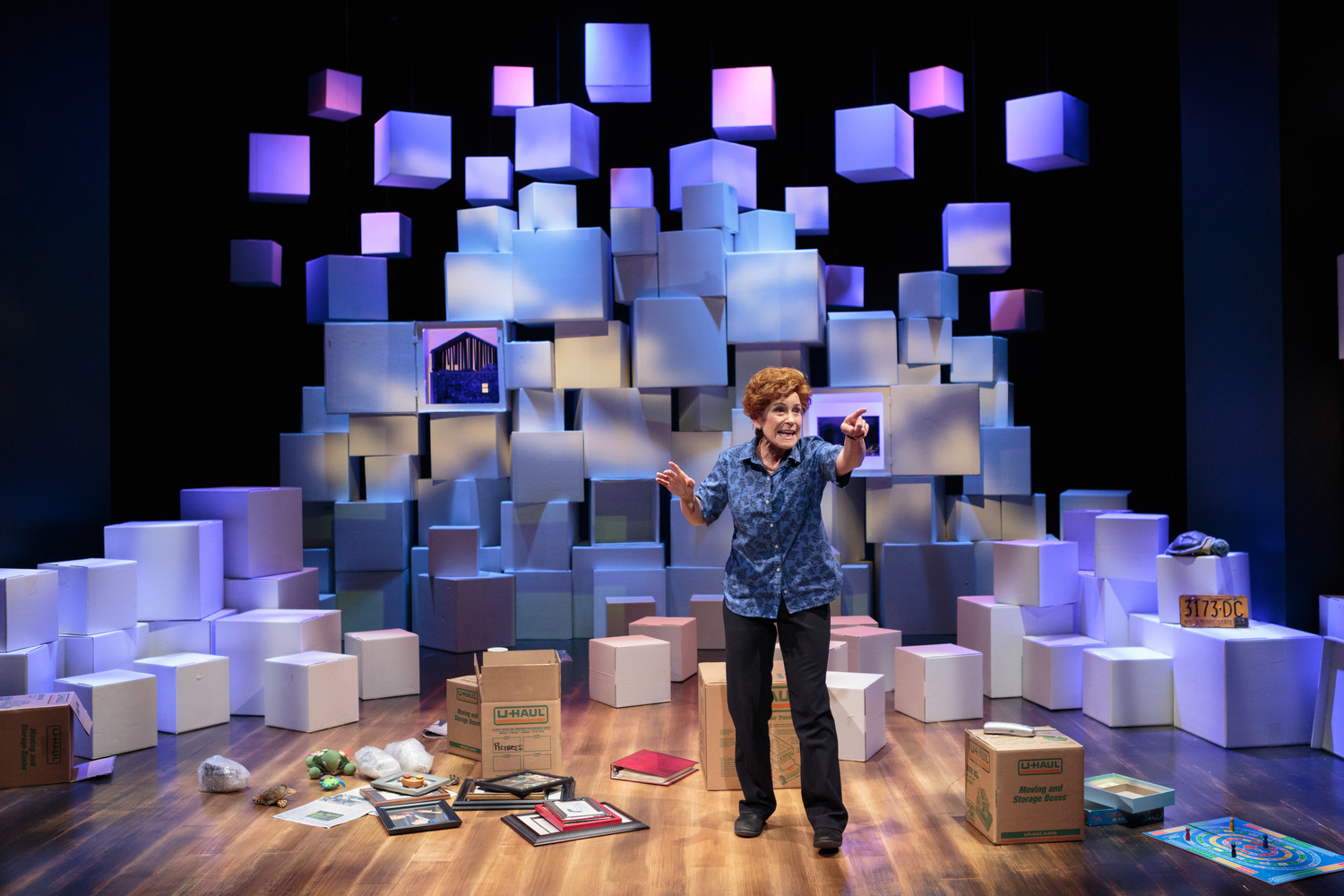 Dr. Ruth K. Westheimer's true life story of becoming "America's favorite sex therapist" is a fascinating and unlikely one. Naomi Jacobson portrays Dr. Westheimer with charm and vigor in the one-woman show Becoming Dr. Ruth at Theatre J, combining autobiography with a broader tale of Jewish origins and identity.
Jacobson is endearing and accessible, as the real Dr. Westheimer has always been. We audience members are her guests, who have appeared to see her packing her New York City apartment for a move. She welcomes us in, unfazed, continuing to take phone calls and make minimal progress in her packing. The visually pleasing stage (set designer Paige Hathaway) is piled high with boxes, which Jacobson precariously climbs. Some of them are filled with detailed dioramas of her past life, others with heirlooms and photos. These are often projected so we can better see them (projection designer Sarah Tundermann). It's a cliché to have her pull out old stuff and tell stories about it, but it gives her a reason to delve into her past with us.
And what a past it is. Born Karola Siegel to Orthodox Jewish parents in 1928 Germany, she escapes the Nazis (but must leave behind her family) in the Kindertransport, a program that rescued thousands of Jewish children. As a teenager, she moves to Palestine and joins the Haganah, the Jewish underground army, as a sniper. Ultimately she ends up in New York, a single mother who works for her doctorate of education and eventually becomes a pioneer in the field of sex therapy by hosting TV and radio programs - including the famous "Sexually Speaking" radio series.
The writing, by Mark St. Germain, doesn't quite do this amazing life justice. There are a few too many tired platitudes, which soften raw edges and immediately lighten up any heaviness. I suppose this could be attributed to the character of Dr. Westheimer and her signature cheer despite the worst of circumstances. But it keeps this production, skillfully directed by Holly Twyford, from plumbing the greater emotional depths that surely exist in Dr. Westheimer's real life.
All qualms with the writing aside, the experience of Becoming Dr. Ruth is inspirational by its very nature. And with the power of Jacobson and Twyford, it reaches its full potential for DC audiences.
Running time: approximately 75 minutes with no intermission.
Theater J's Becoming Dr. Ruth runs through March 18, 2018, at Edlavitch DCJCC's Aaron & Cecile Goldman Theater, 1529 16th Street NW, Washington, DC 20036. Tickets can be purchased at theaterj.org, or by calling (202) 777-3210 or emailing theaterj@theaterj.org.
Photo: Naomi Jacobson as Dr. Ruth Westheimer, courtesy of Theater J.
Barbara Johnson is a Northern Virginia-based young professional with a passion for music and theatre. As a lifelong performing arts enthusiast, she is thrilled to (read more...)