Click Here for More Articles on REGIONAL - Virginia - Northern VA
BWW Review: A CIVIL WAR CHRISTMAS: AN AMERICAN MUSICAL at 1st Stage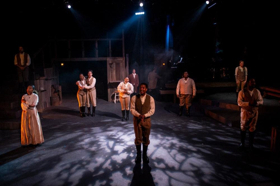 Pulitzer Prize-winning author Paula Vogel is mostly known for her plays, such as How I Learned to Drive and Indecent, rather than musicals. Vogel lends her provocative writing style well to her first musical, A Civil War Christmas: An American Musical Celebration, paired with stirring and riveting music by Daryl Waters. A Civil War Christmas follows multiple, interconnected storylines which center around Christmas Eve near the end of the Civil War. The stories are intertwined with both Christmas songs, such as "O Christmas Tree," and American folk songs, such as "Follow the Drinking Gourd." 1st Stage's A Civil War Christmas, directed by Deidra LaWan Starnes with musical direction by Markus Williams, is a riveting musical helmed by a strong diverse cast of twelve actors and beautifully done production design.
The cast is an extremely talented bunch as they all play multiple roles throughout the musical. They are able to transition easily from character to character seamlessly. Despite playing multiple roles, there are actors who time and time again stand out as they naturally settle well in specific roles. V. Savoy Mcllwain plays Sgt. James Bronson, an African American Union Army soldier, with great intensity and range. Mcllwain's Bronson is especially heart-wrenching as he pines for his love, Rose, who was taken from him by soldiers. When Mcllwain leads the cast in the "Yellow Rose of Texas," he is able to channel his hope and sorrow for Rose through his singing voice. Russel Rinker, who plays Abraham Lincoln, and Rebecca Ballinger, who plays Mary Todd Lincoln, reveal a refreshingly different side of the Lincolns. Ayanna Hardy plays Lizzy Keckley, the White House seamstress, gives a powerful performance especially in several scenes in which Hardy's Keckley confronts her past including her son's ghost and memories of being a slave on a plantation. The story of the escaped slaves Hannah and her daughter Jessa is heart-wrenching to watch as Billie Krishawn, who plays Hannah, makes a desperate decision to save Karma Price, who plays Jessa, from getting caught by slave catchers. Every time they are onstage together, Price and Krishawn are able to show the intense love of a mother-daughter relationship. Although Tiffany D'Affuso plays Private Chester Saunders, a Quaker solider, for a couple of scenes, his Saunders is quite memorable as he tells his story of wanting to join the war to Sgt. Bronson. Joshua Simon plays a chillingly impulsive John Wilkes Booth. Simon especially channels the desperation of Booth to kill Abraham Lincoln in a scene in which he methodically thinks of a plan to kidnap a vulnerable Lincoln.
The cast's vocals are first rate. Every song from the folk songs to the Christmas songs is full of emotion and energy. Standout songs include "Take No Prisoners (Pounding Out His Vow)," "Follow the Drinking Gourd," "Jubilee," "God Rest Ye Merry Gentlemen," "What Child is This?," "Yellow Rose of Texas," "I Heard the Bells," "There is a Balm in Gilead," "Silent Night/Kaddish," and "Children Go Where I Send Thee." Two standout songs, "Silent Night/Kaddish" and "Children Go Where I Send Thee," highlight the range of the cast. "Silent Night/Kaddish" is haunting as Ballinger's bright voice singing "Silent Night" combines with the deep voices of the cast's men, led by Joshua Simon, singing the notes of the "Kaddish." "Children Go Where I Send Thee" is highly energetic as the cast takes the audience to an electric, church-like atmosphere.
The production design matches the spirits of the acting and songs. The set design, designed by Jessica Cancino, provides an ample amount of space for the cast to use during musical numbers, as well as, the chance to make a space more private for smaller scenes. The lighting, designed by John D. Alexander, highlights the soft and earthy color tones of the Cancino's set. The costumes, designed by Danielle Preston, match the color palette of the set and reflect the clothing of the time period. Many supporting background characters wear Hamilton inspired costumes consisting of a vest, long-sleeve shirt, legging-like pants, and boots.
1st Stage's A Civil War Christmas is a must see this holiday season. Through its songs and intersecting storylines, it captures the spirit of the holidays and teaches a bit of history. Not only this is musical good for adults to see, but it is also one which children would enjoy as well.
Running time: 2 hours with a 15-minute intermission
A Civil War Christmas runs until December 23, 2018 at 1st Stage, located at 1524 Spring Hill Road Tysons, VA 22102. For tickets, click here.
Photo caption and credit: (l-r) Russell Rinker, Karma Price, Billie Krishawn, Ayanna Hardy, Suzy Alden, Gary L. Perkins III, Joshua Simon, Demitrus Carter, Rebecca Ballinger, and V. Savoy McIlwain in A Civil War Christmas at 1st Stage. The show runs through December 23 in Tysons Corner. Photo by Teresa Castracane.
Related Articles
Hannah Wing has an extensive background in editing and publishing. She has held positions ranging from editor of a literary magazine to literary agent intern. (read more...)