Click Here for More Articles on DC - Theatre Life
BWW Interview: Theatre Life with Carla Crawford, Diego Maramba, and Matt Calvert
Today's subjects Carla Crawford, Diego Maramba, and Matt Calvert are currently living their theatre lives as cast members in The Theatre Lab School of the Dramatic Arts' production of If/Then. The production runs through April 28.
If/Then features students from their signature Creating a Musical Role Class in which students learn the challenging process of putting on a full-blown musical. They start with the first table read and culminate with a finished production.
For those of you that follow this column, I flat out say that Theatre Lab is the best arts ieducation institution in the area. One reason for my opinion is they subscribe to the theory that theatre is meant to educate as well as entertain. Likewise, I will always give co-founders Deb Gottesman and Buzz Mauro kudos for tailoring their classes to everyone. You don't have to be a full-time professional performer to get something out of as class at Theatre Lab.
Our subjects reflect that philosophy.
Carla Crawford's stage credits include productions at Keegan Theatre, Little Theatre of Alexandria, St. Mark's Players, and Dominion Stage. She also served as a dialect coach for To Kill a Mockingbird at Little Theatre of Alexandria. As you will read, her day gig is as far from theatre as you can get.
Diego Marmaba's credits include productions at Silver Spring Stage, and The Coil Project. He also played Magaldi in Evita at Montgomery College. You might have also seen him on the National Geographic Explorer or Investigation Discovery TV channels. His day gig is a very interesting one to be sure.
Matt Calvert's credits include productions at Point Park University Conservatory, 4615 Theatre Company, and Front Porch Theatricals. As you will read, his day gig is what many actors have to do to supplement their income.
If/Then is probably the last musical you would expect to see at an arts education institution, but I would expect nothing less from one that has produced such shows as A Man of No Importance. This summer, Theatre Lab will present The Hunchback of Notre Dame as part of their Summer Musical Theatre Institute for teens. How's that for a challenging show?
Please consider attending one of the three remaining performances of If/Then at The Theatre Lab School of the Dramatic Arts. Performers like Carla, Diego and Matt are just a few of the many reasons I adore this place. After seeing one of their productions, I guarantee you will too.
How did each of you come to Theatre Lab School of the Dramatic Arts?
Carla (C) - I heard about Theatre Lab through friends in a show I was currently in. They were going to audition for Titanic so I decided to do the same!!
Diego (D)- My 5-year old daughter made me do it. Well, not directly. In my efforts to support her living her best life based on passion, I discovered that I had abandoned my own dreams long ago in order to "grow up." The best way for me to support my daughter's pursuit of her own passion is to model that very behavior for myself. Almost two years into my return to acting, I quickly realized there was a lot of actor training that I desired and this is where The Theatre Lab came into the picture. I discovered they had a 12-month immersive actor training program, which was exactly what I was seeking. And, for the time being, I could keep my "grown up" job while I worked on improving my acting technique.
Matt (M)- I did their summer programs when I was in high school. The assistant director, Aidan Quartana and I were friends from middle to high school and he actually told me to do their Teen Musical Theatre summer productions with him.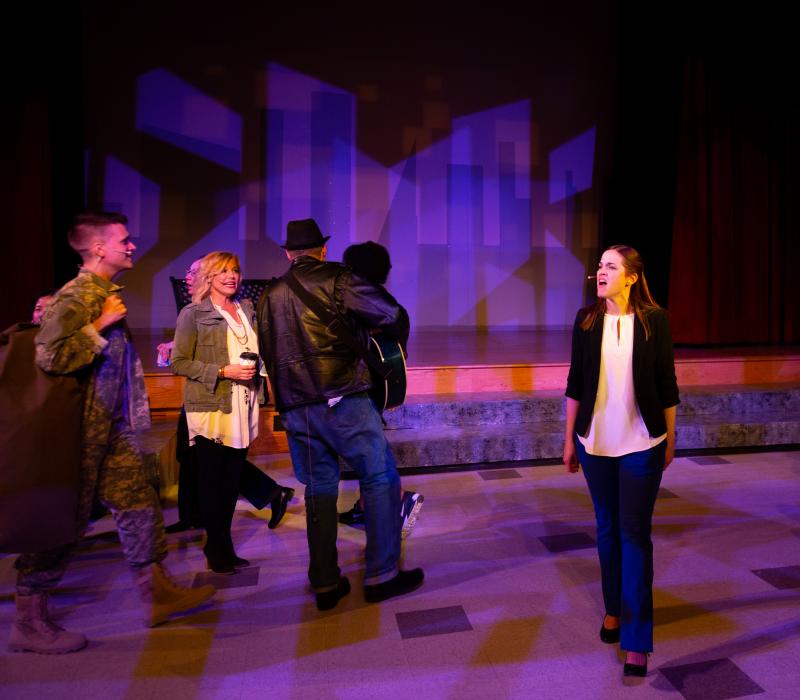 What other productions have you performed at The Theatre Lab?
C- This is my third show at Theatre Lab. I was cast as Alice Beane in Titanic, the Arbiter in Chess, and now I'm playing the role of Kate in If/Then.
D- If/Then will be my very first performance at The Theatre Lab. When I auditioned for the Honors Acting Conservatory at The Theatre Lab, I did not intend to pursue the musical theater track. However, Buzz put me on the spot during my acting audition (to be fair, he asked rather politely if he could) and asked me to sing anything for him. I sang what I could remember of "I Can't Make You Love Me" by Bonnie Raitt. Once I was accepted into the Honors Conservatory, I was asked to come in again with a prepared song so that Deb and Buzz could evaluate me more specifically for the musical theater track. And now I am David in If/Then. More proof that sometimes you just need to follow your nose!
M- I performed in Parade, Urinetown, and Bat Boy back in 2012 and 2013.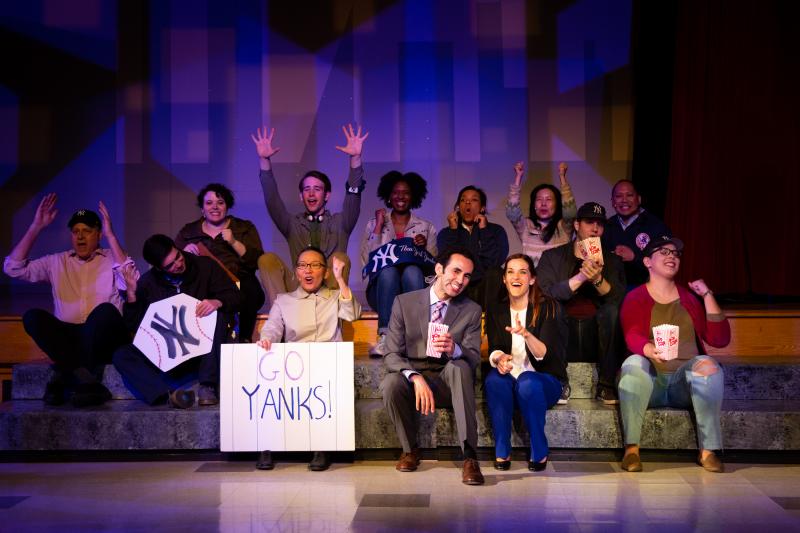 Had any of you seen If/Then before auditioning for this production? If yes, what were your impressions of the show and did you think that you would ever be in a production of it?
C- I had not seen If/Then before being cast in the Theatre Lab production. Friends of mine had the production in DC production and on Broadway. I knew that Idina Menzel was the lead and that it had a terrific cast recording.
D- My only exposure to the show was when my older brother told me that he was attending the DC premiere and hoped to have some of the principals sign the playbill, allegedly for his teenage daughters. However, once Theatre Lab announced the show, I consumed every bit of audio and video available to get myself up to speed. On the first day of rehearsal, Matt Calvert (Lucas) and I sang the "Best Worst Mistake" duet for the first time together and it was met with generous applause from our lovely castmates. I think Matt and I had secretly been singing the song, separately, prior to that day, because the harmonies felt simply magical. I can't wait to perform this song for an audience!
M- I had actually done some song and character study on the show when I was going to college for Musical Theatre in Pittsburgh. I hadn't seen the whole production, but I listened to all the music and seen bits and pieces of videos online. I loved the music and what I saw of the production. I actually never thought I'd do the show, but as soon as I saw Theatre Lab was going to be putting it on, I had to audition!
Can you please tell us a little something about the character you play?
C- I play the role of Kate. Kate is Elizabeth's best friend. She's larger than life and takes over whatever room she enters! She's never met a stranger and is fiercely loyal to those she loves.
D- I tipped my hand in an earlier response, but I play David, a pediatric surgeon who happens to be best friends with Josh (a surgeon from Nebraska, Liz's love interest) and Lucas' significant other. He is a stabilizing presence for both Lucas and Liz, as demonstrated in the aforementioned duet with Lucas, and in the song "What Would You Do?" towards the end of the show.
M- My Character is Lucas. He's the oldest friend of Elizabeth (Liz), the main character. They dated a bit in college and reconnected when she moved back to New York. Lucas is a Housing Activist, fighting for change for people in poverty living in the city who can't afford to live in new and growing areas. Lucas has always been in love with Elizabeth and is always there for her, weather she needs him or not. He's kind of a know-it-all and goofball, but he has a heart of gold and is a child at heart.
The Theatre Lab tends to produce musicals that are not what would be considered your standard fare for arts in education institutions. Was a place that produced Titanic and A Man of No Importance more enticing than somewhere that was on their 2,000 production of Annie?
C- Theatre Lab is a special place. Deb and Buzz bring everything back to a very basic level. It's all about the work and your choices for the characters you play. I've done community theatre for almost ten years, but I'd have to say The Theatre Lab is my favorite place to work and perform. Whether you're new to theatre or a veteran, you will always come away with a new approach and insight to your acting.
D- In many ways, I feel like If/Then found me and not the other way around. I auditioned for the twelve-month Honors Conservatory to improve my acting technique and now I am in a musical. If/Then is definitely a challenging production with a complex score and perhaps I might have been intimidated to audition for this show had it not been for my specific circumstance. However, now that we are close to opening a show that I thought I would never be able to learn, I feel like I can accomplish anything! It's been an amazing experience to work with this wonderful cast as well as Deb and Buzz.
M- I will say that there will always be appeal for shows like Annie and Bye, Bye Birdie because they are classics. But for me, I love the shows that dive into deeper and heavier subject matter like those written by Stephen Sondheim or Jason Robert Brown. I much prefer shows that make a lasting impact on the audience member. Tom Kitt and Brian Yorkey do a very great job of that in If/Then as well as another favorite show they've written, Next to Normal. I think these deeper shows are more fulfilling to work on as well as more fulfilling to an audience member when they are coming out to see a piece of theatre. And Theatre Lab always picks the best shows to do just that.
The Theatre Lab attracts people with all kinds of occupations. Where do you work when not at The Theatre Lab?
C- I am a mother of three teenagers in my spare time. Thankfully, my husband is extremely supportive of my "hobby" and my children understand when they need to help around the house a little more.
D- When my daughter was born, I started a new job with a mid-sized (500 employees) cybersecurity company based out of Columbia, MD called SourceFire. About six months after I started, the company was acquired by Cisco Systems, Inc. for $2.7 billion. So, for the last four years I have been working for a large IT company in global demonstration operations. It's kind of like acting?
M- I work at a restaurant in my area serving and bar tending.
Someone comes up to you and asks if they should take classes at The Theatre Lab School of the Dramatic Arts. What would be your pitch to sell them on it?
C- The Theatre Lab is near and dear to my heart! I love these people and this organization. Not only will you come away with new "tools" for your acting toolbox, but you will take pride in the fact that you have been a part of an organization that does so much for the community. From supporting wounded veterans to creating opportunities for abused women to share their stories, to allowing a child to shine in a way they might never have dreamed possible, Theatre Lab will change your life in more ways than you can imagine!
D- They care about you and are constantly thinking of ways to unlock your potential as an actor. And they believe that through the diligent practice of technique, anyone can become an actor. They meet you where you are and go on the journey with you. What more can you ask from an acting program or any program for that matter?
M- I say absolutely you should. I had a passion for theatre when I was younger, but I didn't truly understand that passion until I came to Theatre Lab. It's not just about putting on the show, it's about finding yourself as an artist and as a performer. Exploring the different ways you can create and live inside a story rather than just learning how to tell it. They create such a warm and welcoming environment where you can just come together with a group and make something really special. Theatre Lab is responsible for my aspiring dreams of becoming an actor. It was the place where I decided that it's what I wanted to do not just as a hobby. I went to a university to pursue a degree in Musical Theatre and even after a four-year education, I come back and Theatre Lab is still teaching me new and exciting things about my craft. It's more than just an acting class. It's more than just theatre. It is to me at least.
Special Thanks to Theatre Lab's co- founders Deb Gottesman and Buzz Mauro and Theatre Lab's Marketing and Events Manager Kara Turner for their assistance in coordinating this interview.
Theatre Life logo designed by Kevin LaughonL
Related Articles