INTO THE ARCTIC Opens At Queen Elizabeth Theatre Gallery, Today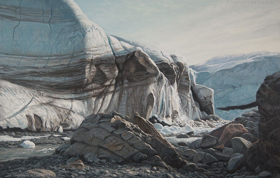 The City of Vancouver owned Vancouver Civic Theatres will partner with the Vancouver Maritime Museum this month for the presentation of Into the Arctic, an art and film exhibition that takes viewers to the water's edge of the icy Canadian North.
Artist Cory Trépanier traveled, hiked, explored, and painted the Arctic over a 10 year span. The result is a series of more than 50 powerful paintings capturing the most remote and wild corners of the Canadian North. This January, Into the Arctic will be displayed as a shared exhibition between the Vancouver Maritime Museum and at the Vancouver Civic Theatre's operated Queen Elizabeth Theatre, where a gallery space has been created in its grand, 3-storied lobby.
The public are invited to attend the Into the Arctic Opening Reception at the Queen Elizabeth Theatre Lobby on Friday, January 26, 2018. The evening will feature live music by Nunavut's The Trade-Offs, playing 'Arctic Soul' - a blend of blues and rock & roll, with both Inuktitut and English lyrics.
Entrance to the event is free, but be sure to RSVP via Eventbrite.
Friday, January 26th, 2018, 6:00pm - 9:00pm
Queen Elizabeth Theatre Lobby, 650 Hamilton Street, Vancouver, BC
RVSP for the Gallery Reception
Into the Arctic will be on display at the Queen Elizabeth Theatre from January 26th - March 25th, and will be viewable during scheduled, ticketed events.
Watch Into the Arctic touring exhibition trailer
Cory Trépanier's INTO THE ARCTIC, Produced by David J. Wagner, L.L.C., davidjwagnerllc.com.
For more information about this or other Vancouver Civic Theatres events, contact vctinfo@vancouver.ca.
More Hot Stories For You